TextExpander for Mac 6.5, Windows 2.0, Include Our New Snippet Editor with Visual Macros
With our newest TextExpander the date/time adjustments are cumulative which is more intuitive and provides much more flexibility.
For instance, now you can add one year and subtract two weeks to get the date for one year from now minus two weeks. If you do need to reset the date and time in your snippet, you can insert the 'Reset Adjustment' macro via the 'Date math' menu in the toolbar.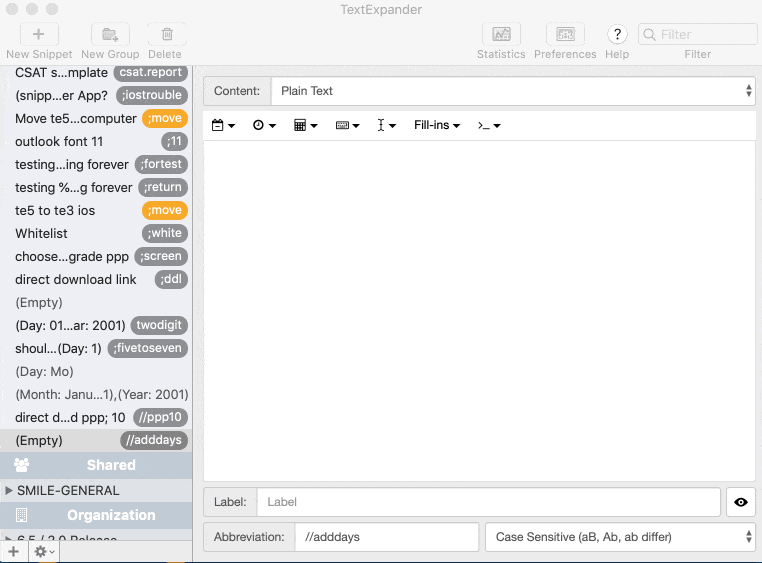 If you are using TextExpander v6.2.8 or TextExpander v1.6.13:
Here are a few examples of special snippets that you can use to insert current date and time:
%e %B %Y = 26 August 2011
%m/%d/%y = 08/26/11
%A, %B %e, %Y = Friday, August 26, 2011
%1I:%1M:%S %p = 4:02:41 PM
Use the following special codes to insert days, months, years, and times.
%Y = Year, 4 digits (2011)
%y = Year, 2 digits (11)
%B = Month, long name (January)
%b = Month, short name (Jan)
%m = Month, 2 digits (01-12)
%1m = Month, 1-2 digits (1-12)
%A = Day, long name (Monday)
%a = Day, short name (Mon)
%d = Day, 2 digits (01-31)
%e = Day, 1 digit (1-31)
%j = numerical day of year
%1H = Hour, 24-hour clock, 1-2 digits (0-23)
%H = Hour, 24-hour clock, 2 digits (00-23)
%I = Hour, 12-hour clock, 2 digits (00-12)*
%1I = Hour, 12-hour clock, 1-2 digits (0-12)*
%M = Minute, 2 digits (00-59)
%1M = Minute, 1-2 digits (0-59)
%S = Second, 2 digits (00-59)
%p = AM/PM
%z = GMT offset
%Z = timezone
*Note the codes for 12-hour clock use a capital letter i
%date:<Unicode Date Format>% = date or time using Unicode standard format
(where <Unicode Date Format> is defined here)
Use a date math macro to make a snippet show a past or future date or time. This involves placing a math macro somewhere in the snippet before any of the date or time macros listed above. That is, time adjustment macros apply to macros appearing after the adjustment macro.
%@+1Y = Add 1 Year
%@+1M = Add 1 Month
%@+1D = Add 1 Day
%@+1h = Add 1 Hour
%@+1m = Add 1 Minute
%@+1s = Add 1 Second
To subtract the value instead of add, change the plus "+" to minus "-". To change the amount of value, change the "1" to another number.
For example: %@+15D%B %e, %Y will expand to show a "Month day, year" date 15 days in the future.