Getting Started With TextExpander
Welcome to TextExpander
TextExpander helps people in all sorts of roles save huge amounts of time, from freelancers to lawyers to large recruiting and support teams, TextExpander helps everyone communicate smarter.
This guide will give you an overview of everything TextExpander.
TextExpander is continuously improving. Your screen may look different than the images here, but the core concepts stay the same.
Key areas:
Getting your account and app set up
Discovering content for your Snippets from Public Groups
Creating TextExpander content in the form of "Snippets"
Searching your Snippet libraries
Organizing your Snippets
Sharing Snippets with others
Navigating around the app
---
Getting Started with TextExpander for Teams Check out this guide for Admin, if you use TextExpander with other people
Want a guided tour? Check out a webinar.
---
1. Set up TextExpander
1. Go to TextExpander.com/sign-up to create your account.
Expect to go through a few questions as part of the introduction process to help you customize TextExpander to your needs. TextExpander will then walk you through creating your first Snippets.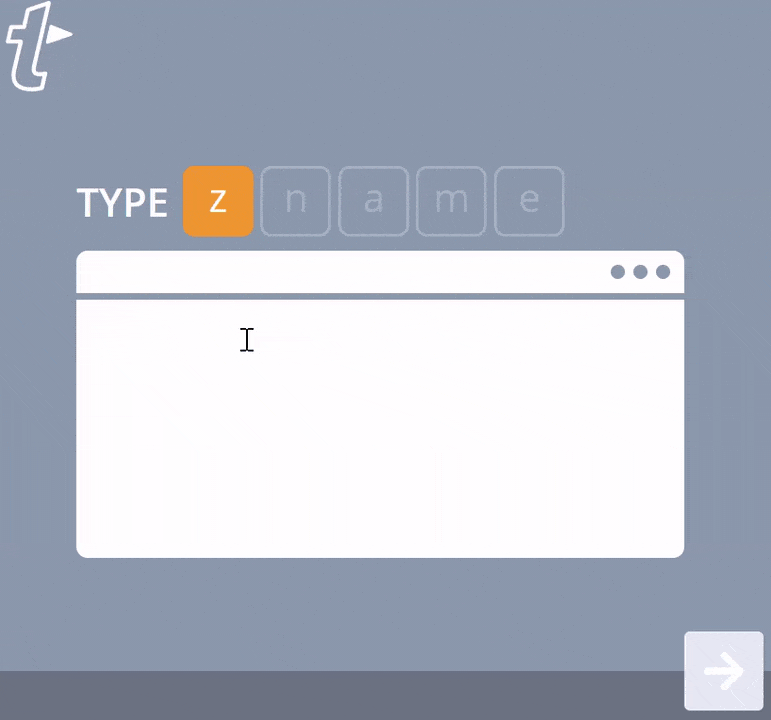 2. Install the app
Download and install the TextExpander app. TextExpander is more than just a web app. You'll need the installed app to make it work. Just refer to the web app for extra settings.
TextExpander is ready to use once you install and sign in. No need to "turn it on." As long as the TextExpander app is running, it's working.
2. Discover content and ideas for your Snippets in Public Groups
When first getting started, TextExpander is a blank slate, waiting for you to fill it with all the content you want to quickly reuse. Get a helping hand with some ideas and ready-made Snippets on our Public Groups page.
You'll find a wide variety of Snippet groups from TextExpander, as well as from other creative TextExpander users.
Learn more about using and contributing to Public Groups.
3. Create a Snippet
The core element of TextExpander is Snippets, a combination of the content you want to reuse, and the abbreviation you type to use it.
Read our article on creating Snippets.
We suggest you start with some basics you use all the time, such as
your email address
email signature
phone number
Another place to find ideas for Snippets, look at what you've typed recently, look in your messaging app, or your outbox, and copy/paste that into a Snippet.
These are pretty simple Snippets, you can get more complex. Learn more about advanced Snippet elements, such as fill-in-the-blank form fields, current dates and times, and more.
4. Search your Snippet libraries
Once you've amassed a collection of Snippets, you'll need to find them. You'll end up memorizing the abbreviations for Snippets you use most frequently, and you can use a quick search to find the rest.
A keyboard shortcut, called a "hotkey", is set for you by default:
Command+/ (Mac)
Control+/ (Windows)
Control+Period (Chrome)
Just press that key combo and a search window will appear right where you're typing. It will search on all parts of the Snippet: content, label, and abbreviation.
Learn more about how this inline search works, and learn about search in the app, search with our Quick Actions helper menu, and other hotkeys you can set up.
5. Organize your Snippets
There are many ways to think about organizing your Snippets. Find our recommendations on how to organize Snippets and set up your abbreviations with prefixes in the article Organizing Snippets.
6. Share Snippets with others
You've created the perfect Snippet Group and now your buddy would really benefit from it. Now it's time to share your snippets with colleagues, friends or people in your circle.
Read our articles on Sharing Snippet Groups for individual users, and more extensive tips on Sharing Snippet Groups within your TextExpander Organization.
Generally, the idea is to clean up the Snippet Group content, include detailed labels in each Snippet to make them easy to search for, include some Notes on how to use the Snippet Group, decide on default user permissions, then invite people to your Snippet Group.
7. Navigating around
The key elements of TextExpander are:
Snippets: If TextExpander is a quick-access knowledge base of your own content, Snippets are the individual knowledge base entries. Working much like autocomplete, Snippets are a combination of the content you want to reuse, and the Abbreviation you'll type to "expand" it wherever you're typing.
Snippet Groups: Organize your Snippets into collections called "Groups." The best Snippet Groups are thematic to pieces of your workflow, such as a "client communication emails" Group or a "meeting notes" Group.
Installed app: Get the app and keep it running so TextExpander can expand your Snippets in all the places you type on your device.
Web app: The place you manage your account and settings.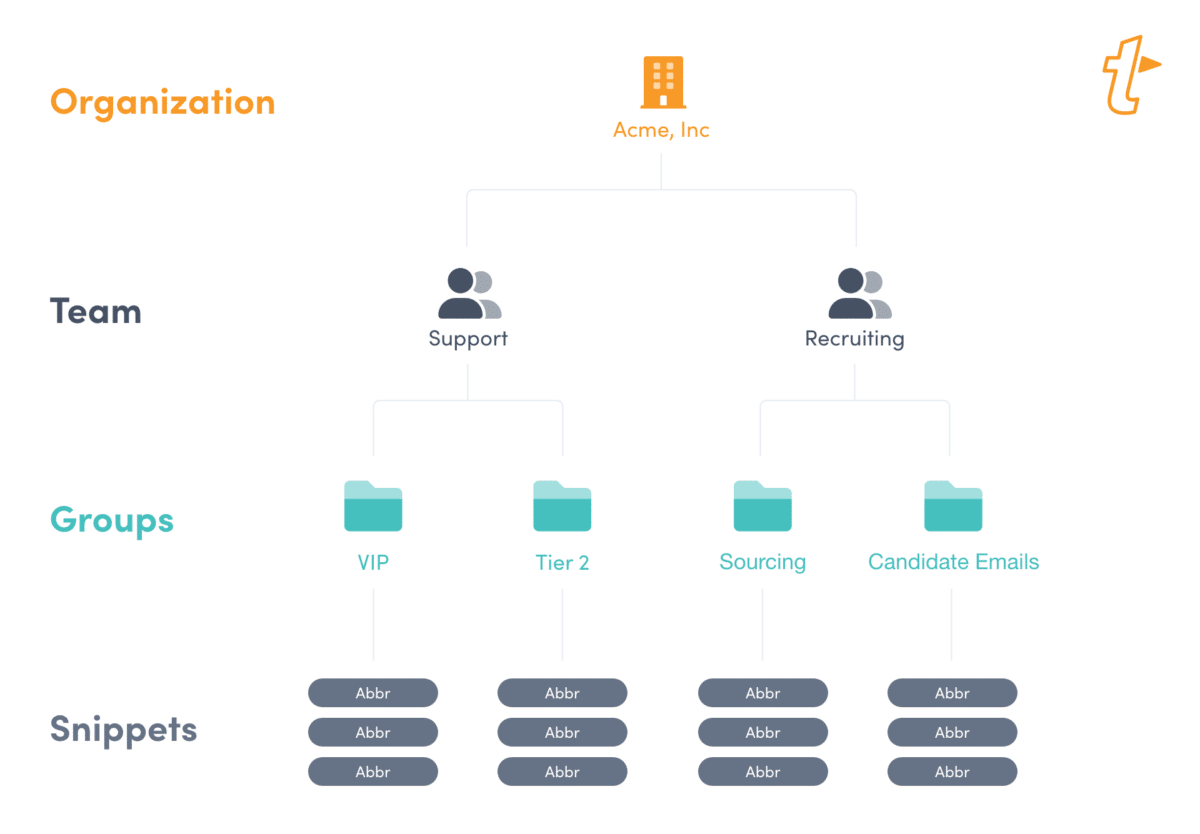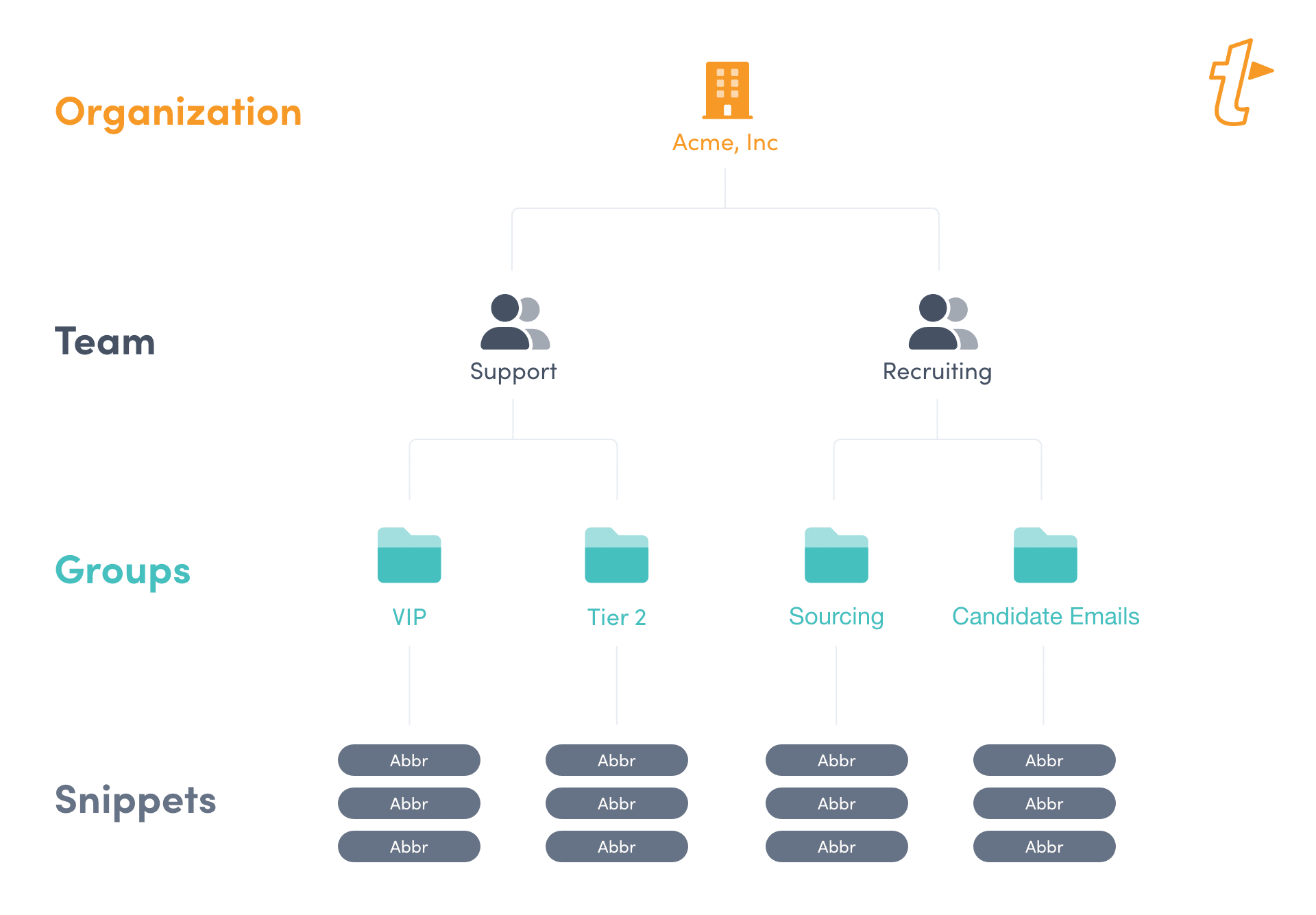 If you use TextExpander by yourself, then you just have Snippets and Snippet Groups. If you work with a Team, or want to know how that would work, there's a larger hierarchy to help you handle multiple users.
Organizations are how you organize your team members, snippets, data, usage statistics and reports, and payments, all in one place. Using your company's shared email domain with Single Sign-On (SSO) will help your members onboard faster.
Teams help working groups within your company quickly share collections of snippet groups with each other. Add a Member to a Team, and they'll instantly have all the snippet groups needed for that working group, such as "VIP Support" or "Sales-West."
Snippet Groups are how you organize your snippets into topical collections.
Snippets are the bits of content — email addresses, signatures, code chunks, form letters, images — that you store in TextExpander and reuse with a custom abbreviation or quick search.
Resources
There are many ways to learn more about TextExpander