Getting Around TextExpander With The Quick Actions Helper Menu
Aside from the main TextExpander app window, you can also access your Snippets, search, and other handy functions from the Quick Actions menu.
Set up a Quick Action hotkey for fast access to your most-used snippets and other TextExpander options.
How to use the Quick Actions menu
Open the Quick Actions menu by selecting the TextExpander icon in your menu bar (Mac), system tray (Windows), omnibar (Chrome). If you have set the Quick Action Hotkey, press the Hotkey at any time to bring up Quick Actions.
The Quick Actions menu will show shortcuts to your 9 most often used Snippets. Select the Snippet by clicking on it, using the Snippet Abbreviation, or typing the keyboard shortcut provided at the right hand side showing Control+1 through 9 (Windows), Command+1 through 9 (Mac).
Quick Actions includes Search and Settings at the top. The bottom of the window includes functions for New Snippet, New from Clipboard, Edit Last Expanded, and Open TextExpander.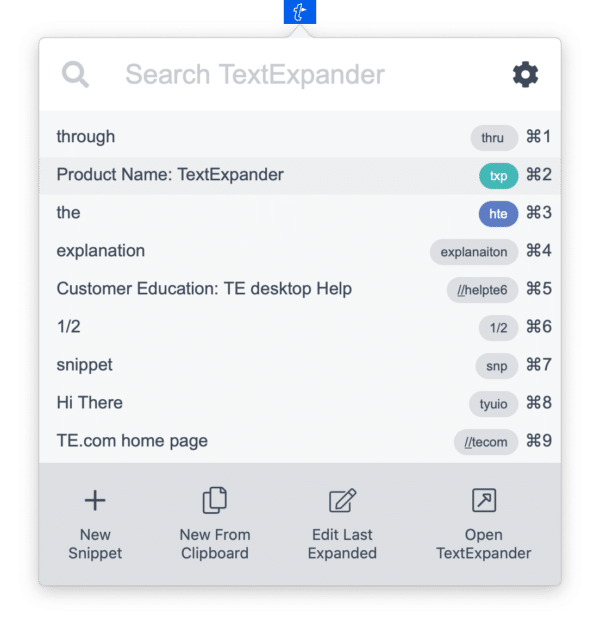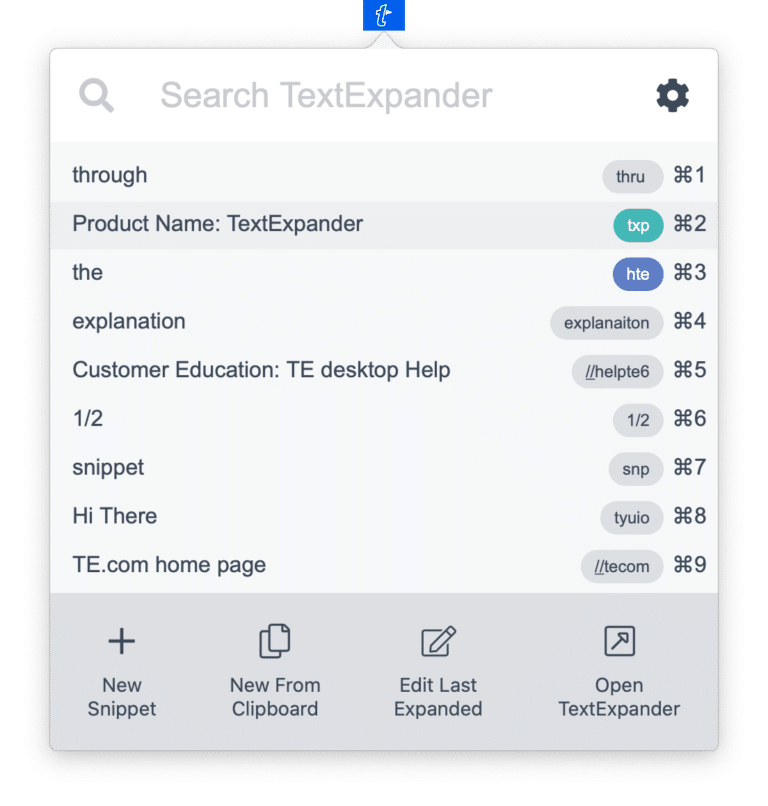 When does the window appear?
If you are in any app other than TextExpander, the standard Quick Actions menu will appear when you open it. In that case, use the Cog button to open the Settings. If the TextExpander app is in focus, the Quick Actions menu will open straight to the Settings.
Settings Menu from Quick Action Menu
The Settings Menu gives you several options:
Open TextExpander
Displays the main TextExpander window. Especially useful on Mac if you have the Dock icon hidden and do not have the menubar icon displayed.
Disable TextExpander
Useful when you want to temporarily disable TextExpander so that you can type without any expansions being triggered after you type the abbreviation.
New Snippet
Opens the Create Snippet window. Enter the snippet content and abbreviation, choose a snippet group to assign it to, and click Create.
New from Clipboard
Opens the Create Snippet window with the current content of the Clipboard as the snippet content. Create an abbreviation, choose a snippet group to assign it to, and click Create.
Edit Last Expanded
Opens the snippet you expanded last so that you can edit it. After you make the desired changes, click Save.
Preferences
Opens the Preferences window. Make changes or check settings.
Help
Open TextExpander Help window to review learning center articles.
Open a window to Contact Support.
Open the About TextExpander window which includes the TextExpander version number.
Check for Updates…
Will check for updates and let you know if you are current or if there is a new version to install.
Sign Out
Sign out of your TextExpander account.
Exit or Quit