Writing creatively can feel daunting when it's just you, your fresh cup of coffee and an unnerving blank page.
Whether you're putting together your first manuscript, editing a poem to submit to an anthology or finally doing a first draft of that screenplay, you don't need to go it alone.
TextExpander has got your back.
Autocorrections, outlines and easy edit points make TextExpander your reliable writing compadre. Here's how.
What is TextExpander?
TextExpander is a text expansion tool. It lets you instantly insert snippets of text from a repository of emails, boilerplate and other content, as you type – using a quick search or abbreviation.
How to use TextExpander as a Creative Writer
Join the TextExpander Creative Writing Public Group to get access to the snippets and ideas listed below.
1. Grammar
TextExpander can fix grammar errors as you go. By storing your common spelling foibles in TextExpander with the correct spelling in the snippet content, anytime you mistype that word, the correct spelling will appear. Learn more on spelling autocorrections here.
Bonus tip: Join the TidBits Autocorrect Public Group for instant access to a library of autocorrect snippets.
2. Quick Edits
When going back through a first draft, you might want to make notes on improvements. Keep your workflow seamless by expanding common edit notes wherever you type with TextExpander. The TextExpander Creative Writing Public Group contains the following Editing Snippets:
Rewrite: For when the idea is there, but the words aren't landing.
Add Speech: For when you need to add dialog.
Research Needed: For when you need to check the facts.
Expand This: For when you want to develop the idea further.
Consider Removing: For when you must consider "killing your darlings".
3. Reflective Analysis
Whether you're studying Creative Writing at college or taking a class, you might be required to write a reflective analysis or essay about your work and the inspirations behind your tone, pace and style. This information can come in handy when talking to a publisher or an agent too, so it's worth noting your inspirations as you go.
Use this TextExpander snippet to expand the appropriate fields for you to fill-in on the fly, so you can note your literary muses without losing your workflow.
Technique: [Technique used]
Writer's Example: [Writer's technique example]
My Example: [My technique example]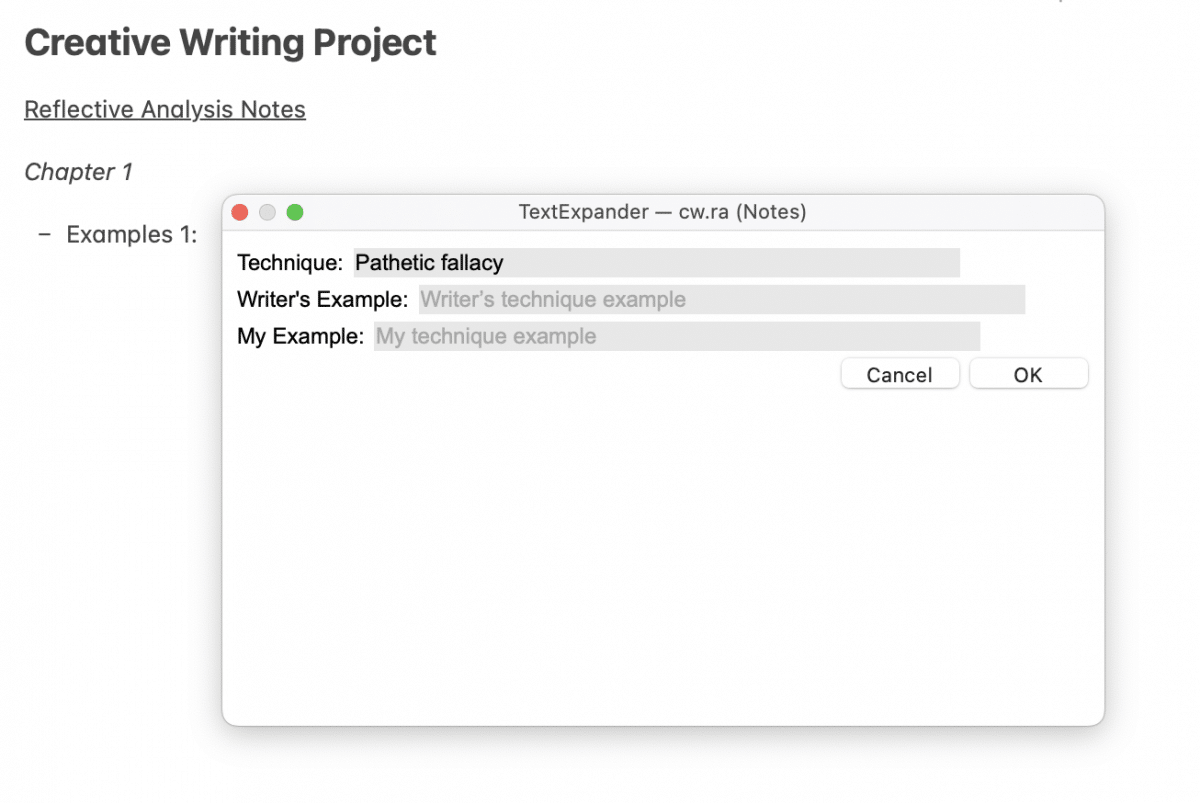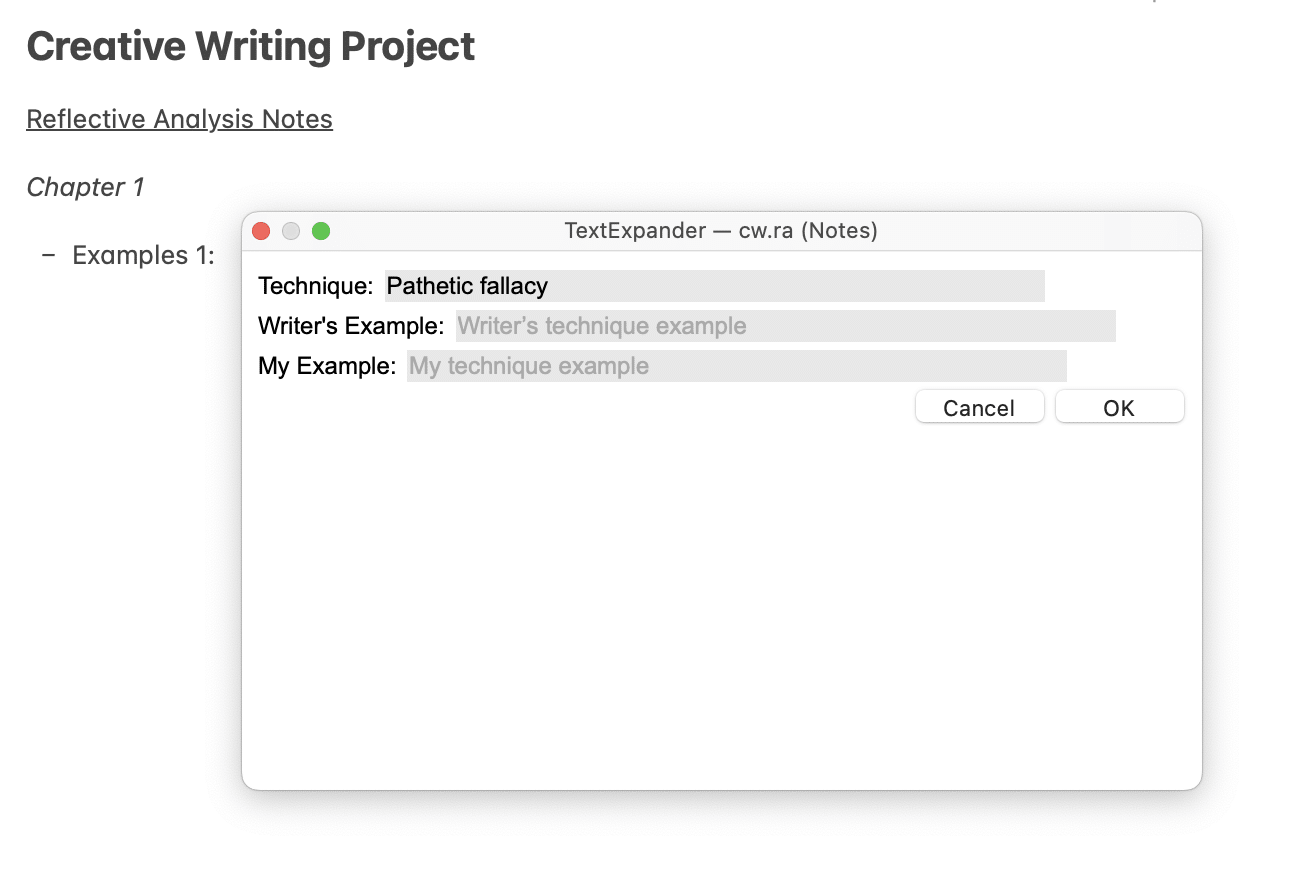 4. Peer Feedback:
Another one for Creative Writing students or class attendees, you'll often be asked to provide feedback on peer work. This is commonplace in some creative writing communities outside of studying too. Use this snippet to guide your feedback for peers.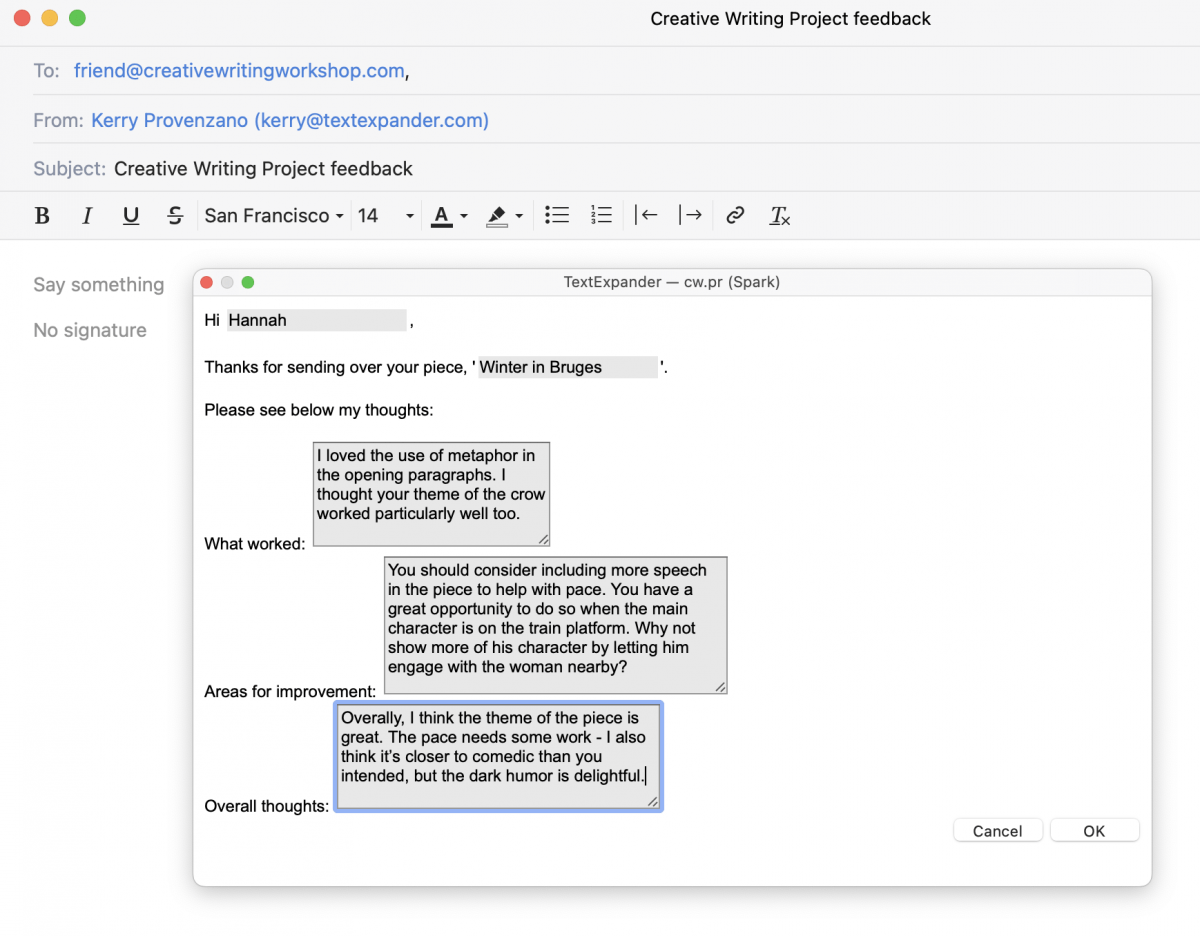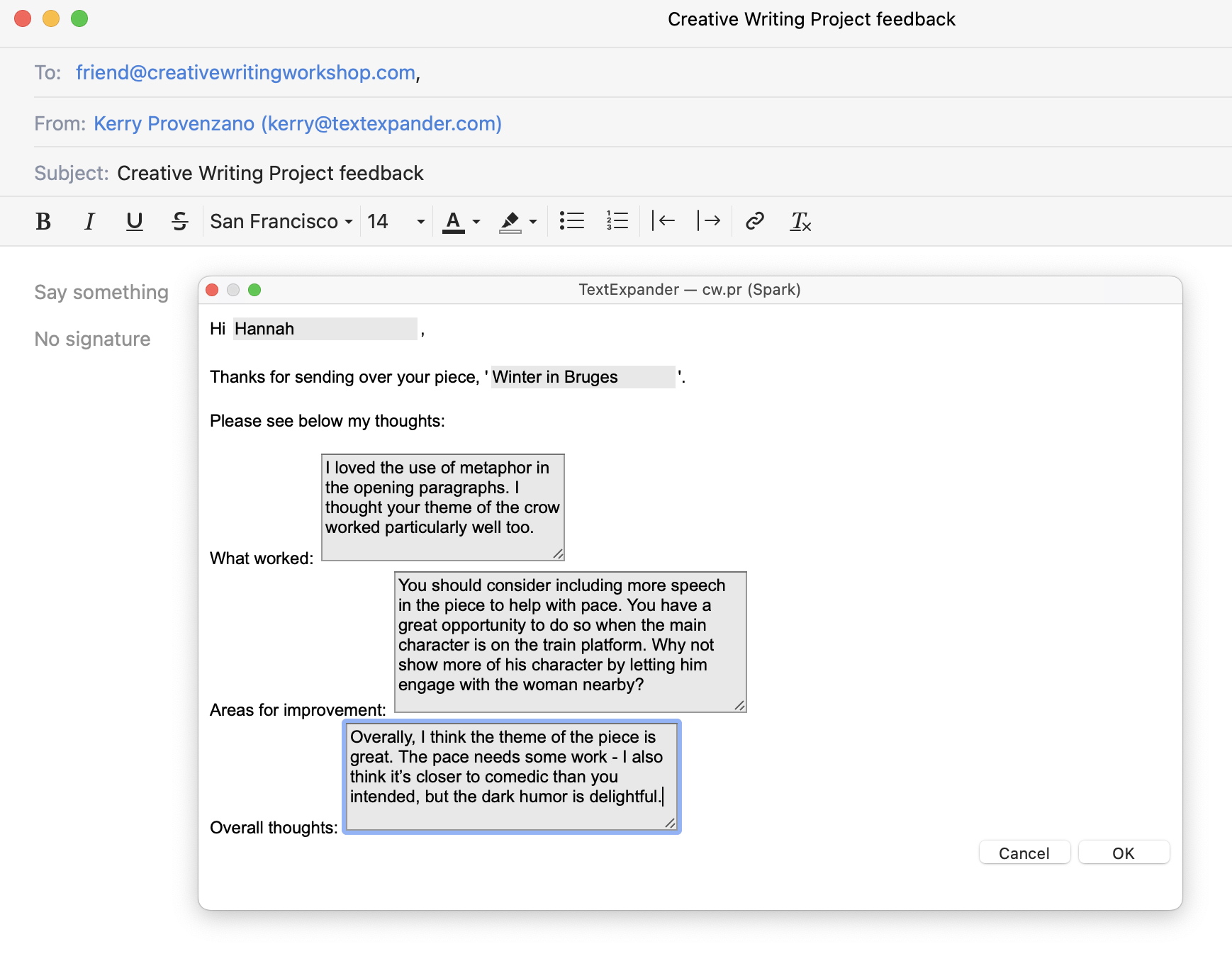 5. Poem Structures
Been tasked with writing a structured poem but can't quite remember the format? These TextExpander snippets will act as a guide for the following poem structures:
Sonnet
Haiku
Acrostic
Limerick
Expand the snippet for a reminder on the rules of the structure, plus a handy guide to follow.
6. Just for Fun: Story Starter
Here's a fun snippet. Try the TextExpander Story Starter snippet if you're struggling to find a starting point for your writing.
Just expand your snippet, then choose from a pre-made selection of story-starters. Sometimes you just need a jumping off point!


Join the TextExpander Creative Writing Public Group
Want on-hand help with creative writing? Sign up to TextExpander and join the TextExpander Creative Writing Public Group for instant access to ready-made snippets.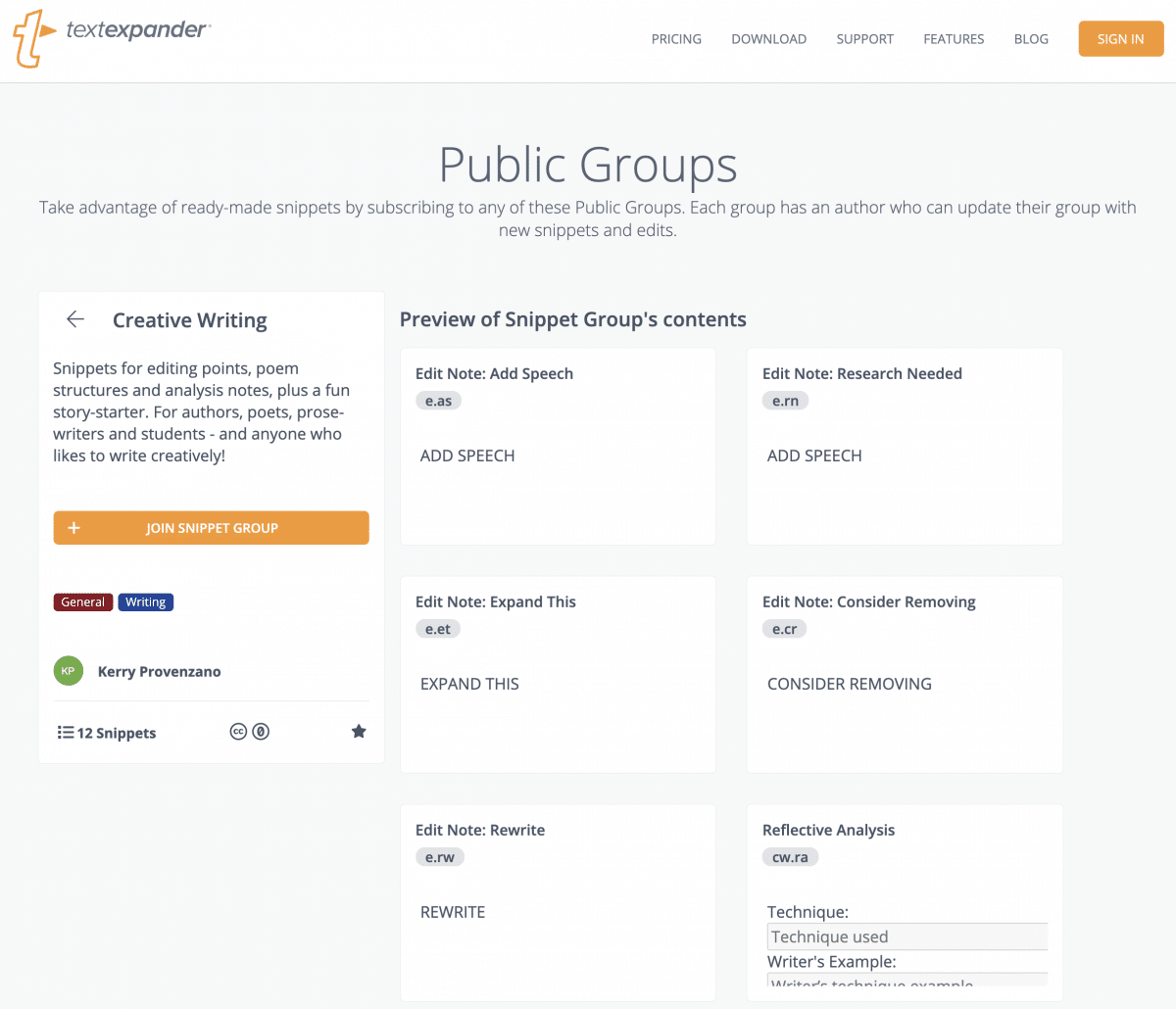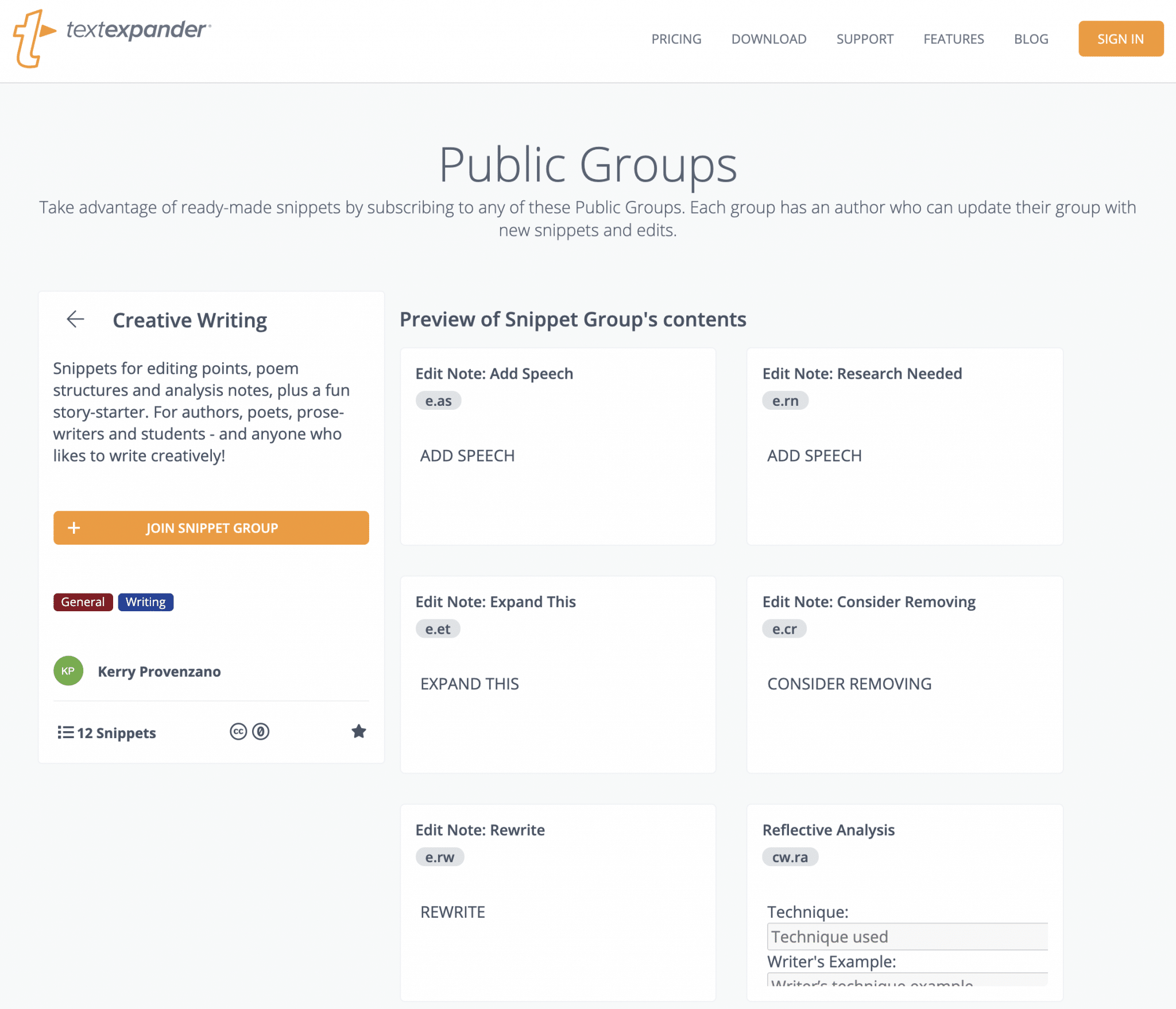 More Tips on Using TextExpander for Creative Writing
Create snippets for character and place names, so you never misspell.
Make autocorrects for words that appear frequently in your story that your word processor "fixes".
Share with your circle: TextExpander works with friends. Share your group with other creative writers.
Now go write something great!
Looking for more writing-related content? Check out these articles:
What are you currently working on? Let us know in the comments.