Landing freelance writing gigs isn't always easy. By using TextExpander snippets, pre-written and proofread phrases, freelancers can make applications professional, concise and compelling.
Using TextExpander snippets means you can send an email with perfect grammar and spelling, a crucial skill writers are keen to demonstrate. And send it 10 times in a row, no sweat.
Here are 4 emails-turned-snippets that will save you time in your job applications and leave you more time to search for exciting writing opportunities.
Snippet 1: The Job Application
When contacting a recruiter about a freelance job, the first contact is important. If you're emailing them with the hope you'll be able to write something to engage their audience, prove you can by engaging them in your email.
By using TextExpander, you'll be able to perfect your first communication. Use this text snippet to make emailing recruiters fast and effective.
Tip: Be sure to include your contact information in your email, particularly your phone number as they may want to call you. If you haven't already sent them any of your previous work, now is your opportunity to link to your online portfolio or attach examples.
Label: Freelance Writing Job Email
Abbreviation: ;je
Content: 4 Snippets for Freelance Writing Job Applications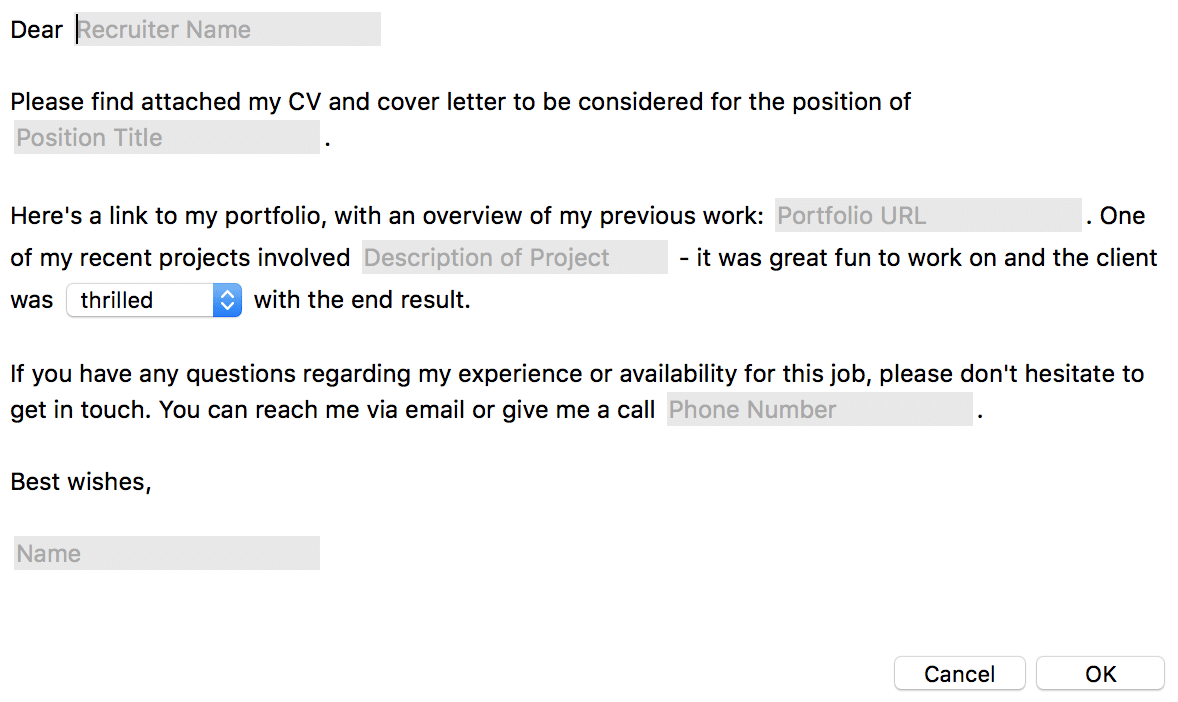 Snippet 2: The Follow-Up
If you'd like to send one, short follow-up email, this snippet will allow you to do that quickly and effectively. While not every job application will require a follow up, some like to demonstrate their enthusiasm for the role by touching base with the recruiter a little while after the application is submitted.
Tip: Keep it friendly. However you tweak this snippet, it's important to keep the tone casual, not pestering.
Label: Freelance Writing Follow-Up Email
Abbreviation: ;fu
Content: 4 Snippets for Freelance Writing Job Applications

Snippet 3: The Acceptance
If all goes well, your final communication in the job application process will be an acceptance email. Even if you've landed the job, you'll still important to keep your grammar, spelling and tone consistent.
Use the snippet below to send your final email to accept the position.
Tip: Don't hide your excitement! Sending a boring response can make you seem dull.
Label: Freelance Writing Job Acceptance
Abbreviation: ;ta
Content: 4 Snippets for Freelance Writing Job Applications

Snippet 4: The Feedback
Hearing you didn't get the role isn't easy. You might want to find out how your application could have been better, as their feedback could be crucial to securing the next role. Use this snippet to ask the recruiter for valuable feedback.
Tip: Don't bombard them with questions. Ask which area needs improvement, or how you could do better next time, but keep it to two questions maximum.
Label: Feedback Email
Abbreviation: ;fe
Content: 4 Snippets for Freelance Writing Job Applications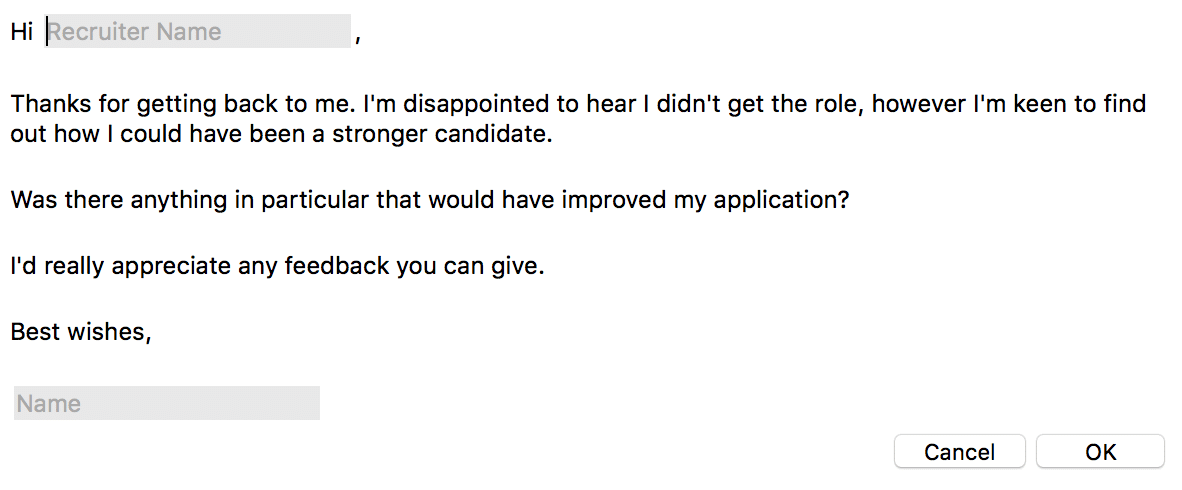 A Better Way To Freelance
As you learn more about the application process, you can refine and create snippets to help along the way.
Access this public group of must-have freelance writing job snippets.
For more great tips and tricks, like us on Facebook and join us on LinkedIn.