Have you ever spotted a spelling error in an email at the exact moment you hit send?
By the time you've noticed it, it's already flying through the Internet stratosphere, ready to land in someone else's inbox.
With TextExpander, you can create snippets to catch your frequent spelling errors and convert them into the word or phrase you were trying to type. It's easy to set up and will improve your spelling accuracy and writing workflow.
How it Works
Set up a snippet where the shortcut is the misspelled word and include the correct spelling in the content of the snippet.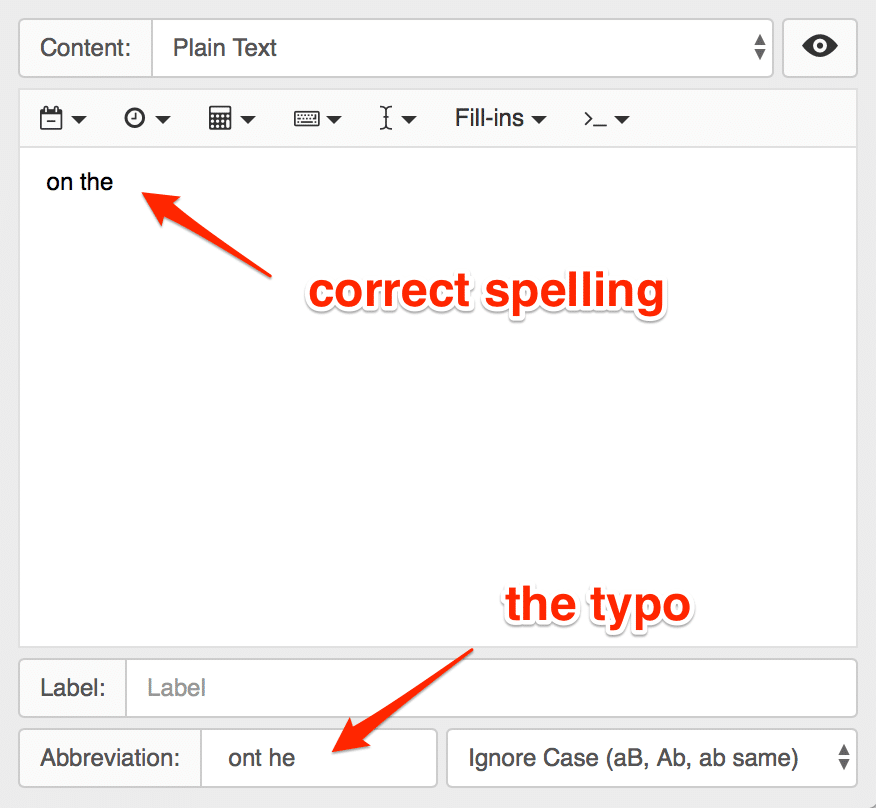 Write in any of your usual apps or programs.
Your snippets will catch errors as you make them. For example, when you accidentally type 'thank yuo' – pop! – 'thank you' will appear.
That's the basic premise. There are plenty of ways to make use of autocorrect snippets.
Create Your Own Personalized Autocorrect Snippet Group
If there are words you misspell often, set up snippets for frequent offenders and collate them into your own, personalized snippet group for autocorrections.
Here's an example from our team so you can see what your group might look like.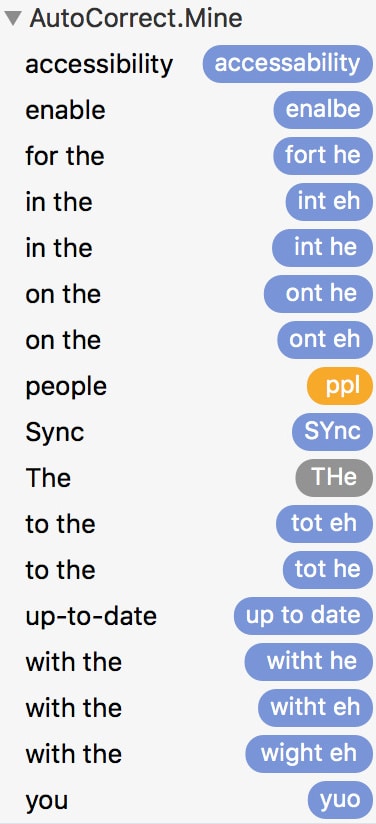 Free Ready-Made Autocorrect Groups
If you're not sure where to start with autocorrections, we have a ready-made group to get you started.
The TidBITS AutoCorrect Group has 2,000+ entries. Hit 'Subscribe to Group' and enjoy autocorrections that follow you into whatever app you're typing in.
Stay Professional with Company Snippet Groups
For fail-safe professionalism, create a snippet group with the correct spellings and capitalization of your company's name and products. Share with your colleagues so everyone can get it right, every time. Include bosses names too if there are a few tricky surnames floating around the office.
For example, we share a group to make sure we always spell TextExpander correctly, as opposed to Text Expander, Textexpander or Textpander.
You can also join this Brand Names snippet group to autocorrect capitalization for well-known companies and applications. Share this group with co-workers so everyone spells app names and company names correctly in emails, content and other communications.
Autocorrect for Academia and Other Literature
Academic writing can be taxing.
If you're writing an essay or thesis that frequently references an author's name or academic theory, set up a snippet group. Include the names of relevant research authors, along with common themes and theories in the text to make sure the spelling is correct in every use of important terms.
The same applies for those in legal or medical professions. You may wish to set up corrections for legal terminology you frequently spell wrong, or perhaps complex terms relating to medical conditions, anatomy or pharmaceutics.
You can also check out our Public Group of Medical Abbreviations, which contains 150+ entries relating to medicine.
Accurately Typed, Every Time
We hope you found this latest writing workflow tip useful. Set up those snippets, join those groups and enjoy your perfectly typed prose. Consider it your newest writing hack for even better emails, articles, essays and more.
Let us know how you're using our How To articles to set up new systems with TextExpander.