One of the annual highlights at TextExpander is reading your responses to your end of year summary emails. For TextExpander newbies, each year we send out a summary email containing the stats on how much time you've saved by using TextExpander. Data from the number and size of the snippets you've expanded is used to calculate roughly how many hours, and often days, you've saved. There's more information on how TextExpander works out your time savings here, if you're curious!
Our end of year summary is easily one of our favorite emails to send out to our community and we love your feedback. Today, we wanted to share with you not only the time that TextExpander users have saved but a look at how they've put that time to use. Here's how much time the TextExpander community is saving!
So How Much Time Did You Save?
Last year, members of our community clocked up not just hours, but days saved of laborious typing time. For some, it was a couple days freed from typing…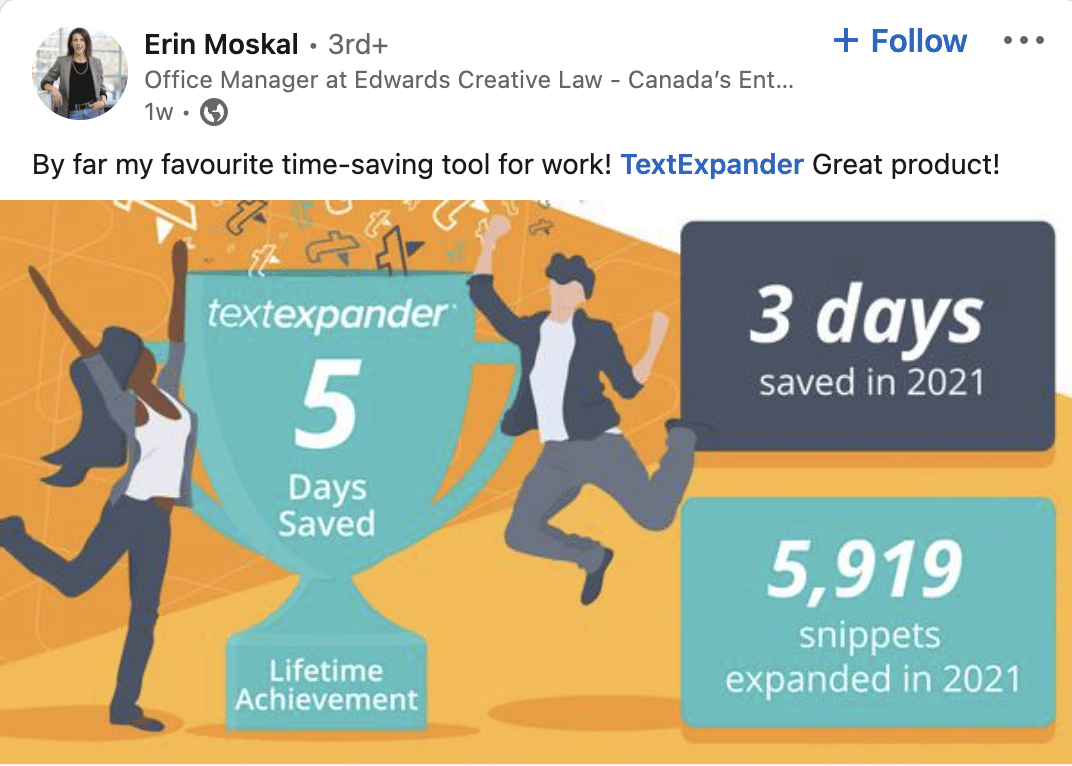 While others saved over a week thanks to their speedy snippets…
And then some users even clocked in with multiple weeks saved in just one year.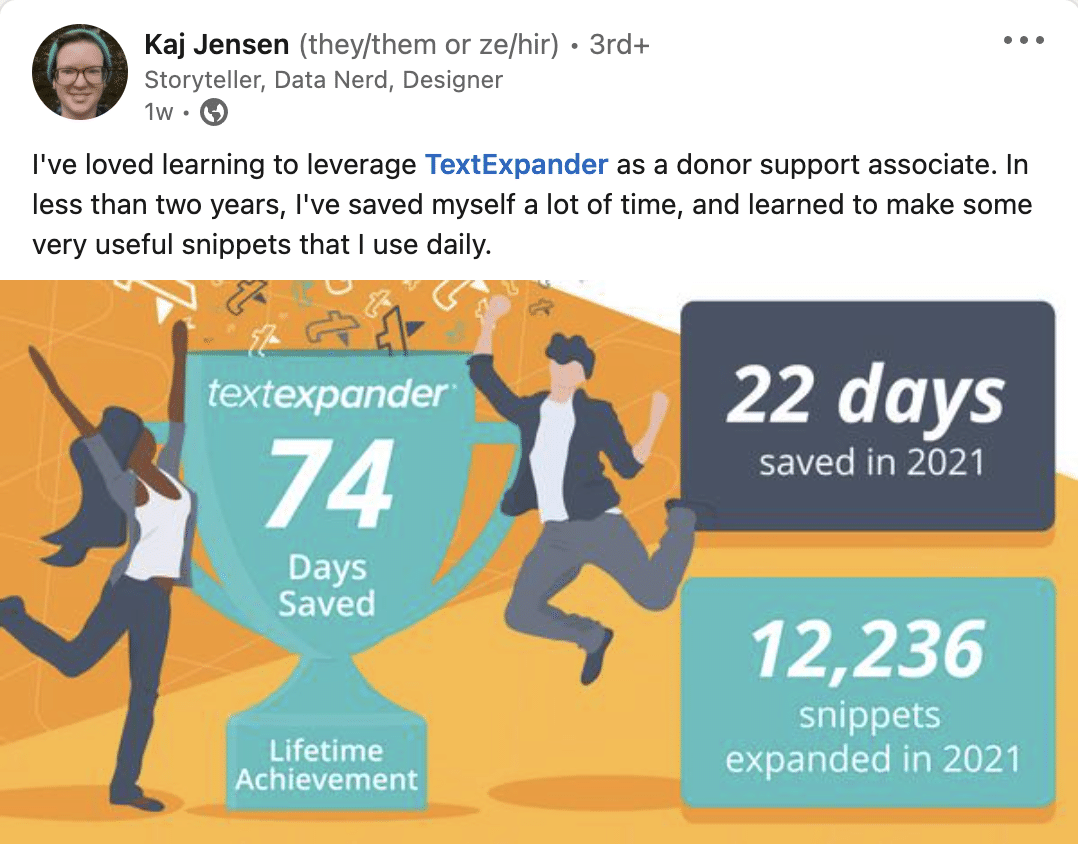 How Did You Spend That Time?
Some of you even let us know how you put your saved time to good use!
And some of you shared the benefits you experienced, too:
And some advice on how to boost your numbers: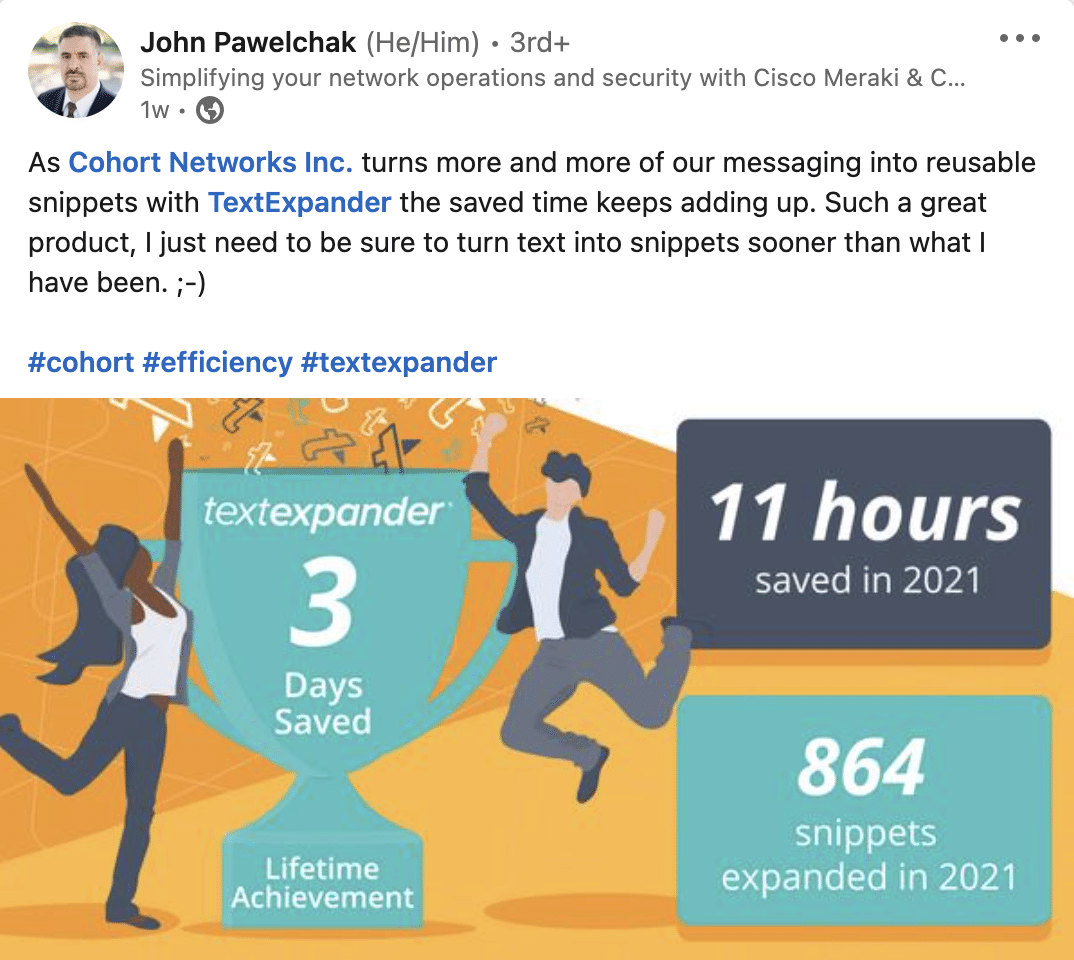 What the TextExpander Team Did With Their Saved Time
We asked some of the team what they did with all the time they saved using TextExpander this year. Here's what they said:
I used that time to write!
My family bought a house, and I spent every saved hour (and then some!) trying to bring it from 1982 to 2022.
I used my saved hours to build my spiritual health this past year.
I spent my time journaling and meditating, both total gamechangers!
Find Out How Much Time You've Saved
Alongside our emails, you can find out your own TextExpander time savings whenever you'd like to within the app. Simply open the app, select your username, then select "Statistics" to be taken to your stats page.
How much time did you save this year? Let us know. If you want to boost your stats but don't know where to start, try these posts: