In this post, you can peek behind the curtain to see how we used Trello to hire new TextExpander recruits, with a little help from Google Docs and TextExpander snippets along the way. We test drove this when dealing with a small number of candidates at a time. For a larger wave, you might need a set up more like this Hiring Process Board

We started by setting up a Trello board and shared with staff involved. We then created columns for different parts of the recruiting process; a column for candidates, a column with all steps in our process and a column for recruiting reference material with links to Google Docs.
The benefit of this system (as opposed to the example board linked above) is that you can see at a glance the status of each candidate by how complete their checklist is.
The sample board linked above uses each column as a stage in the hiring process, with the candidates traveling along the columns as they progress. We do it a little differently: we keep candidates in one column and instead use a checklist for the stages.
The Process
Step 1: Research and Post the Job
An important part of any recruiting process is knowing the best practices for finding golden candidates. We compile all our notes on recruiting in a handy Google Doc, which covers everything from where to find candidates to interview guides. This is also where we develop job descriptions, ready to advertise.
Bonus tip: We have a Trello column with links to all the hiring knowledge we've gathered, so it's easily accessible to everyone.
Step 2: The Candidate Email
When we receive an email from a potential candidate, we forward it to our Hiring Trello board. You can find your board's email by navigating to:
Menu > More > Email-to-board Settings
Read more on on creating cards by email on the Trello support page.
From there, you can select where on the board the new card will be created. When an email is forwarded to your Trello board's email address, the email will become a card; the body copy will appear in the description and any attached files, such as resumes, will be included as an attachment on the card.
From there, we add a checklist for the hiring stages, which will turn green when completed. This is super useful as we can see at a glance where candidates are in our process meaning this first column acts a dashboard for candidate progress.
Step 3: Candidate Communications
To send personalized emails quickly, we use our very own TextExpander snippets, which allow us to expand longer text just by typing a short abbreviation. We have snippets for every stage and outcome of the hiring process, and the fill-ins make it easy to personalize.
Here's a peek at the snippets we use for hiring: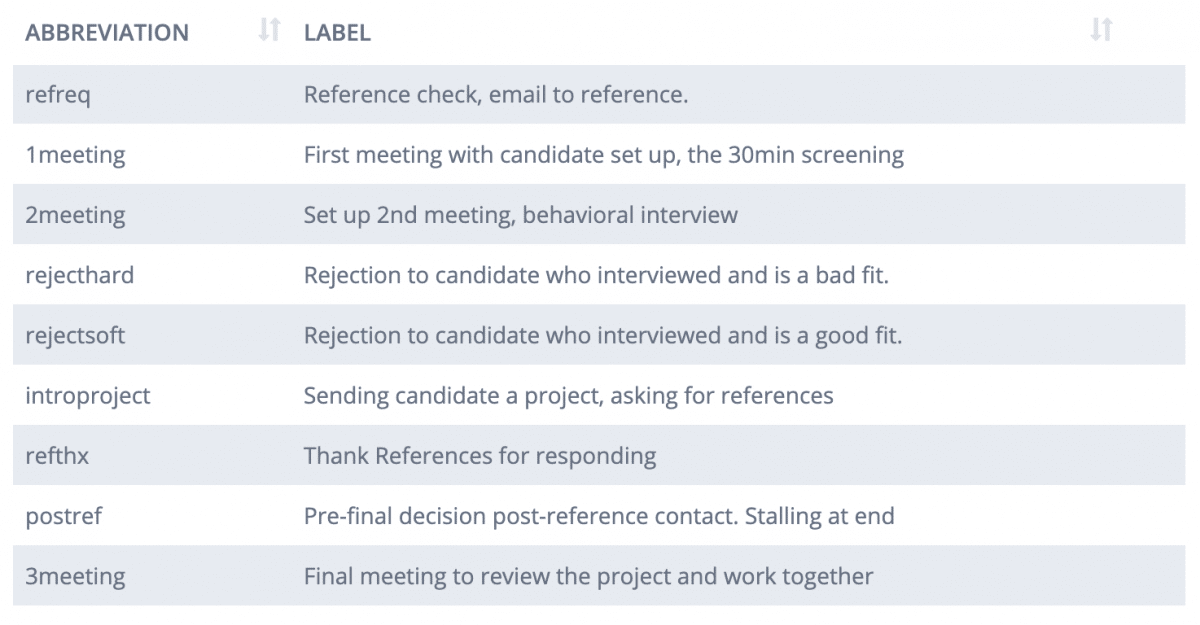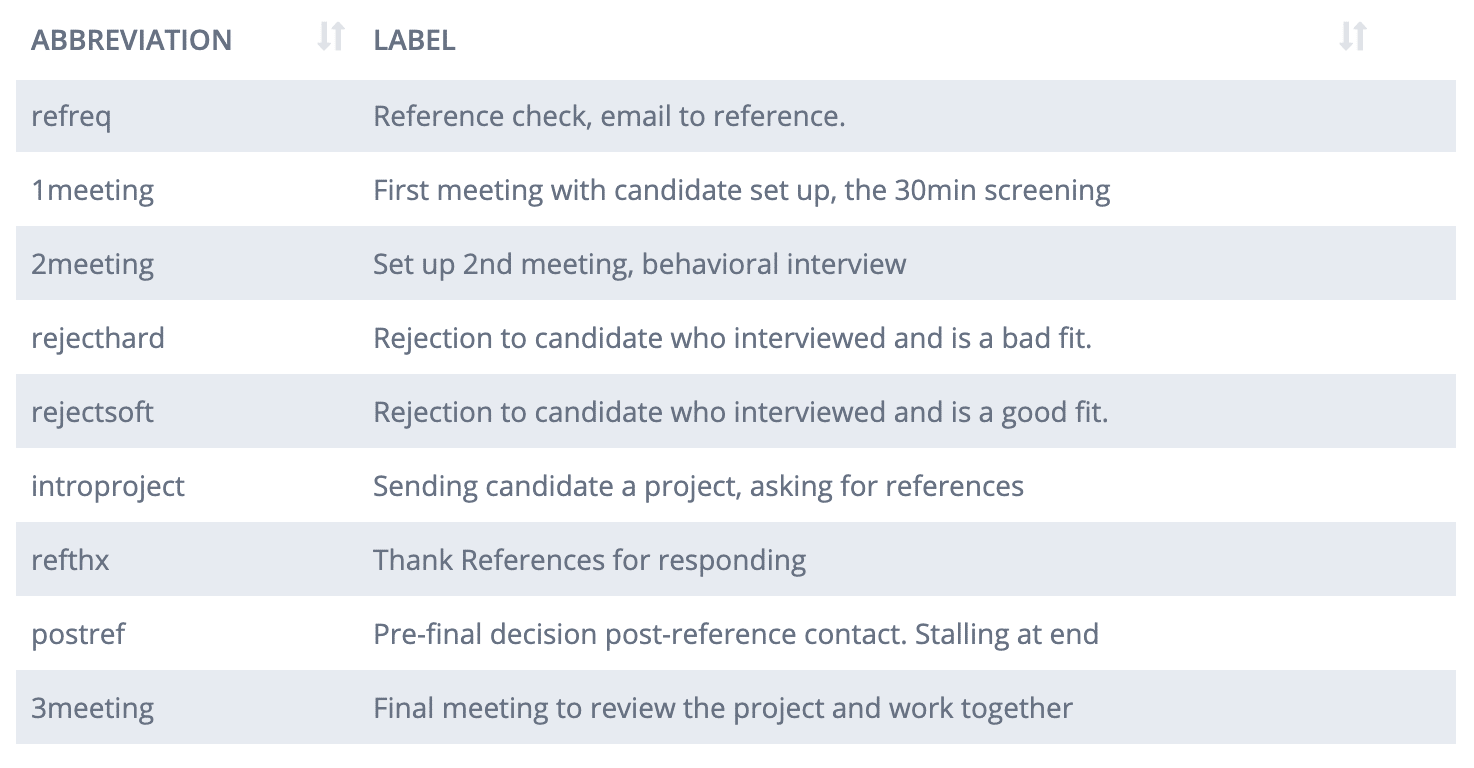 Fill-ins are really useful in recruiting emails as they allow you to personalize for each candidate.

We set up a group just for the hiring process. To keep things neat, and searchable, we also give this group a group prefix of "hir."
TextExpander: Sharing Snippet Groups with a Team.
Step 4: Interviews
We found someone we like! Next up, interviews. We use Go To Meeting to record the interview for easy reference later. It's useful to have the file for our records, plus we can use it to get a second opinion on a candidate and in interviewer training.
We'll have a Google Doc in front of us too with our interview notes to guide questions and record answers. We find Google Docs works particularly well because notes can be scrolled through post-interview, which is better than trawling through hours of video.
Once the interview is over, we include a link to the interview notes on the candidates Trello card for easy reference.
Step 5: Accept/Reject
When it's time to offer a job or politely reject, we have snippets for every outcome:
The candidate was successful and we want to make an offer
The candidate wasn't successful but did meet our standards
The candidate wasn't successful and did not meet our standards
Once we've replied, we'll update the Trello card with whether the candidate was successful or not, and the candidate's card can be marked as completed.
The Dream Team
We're enjoying using Trello and making use of Google Drive and TextExpander snippets to aid our recruiting process. They work well together! What does your recruiting system look like? Let us know @TextExpander and in our group on Facebook.