The reason healthy businesses evaluate, update, and improve their internal processes on a regular basis is often to improve efficiency.
TextExpander can save businesses, teams and individuals both time and effort.
In this article, we're diving into how you can easily incorporate TextExpander into your work processes.
Stop typing, start expanding Snippets
TextExpander uses abbreviations, chosen by you, as a shortcut to typing out longer text. The longer text that's triggered by the abbreviation is called a Snippet.
For example: Set up a full name, Jane Francis Doe, to appear automatically by just typing JFD. 'JFD' being the abbreviation, and 'Jane Francis Doe' being the content that expands. That's a Snippet.
Snippets can be heavily customized, and include links, formatting, dropdown options, and so much more. To learn more about getting the most out of your Snippets, visit the TextExpander​ Learning Centre.
Templates
Almost all businesses have text chunks that are regularly used, whether it's a customer service email, invoicing message, or a sales pitch on LinkedIn.
Let's say you want to send a personal and sincere thank you email after closing a sale. Of course, you and your sales team are busy people, with more deals in the pipeline. You can save time and thank your customers faster by setting up a TextExpander Snippet for your email message.
When setting up a new Snippet, TextExpander allows you to use fill-in-the-blank style fields. This means that when you expand the Snippet, a pop-up box will appear, offering you space to type in personal details and customization. Here's an example: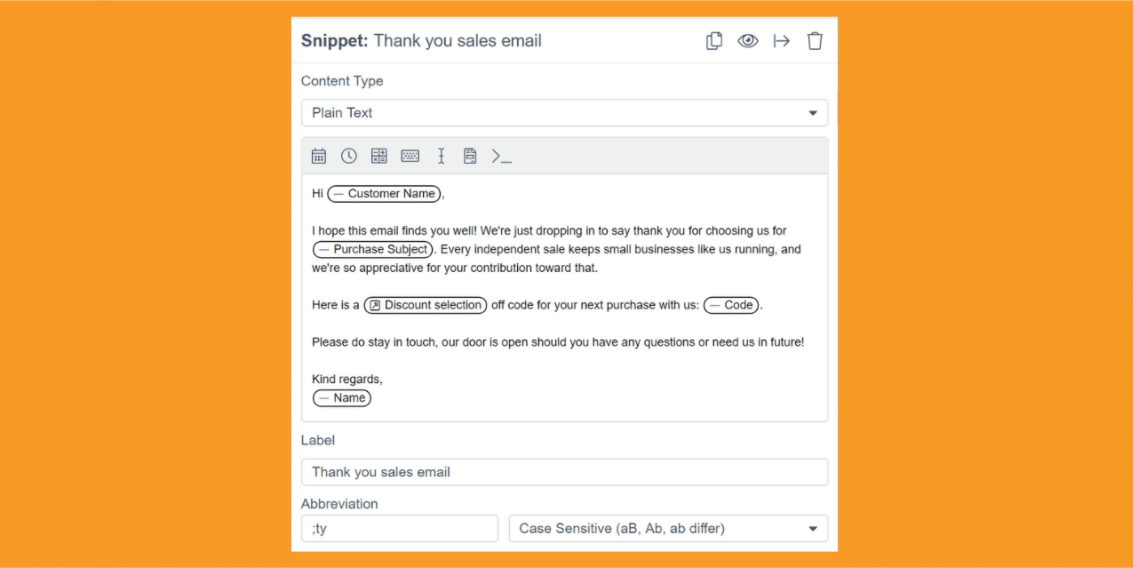 Once set up, expansion of this Snippet will appear like this: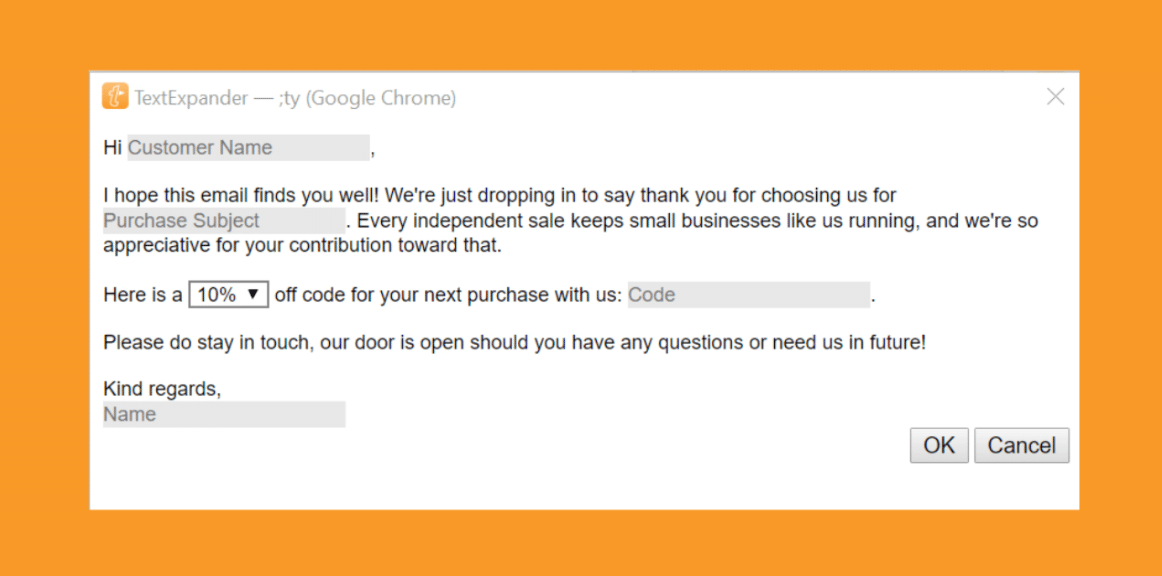 Within a few seconds, you have written a personalized thank you email. Then you can get back to selling!
Consider other areas where adding TextExpander into your processes with pre-written template would save you time:
FAQs
Email signatures
Your company address, complete with directions
Sales outreach / prospecting
Invoice chasing / credit control messaging
Blogs / article outlines
Journal entries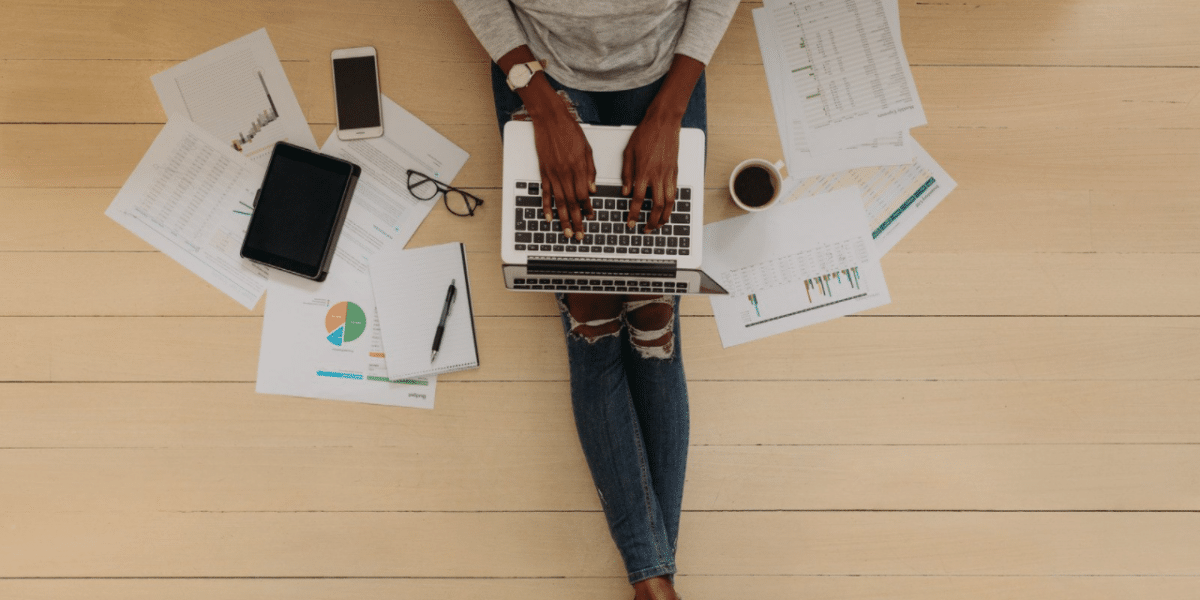 Phrase it right
Another useful way to add TextExpander into your processes is setting up Snippets for customer service phrases. Different situations call for different tones of voice, enthusiasm, or professionalism. Striking the balance between friendly and informative can be essential to your client or customer's experience.
Instead of wracking your brain for the right response, have your options in front of you within just a few keyboard taps. When you set up a new Snippet, TextExpander allows you to add a dropdown box feature. This function can be used in this example; simply add as many phrases as you like to the dropdown options, such as:
Happy to help!
I see what you mean.
Thanks for reaching out.
I totally understand.
I'm not sure, let's find out.
I know this must be frustrating.
I'm sorry to hear that you're having trouble with this!
We're working on a solution for this.
I'd feel the same way!
That is super helpful!
From what I understand…
Let us know if you have any other questions.
Thanks for giving us a heads up!
I'll let my team know about this.
Is there anything else that you need help with?
I can absolutely help you with that!
That's a great question.
I just wanted to update you…
We really appreciate you!
It sounds like [x feature] might also be useful for you.
You can create a group of Snippets for different phrases and situations then share with the team to keep everyone on message.
Roles and industry specifics
Another great way to add TextExpander into your processes is by setting up industry specific Snippets.
Content creators and marketing departments can work efficiently, saving time, by setting up Snippets for:
YouTube video descriptions
Hashtags
Podcast show notes
Affiliate links
Social media URLs
Calls to action
As demonstrated in the templates section of this article, Snippets can include blank spaces for specific details, such as links, sponsor names, and credits.
Designers and developers can benefit from incorporating TextExpander into processes by using shortcuts for commonly used codes. For example:
Brand colours. For example, #green could expand as #00bf7f
Markdown chunks. For example, xbr could expand as <br>
Header formatting. For example, #2 could insert the correct number of # to make the following text Heading 2 in your blogging platform.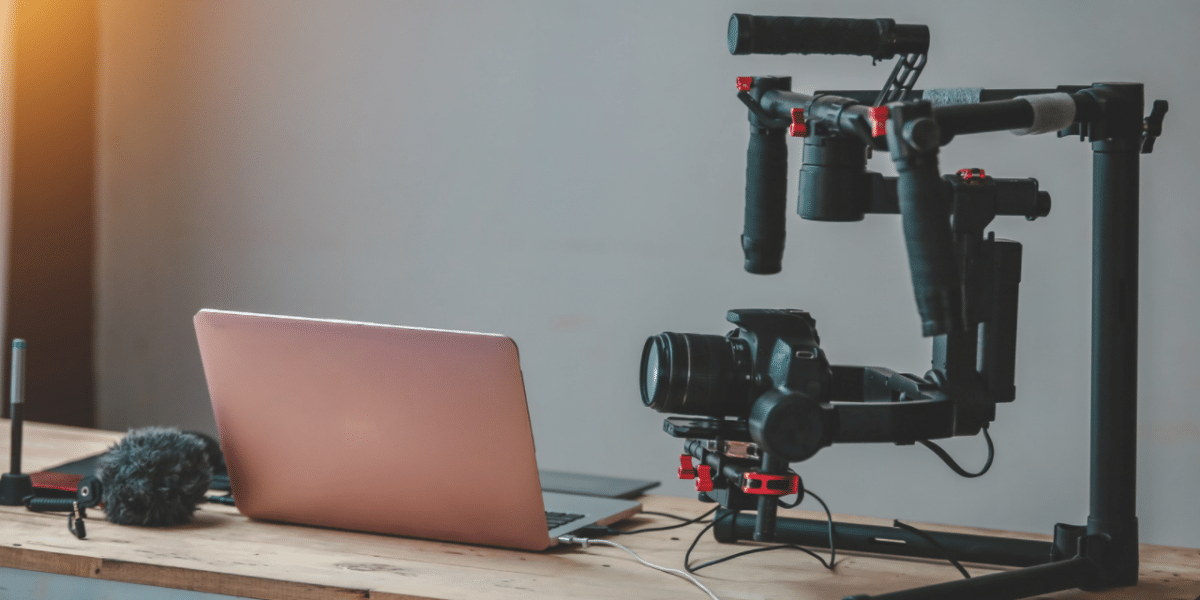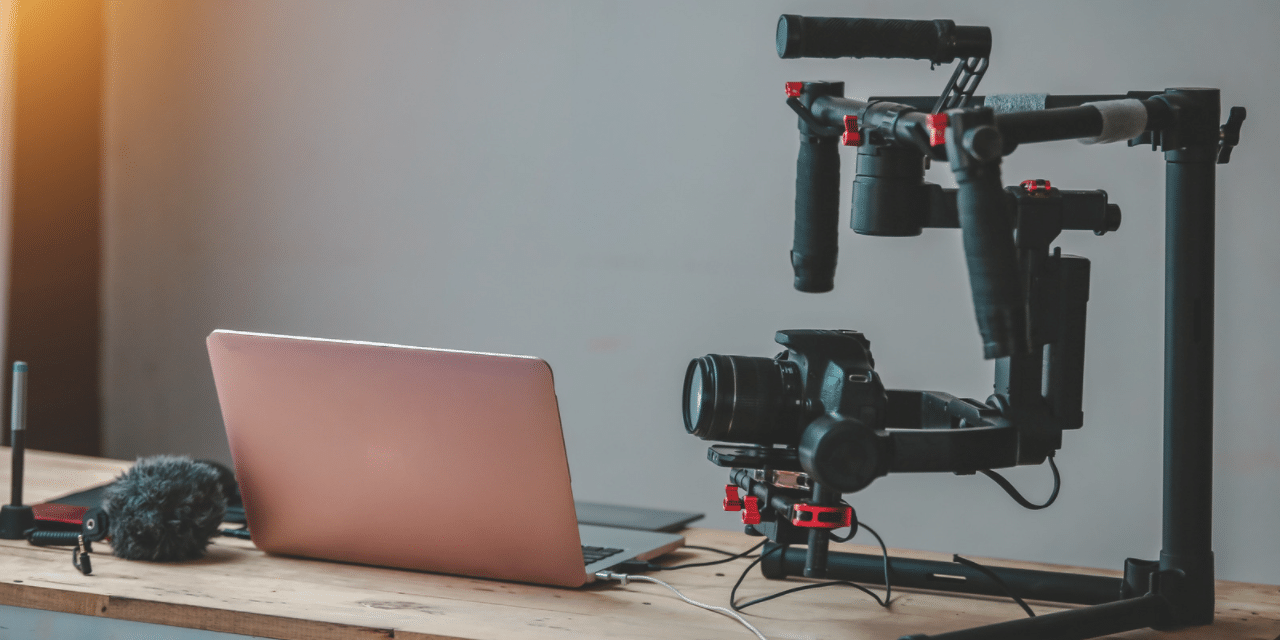 Summary
Work smarter, not harder, by incorporating TextExpander into your processes.
Snippets are easy to set up, edit, and use. You can even have the luxury of TextExpander popping up to remind you that there is a Snippet set up for the word you just typed out, in case you forget. Ready to make your processes efficient?
Create Snippets for longer chunks of text, such as follow-up emails, to speed up your workflow.
Set up Snippets for regularly used phrases – check your sent box to find what you type most. Think email sign offs, introductions, and your own contact details. All those time-savings add up.
Tailor your TextExpander to be industry specific, creating Snippets for commonly used information in your team.
If you found this helpful, we recommend these articles: