When it comes to working from home, there is no such thing as overcommunication. In fact, communication is what makes the world go 'round in remote work settings.
With more people posting up in home offices than ever before, it's important to communicate much more often than you think you should.
Where is this project? Has anyone contacted them? When will this be ready for review?
Without help, both asking and answering questions such as these can become a burden — slowing your work and negatively impacting your productivity.
At TextExpander, we help people streamline and standardize their communications every day. Our team has been conquering work from home for quite a long time. So, we wanted to share a few of our favorite types of snippets with you that have helped our team keep communication flowing.
Below are some tips on keeping your communications organized while working as a remote employee. But before we explain our shortcuts, here's a little bit about TextExpander for those that aren't familiar with it.
How to Use TextExpander
In short, TextExpander helps you boost your productivity by allowing you to type a few letters and automatically insert, or expand, content created by you and your team — called snippets.
Here's an example of using TextExpander to insert an email signature: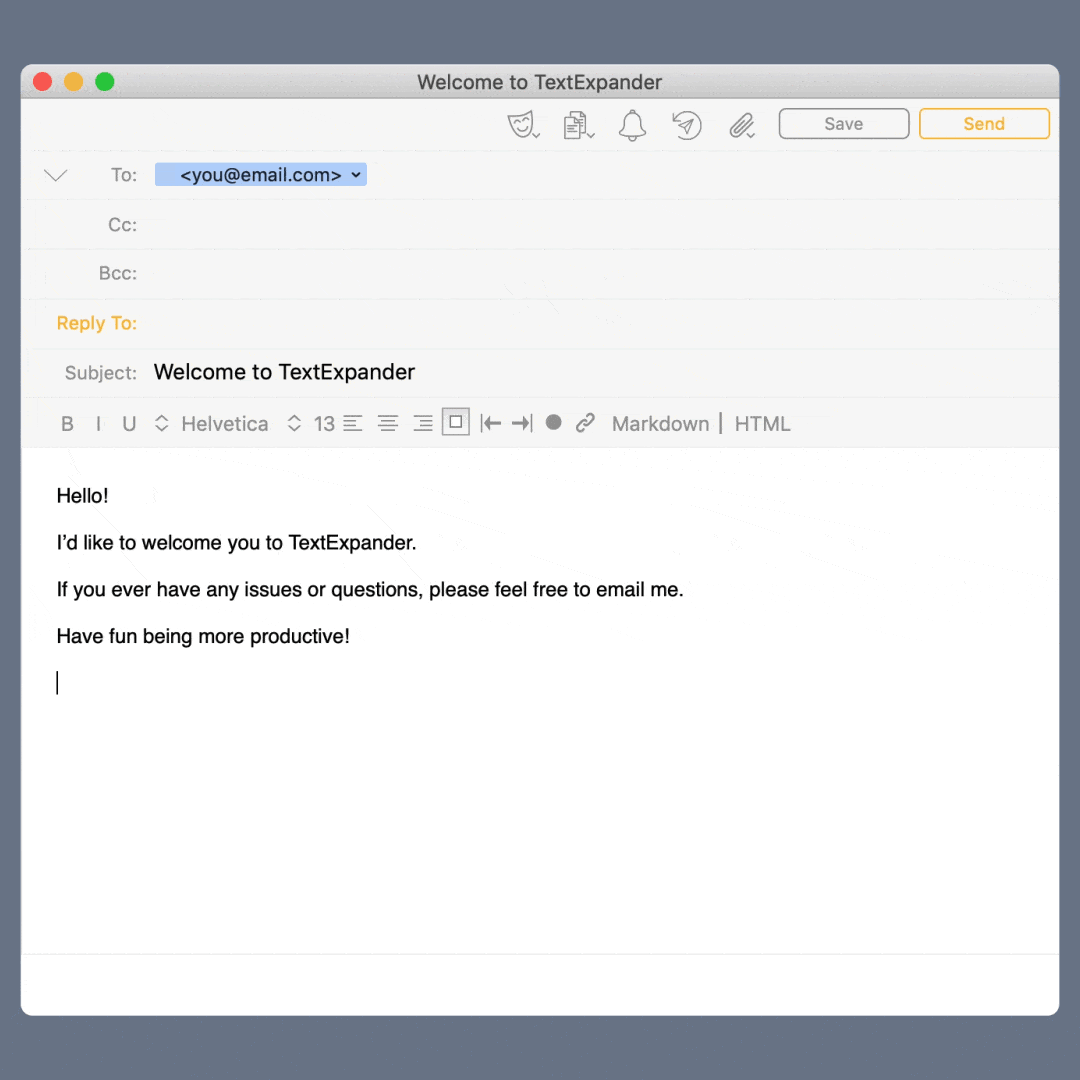 When you type your specified abbreviation — such as "emailsi" in the example above — the program automatically replaces it with content stored in a library of snippets created and shared by you and your team.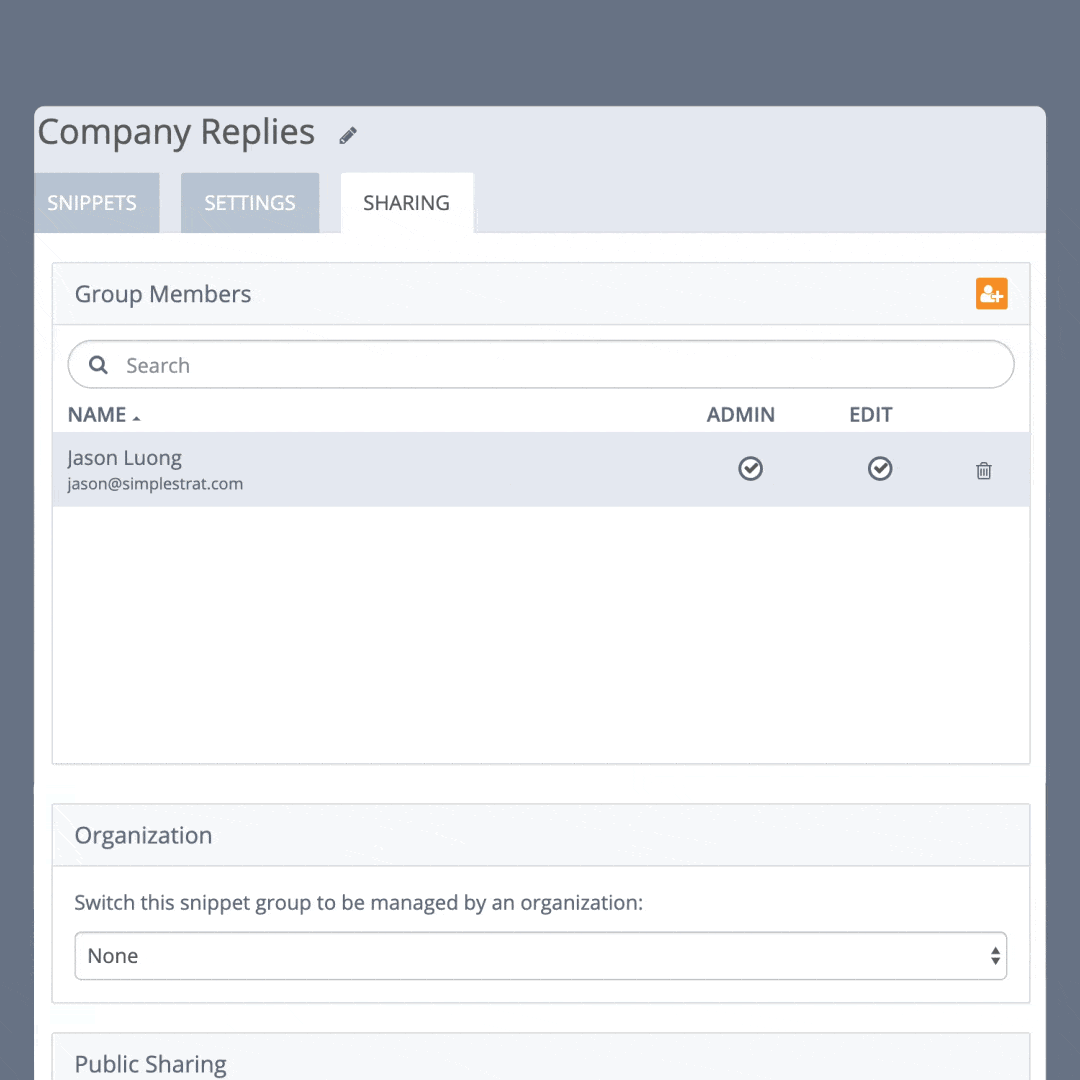 You can share snippets of highly used questions, responses, forms or other important communications — even images. That makes it possible to do more than save time, you can also standardize the way you and your team communicate.
Below, we show you what this can look like in a typical work-from-home day of updates, emails, meetings and more!
WFH Snippets That Get the Job Done
Updates
When you can't physically see your coworkers, it's hard to know where to find them or know the status of the projects they are working on. Regular status updates throughout the day – no matter which application you make them in – can be completed easier with TextExpander snippets.
Here are a few snippets we use for keeping everyone up to date:
1. In-and-out status
We've set up snippets to make posting status updates as simple as possible.
brb >> "be right back"
oftd >> "out for the day"
And, some of our team, with more personalized in-and-out needs, have set up their own — such as these:
puk >> "picking up kids"
;run >> "on a 30 min run"
If you use a team chat app such as Slack, snippets similar to these like this make it super easy to update your status.
PRO TIP: Remember to use an uncommon symbol — such as the ";" above if your abbreviation uses common words or letter combinations to prevent unintentional expansions.
2. Project status
It's not uncommon for the status of our projects here at TextExpander to change during the day. When updating our team, we use snippets such as the ones below:
nrvw >> "In review with [fill-in name]"
hld >> "On hold until [fill-in date]"
PRO TIP: Add optional sections to your snippets that allow you to add fill-in information each time you use it — such as names, dates, locations or sign-offs.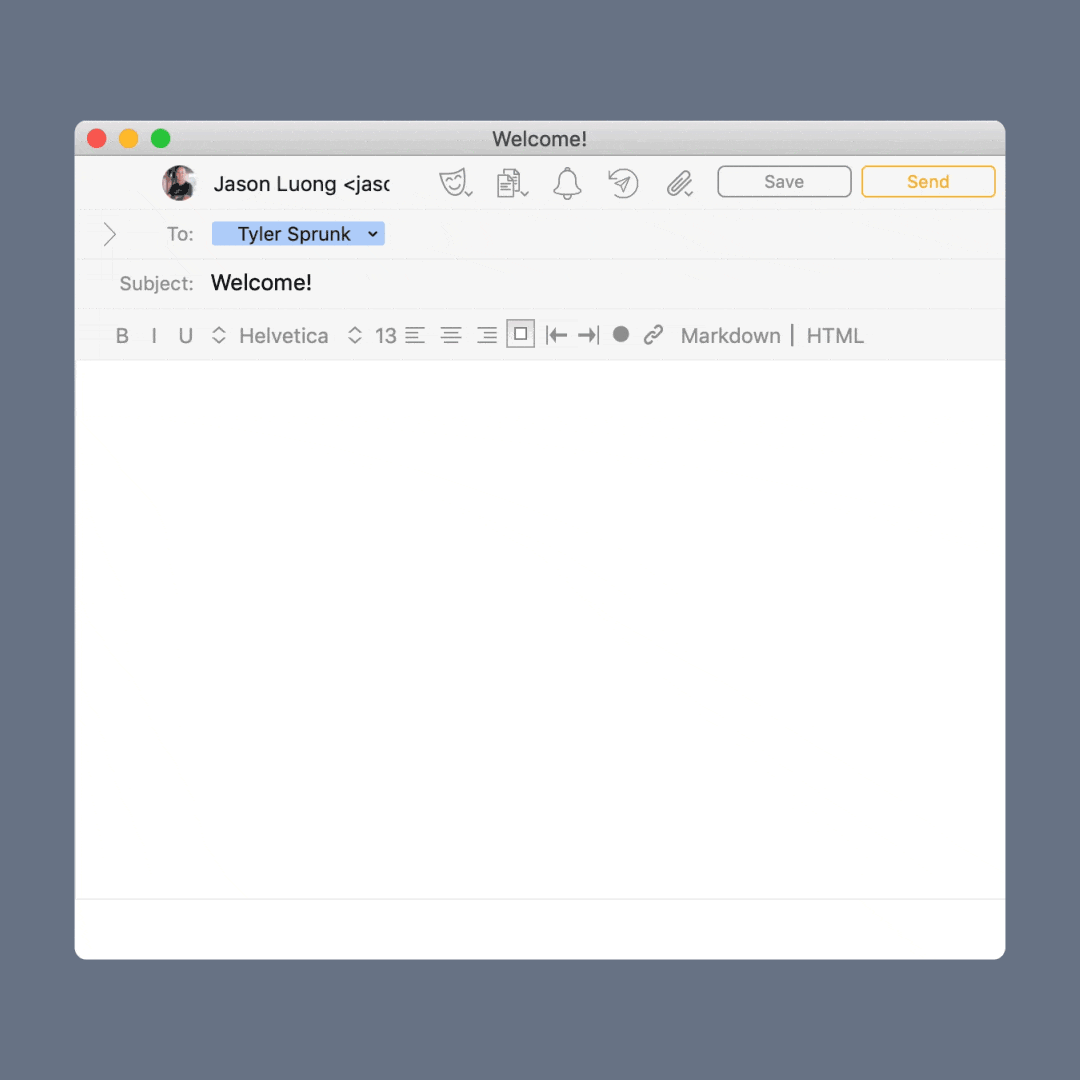 Emails
We showed you an email signature shortcut above, but there are several other snippets we use to streamline our email communications.
Try setting up one of these:
3. Sending group emails
This snippet is useful if you find yourself emailing the same group of people often. For example, you could set up a snippet with all the email addresses for people who review and approve your work and set it up with an abbreviation such as "rvwtm". Then, when sending a deliverable for review, use the abbreviation in the "To:" field of your email. You'll have that project on their plate — and off yours — faster.
4. Inserting your domain name/website
When we communicate with customers we often send them to our own website. We have created a snippet group with snippets for the main webpages we send people to.
//tecom >> "https://textexpander.com/"
//support >> "https://textexpander.com/support"
Even though many of our internal conversations happen in chat apps, at TextExpander we still have several instances where we need to talk with colleagues through email. Setting up a snippet to expand our domain name has been a great shortcut to help with these scenarios.
Here's how it works when typing an email:
Type the person's email handle then expand the domain using a snippet such as the one below.
atxp >> "@textexpander.com"
PRO TIP: This snippet should be set to "expand after: any character"
5. Sending generalized responses or a specific set of questions
Sometimes we feel like we're saying the same things over and over and over again. If you find yourself answering the same question often, simply set up a snippet with the answer so you never have to type out the full response again.
PRO TIP: You can use TextExpander to insert hard-to-remember details such as these for product details and promotions in your follow-up responses.
6. Sharing images
Sometimes it's easier to show our clients or other team members how to do something than to explain it, so we often find ourselves including screenshots or short videos in our responses. Here's what it looks like to expand an image using a snippet: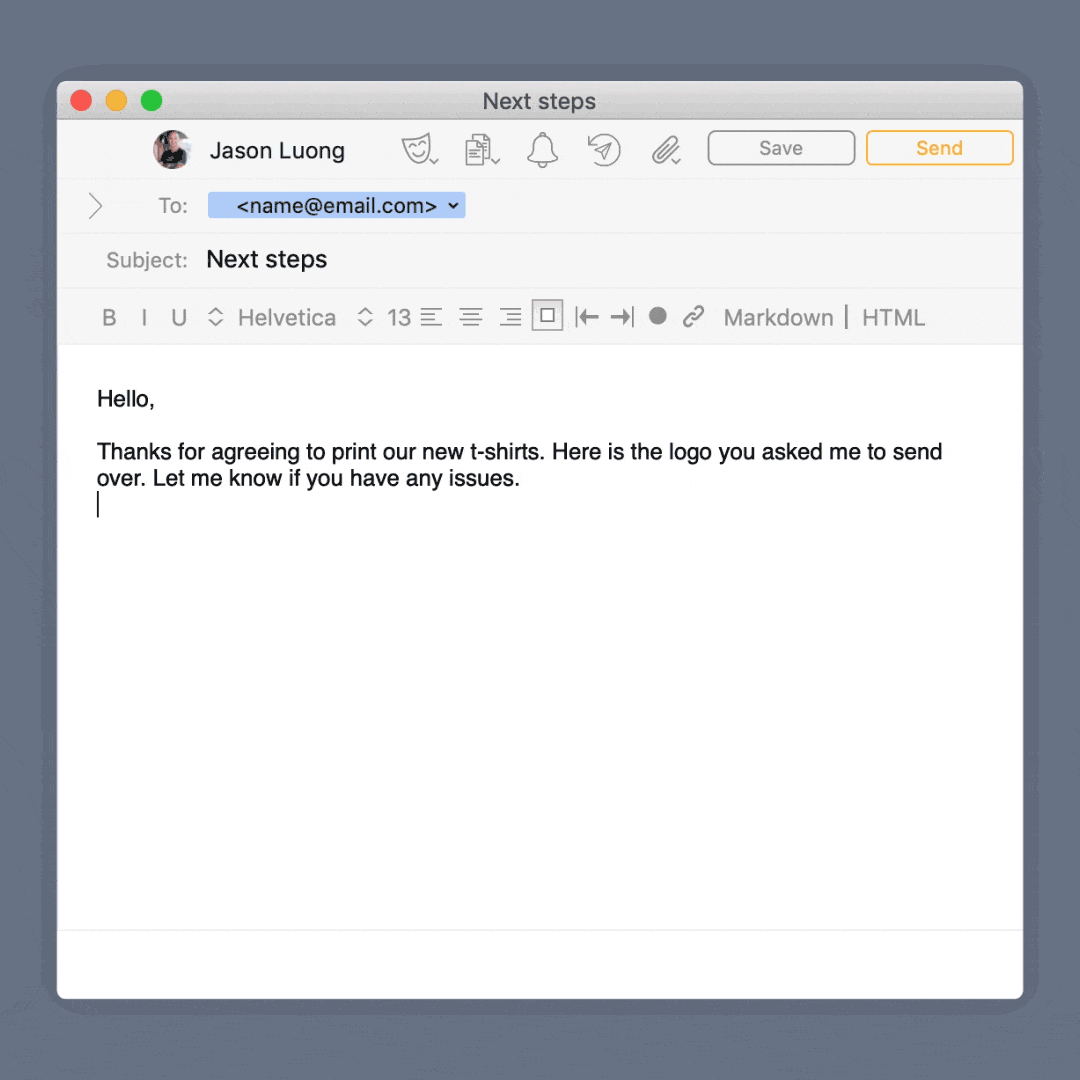 PRO TIP: If you use a tool such as Loom or CloudApp to share quick tutorial videos with your team, snippets are also a great way to easily store and recall links to those videos you refer to often.
Meetings
Our team has been remote for 15 years, so we are no strangers to calendars full of virtual meetings on our calendars before. But with everyone home all the time, we're starting to see social meetings on our calendars too.
Regardless of the reason for meeting, there are several snippets we use to make these encounters easier to schedule and document:
7. Sharing your personal conference link
All of the meetings we schedule have a meeting link, but those links are really hard to remember. To help make it easier, we've set up snippets for various links that we can use to access and schedule them.
PRO TIP: If you share your meeting link snippets with your team, they can connect with you or get others in touch with you much faster.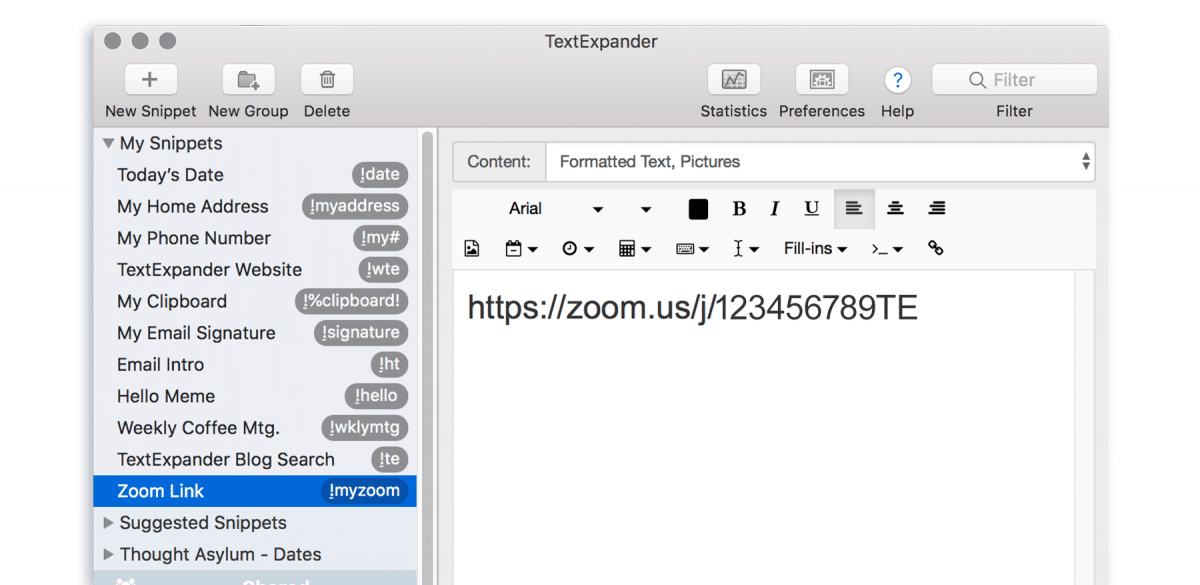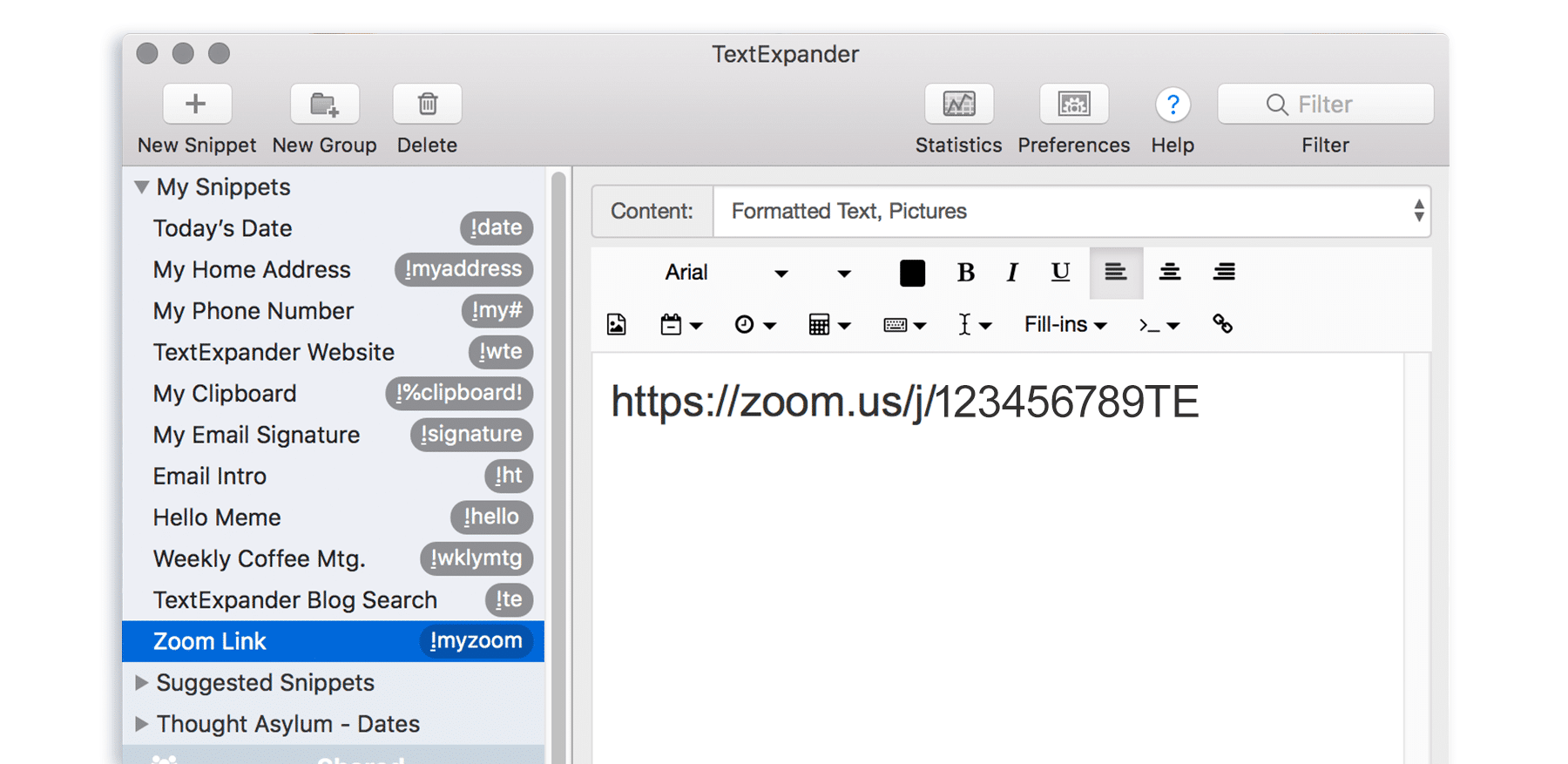 8. Making note-taking easier
With so many meetings, we've really found snippets useful for taking notes. We've set up meeting agenda outlines for several types of meetings and shared them with our team. This makes it really easy for everyone on our team to record notes and skim them later.
The example below actually uses two snippets: "mmeeting" has our standard high-level meeting agenda with options to fill in the date and attendees, and "wkupdate" has a more specific agenda we use for our weekly update meetings.
mmeeting >> April 14, 2020
Action Items:

Attending:

[fill-in: series of optional sections to add common attendees]
Agenda: wkupdate >>
"Old business:
New business:
Performance:
Announcements:
More
There's so much more that our team uses TextExpander for on a daily basis, but we added one of our fun favorites below.
9. Inserting Emojis
Snippets aren't all business around here. We like to use them to express our personalities too. There are numerous ways you can insert emoji's, but here's one quick example: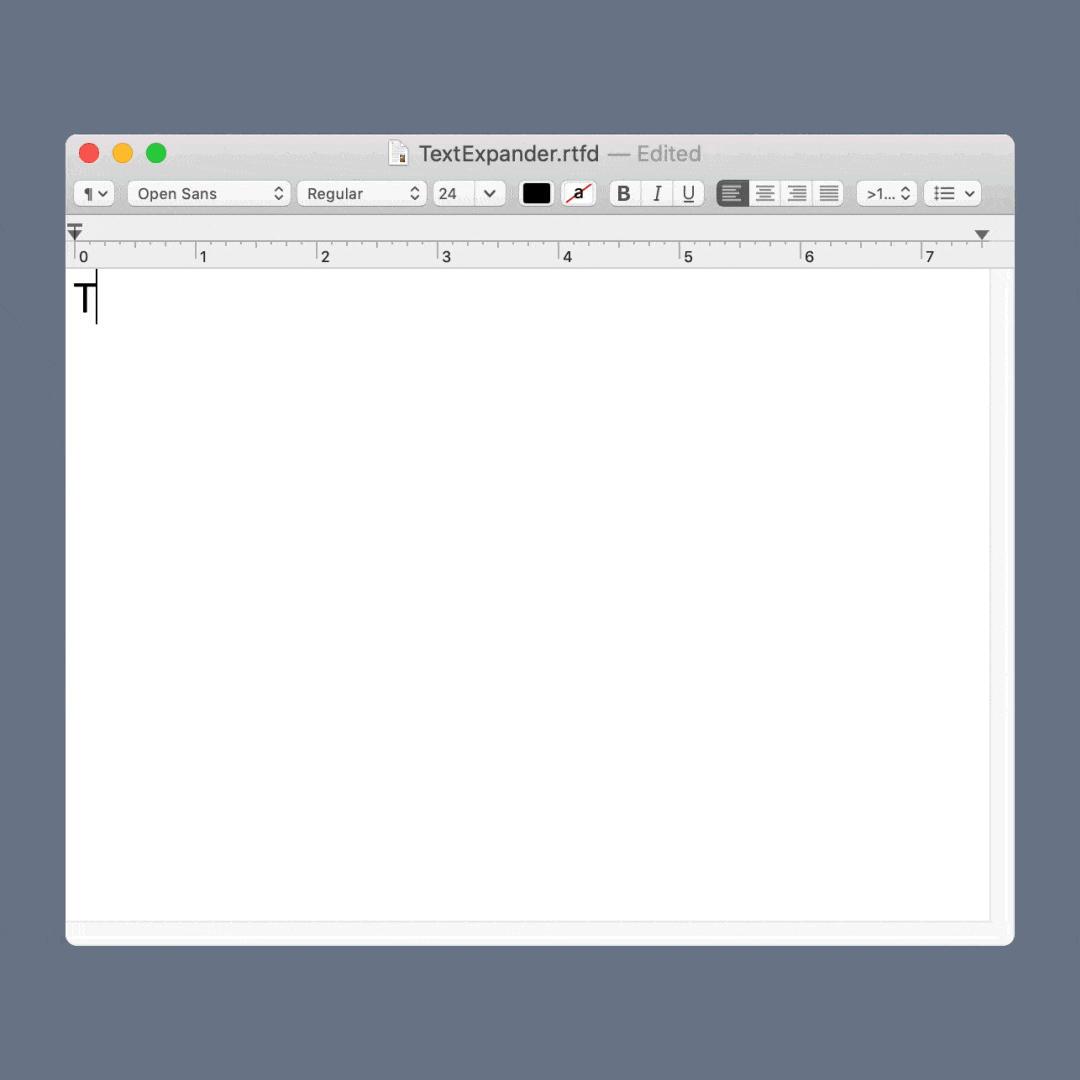 PRO TIP: Head over to our Public Groups and subscribe to the Emoji group to get access to a bunch of premade emoji snippets!

Connecting Better — and Faster
Working from home can certainly have its challenges but communicating effectively with your team shouldn't be one of them. Tell us — how are you working to stay informed and up to date from your home office? Which of these snippets are you most excited to try?