Perfecting your customer service communication is one of the best things that you can do as a business right now. That means that every touchpoint that you have with a customer should be optimized to make it as enjoyable, easy, and pain-free as possible.
While it generally feels better to get a customized answer to support inquiries, there's no harm in setting your customer support team up for success with some tried-and-true customer service email templates. Using these helpful templates can help make your customer service team more productive, and they are a great way to expand your team's repertoire and toolbox of responses.
In this post, we'll be tackling five common support emails that your team probably has to respond to customers every day. We'll provide guidelines for things to be sure to include and a template for each one.
Remember—it's important to make sure that anything you send out fits your brand voice. Don't just copy and paste these into your support email templates or automation workflows. Run them through the filter of your team members and company, and be sure to advocate that your team-members substitute things that make more sense for your customers at the moment.
Let's go!
Five Customer Service Email Templates To Make Your Own
1. Respond to a feature request
This is your support team's bread and butter. You probably get at least one of these, if not more, per customer support agent per day. Feature request emails are any messages that customers send where they are asking for a product or feature that you don't yet have—and may not ever have.
There are a few key components to this response. In it you'll need to:
Thank customers for reaching out
Tell customers that you don't have what they are looking for
Share a workaround or status for the feature to be built in the future, if you're planning on adding it
Ask for additional context on why they need this feature if they didn't already provide it
Let them know you'll tell your product team
Invite them to reach back out if they have anything else
Here's an example:
Hey there [Customer],

Thanks so much for reaching out about this—that's a great question! I could totally see how you would want [this feature] but it's not something that we offer at this point.

We've actually heard a lot of people ask about this, though. Could you let me know how you'd use this feature, or what would make this particularly valuable to you?

Once I have that information, I'll pass this along to our product team. They love to hear about the features people care about most, and it's especially helpful to have some context around your business to share.

Thanks again for reaching out. Please let me know if you have anything else that comes up.
Note that this uses a pretty friendly tone. Oftentimes when people are reaching out about a specific feature, they aren't really frustrated or upset. That said, if the person reaching out to your team is already a bit frustrated, then you'd want to match their tone in your response, and tone down the casualness.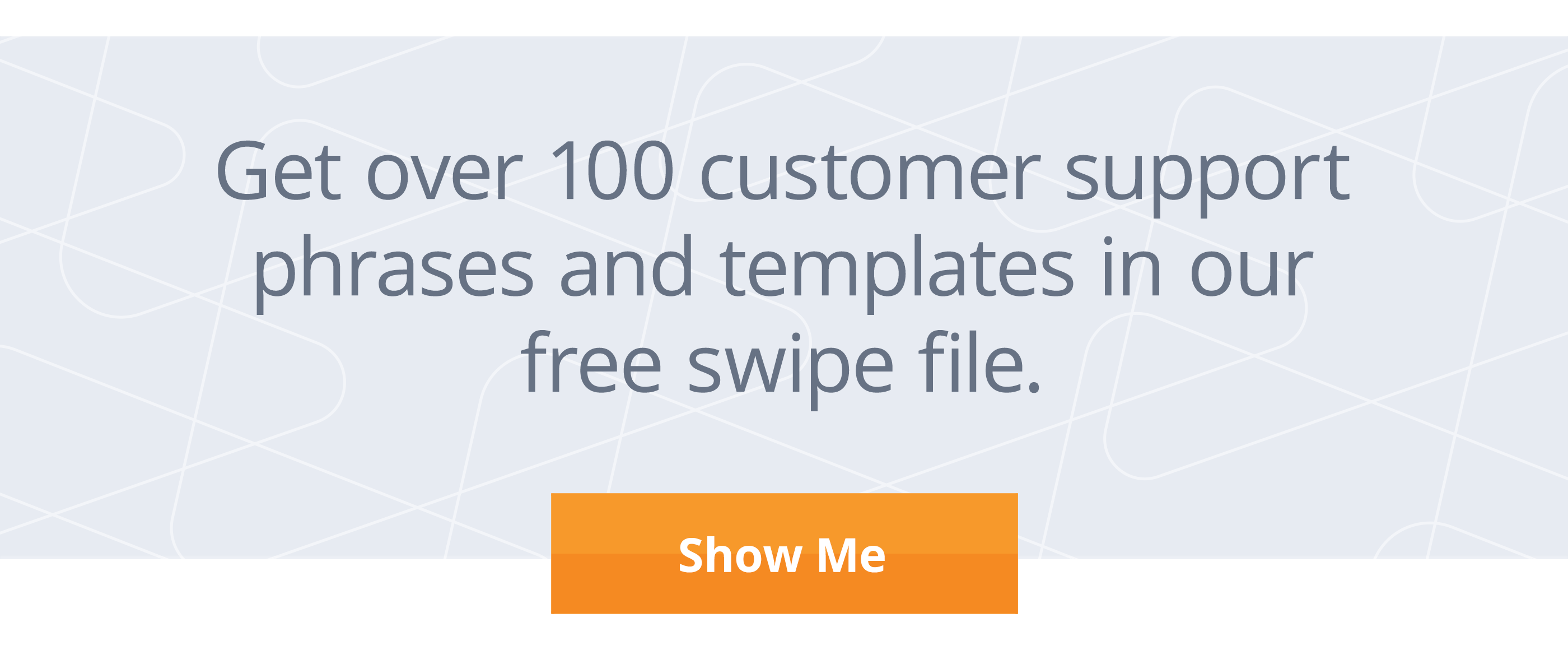 2. Calm an angry customer
This is another one that probably comes across the desk of your customer support team somewhat frequently. For some people, customer support is the scapegoat they use to take out all of their personal and professional frustrations for the day. While it's not necessarily right, your team will likely have to deal with some customer complaints—whether they're actually founded in your product or service's performance or not.
Luckily, there's a pretty tried-and-true formula to make this go a bit more smoothly, whether on email or social media:
Thank the customer for reaching out
Repeat what their issue is back to them and acknowledge that it is an issue
Let them know that you understand how frustrating and painful the situation is
Assure them that you will be working to resolve this, or have already resolved it
Invite them to reach back out if anything else comes up
Here's what that looks like in practice:
Hey there,

Thanks so much for reaching out—I'm sorry to hear that you are having trouble with this.
It sounds like the issue that you're experiencing is [describe their situation]—does that sound right? I just went ahead and tried to reproduce this and I was able to—it looks like you've run into a bug.

I know how frustrating it is to be in the middle of working on something only to have to take a break to get an issue sorted out. I'm hopeful that we'll be able to get this taken care of for you quickly. I've already spoken to our engineering team and gotten one of my team members on the case. :]

We'll get back to you soon, but don't hesitate to reach out if something else comes up in the meantime.

Thanks!
The same thing goes here: if the customer is extremely angry, maybe don't include the emojis. :]
3. Thank your customers
While thanking our customers is not something that we do often in support, it's probably a practice that many of us should try to integrate. Our customers do a lot for us.
From reporting bugs to giving us product feedback and ideas for new features, customers are one of the best resources that we, as companies, have for getting better. Sending out a thank you every once in a while helps to maintain that relationship and spread the feel-goods all around. There are no real components to this template, outside of saying thanks.
Hey there,

I just wanted to reach out and say thanks for the great [feature request/bug report/etc] that you sent out to us a few days ago. We're really lucky to have customers like you that take the time to let us know the stuff that you're really passionate about.

Please keep getting on the horn with us if there's anything that you think we could be doing better, or making more efficient in our product. In the meantime, thanks for just being rad and continuing to use our product. You're the best.
This language should definitely be tailored to fit your brand persona or the personality of the person writing it. Maybe you don't want your team to use colloquial phrases such as "on the horn" or "being rad"—if that's the case, swap them out for something that feels more comfortable and sensical to your team. It's not really the words that count here, as much as the sentiment.
4. Respond to refund requests
This is one of the things that many teams choose to automate, but if you are a small business and at the stage where refunds are still something that is done by your team manually, we've got a template for you!
When offering refunds, your response should change in tone a little bit, depending on the reason for the refund. For example, if someone has had a terrible experience with your product and wants their money back, you'd probably respond differently than you would to a company that forgot they were on autopay and now wants to cancel after a year.
Either way, though, here are the components that make up this response:
Thank the customer for reaching out
Let them know that you've processed the refund and when they should expect to see i
Ask them if they have any additional feedback about what you could have done better
Let them know that you're grateful for their time as a customer
Invite them to reach out again if they run into anything else
Here's the template:
Hey there,

Thanks so much for reaching out about this—I'd be glad to help get that refund going for you.

I've just gone into our backend and processed it. You should see a credit in your bank account within the next few business days. Just so you know, you'll have access to all of the features available on your plan until the start of the next billing cycle, which ends [on this date].

While I have you, if you wouldn't mind letting me know if there was anything that really stood out in our experience or product (either positively or negatively), that would be super helpful. We're always trying to get better, and while we understand that customers leave sometimes, we'd like to prevent it from happening as much as we can.

Either way, we're really grateful for the time you spent with us as a customer. :] Please reach out if you don't see that refund in your account within the next few days, or if you have any other questions.

Thanks!
This strikes the right balance between making it easy for the customer to cancel if they want to, but also aggregating useful information for your company moving forward.
5. Escalate difficult questions
No matter how excellent your support team is, there will always be tickets that are better handled by another team, or a different section of your support organization. Most frequently, these questions are going to be escalated to your manager, customer success, or engineering.
The transition from one person to another is a tenuous situation for a customer: They are worried that they're going to have to explain the whole situation again. They're worried that they're going to get someone who doesn't care as much. They're worried about how much extra time it's going to take. It's up to you to assuage that concern, and also make sure that your team member is set up for success.
This is what you should be sure to include:
Let the customer know that you are transitioning their ticket to someone else and why
Explain the customer's issue to the other team in an email—that way the customer can correct or update your teammate if something has changed
Reassure the customer that this is going to be resolved as quickly as possible
Thank both your team member and the customer
Here's what that looks like in practice:
Hey there,

I just wanted to let you know that I'm going to escalate this conversation to our engineering team. Given that you seem to be running into a bug, I want to get you in touch with the team that is best equipped to handle it quickly.

Team, [customer's name] has been running into trouble with our product. [Describe the bug and any reproduction steps that you've taken to fix it.] It seems like it's right up your team's alley.

[Customer's name], our team is going to get going on this ASAP. They'll reach out if they have any additional questions that they need to ask to get this resolved, but otherwise, you'll hear back from them soon.

Thanks to both of you for working with me on this. :]
This sets your team member up with the context that they need to understand the issue as well as any reproduction steps, and also assures your customer that they're in good hands. Win/win all around.
Customer Email Templates with Heart
When you hear the word "saved reply" or "macro" it can conjure an unsavory image in your mind: crumby support teams sending the same canned responses to every customer without even taking the time to read their whole inquiry. It's time for you to shift that perspective!
Use these templates as a guideline for your team to move forward empowered. They can use the responses above as a framework for concocting their own amazing, reusable replies and wow their customers with their focus every time!