Templates, templates everywhere, and not a one worth sending.
Recruiters are always looking for ways to save time when reaching out to passive talent. Templates allow you to quickly create outreach and avoid the intimidation that comes with staring at a blank page.
Still, the key to ensuring a strong message open rate is to personalize your message. Even if you start with a template, it's imperative to make small customizations that let the recipient know you're not a spammy recruiter. Melissa Williams notes that personalized messages receive nearly 50% higher open rates and 22% higher reply rates.
Here are 7 top-notch LinkedIn Message templates that you can start using today to find your next purple squirrel.
#1: Call to Action
Source: Seekout
How to customize it: Reference an interesting detail from the prospect's LinkedIn profile.
Hi [Name],
My name is [Your Name] and I work on the talent acquisition team here at [Your Company].
I know [Candidate's Company] is a great organization and that you may not be actively looking for something new at the moment. But, if you're open to hearing more about us, I think you'll be impressed with what we have to offer.
If I don't hear back from you here, I'll plan to try giving you a quick call during lunchtime on [Day]. Of course, if there's a time that works better for your schedule, shoot me a quick reply and I'll happily accommodate.
Looking forward to speaking with you!
[Your Name]
#2: Mutual Connection
Source: Workable
How to customize it: Mention shared connections and/or recent company news.
Hi [Name],
[Mention how you came across their profile, e.g. looking for a specific skill set or through a mutual connection].
We currently have an open role for [specific title]. Are you available for a call so that we can discuss further? In case you're not ready for a change at the moment, I'd be happy to stay in touch for future job opportunities.
Looking forward to hearing back from you,
[Your name]

#3: Post-Networking Event
Source: The Muse
How to customize it: Use event details, refer to the weather the day at the event or anything unique that happened at the event.
[Name],
It was great speaking to you at the [Event Name] last month. I'd definitely like to stay up-to-date on your career aspirations. Let me know if you're open for a call next week.
Thank you,
[Your Name]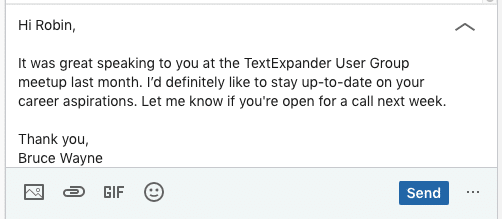 #4: Shared LinkedIn Group
Source: The Muse
How to customize it: Reference an interesting article in the shared group and/or ask a question.
Dear [Name],
I'm also in the [Shared Group/Professional Association], and I've really enjoyed reading your posts. I'd love to keep in touch and learn more about your work.

Best,
[Your Name]
#5: Insightful Inquiry
Source: Beamery
How to customize it: Reference a social media post or article written by the prospect.
Hey [Name],
Great post on [topic]. What inspired you to write the article? I ended up sharing it with my whole team and we all loved it. I lead recruiting at [Company], we're pretty keen on [Company Mission].
I'm looking for someone to lead our [Name of Team] team – would you be interested in learning more?
[Your Name]
#6: Standout Skills
Source: Mighty Recruiter
How to customize it: Suggest a local meet-up at a popular cafe or co-working space.
Hi [Name],
I hope you're having a great week. I couldn't help but notice that your [Skill 1] and [Skill 2] experience would make you a great fit for some of our open roles.
I'd love to invest 15 minutes to learn more about you and to chat about what you're looking for next in your career.
Let me know if you're free to meet up for coffee or to stop by our [City] campus for lunch.
Thanks again for your time, and enjoy the rest of your day.
Best,
[Your Name]
#7: Highly Recommended
Source: Top Echelon
How to customize it: Mention referrer's name in the subject line or introduction.
[Name],
[Referrer Name] told me about your amazing [Specific Domain] skills. I'm working on filling a key position, and [Referrer Name] made you sound like a great fit.
After looking more into your skills and previous experience, I think this may be a fitting upward career move for you.
Would you be interested in learning more about this position?
[Your Name]
Sign Off
The secret to writing effective templates is that no two messages should be identical. Andrew Greenberg's advice is solid. "Your custom template InMail should make the candidate feel special, make you sound special and make your client/company seem special."
Check out this 2-minute tutorial to turn any of these templates into a TextExpander snippet.
What LinkedIn Message templates in your current library have the highest response rate? Let us know in the comments below!