Aspect
Description
Definition
Omnichannel customer service creates a unified, seamless experience across various service channels.
Difference from Multi-channel
Omnichannel unifies the customer experience across all channels, while multi-channel does not ensure a consistent experience across different methods of communication.
Benefits
– Better service quality
– Empowered employees
– Insightful customer data
– Enhanced efficiency and productivity
Best Practices
– Embrace the right channels
– Speed up agent response time
– Incorporate spanning technology
– Offer self-service
– Promote omnichannel availability
Examples
Disney's integrated customer experience across platforms.
Take a quick look at any smartphone home screen and you'll see just how many ways we communicate with each other. From social media and texting apps to messaging, email, video chat, calling, and more, it's easy to see how our personal communication habits now impact the expectations we have as consumers. Omnichannel customer service taps into these expectations.
With customers driving the buying experience, companies have numerous interactions to manage throughout the customer lifecycle. Whether that means answering a tweet, chat, phone call, or email, it's essential that customers get their questions answered on a wide variety of communication channels in a timely manner.
Successful brands realize they must be available when and where their customers want to reach them. For many, this means moving beyond traditional phone and email support to allow customers to reach out on their terms, on whatever platform is most convenient for the interaction.
While this multi-channel approach is great for the customer, it can be challenging for the brand to ensure a consistent experience. That's where omnichannel customer service comes in.
Unlike multi-channel customer service, omnichannel works to unify the customer experience across all channels. When customers change communication platforms to continue the same conversation, an omnichannel approach enables the customer service team to track all those channels, each with its own pieces of the conversation. With all the context of the customer's interactions with the brand on hand, service teams are empowered to provide the consistent and superior experience customers demand today.
Whether you're just getting started or you're looking to improve your current strategy, this guide will give you the information you need to master omnichannel customer service.


What Is omnichannel customer service?
Omnichannel customer service is a method of supporting your customers that creates a unified, seamless experience across a wide variety of service channels.
It's usually accomplished by using technology that aggregates support conversations for each customer from all available communication methods. Each of your support representatives can add notes and context to unified customer history files. This makes the information available to other agents for future customer touchpoints. Having this historical context ensures your team can respond in a way that helps solve your customers' problems and makes them feel important to your brand.
What makes a personalized customer experience?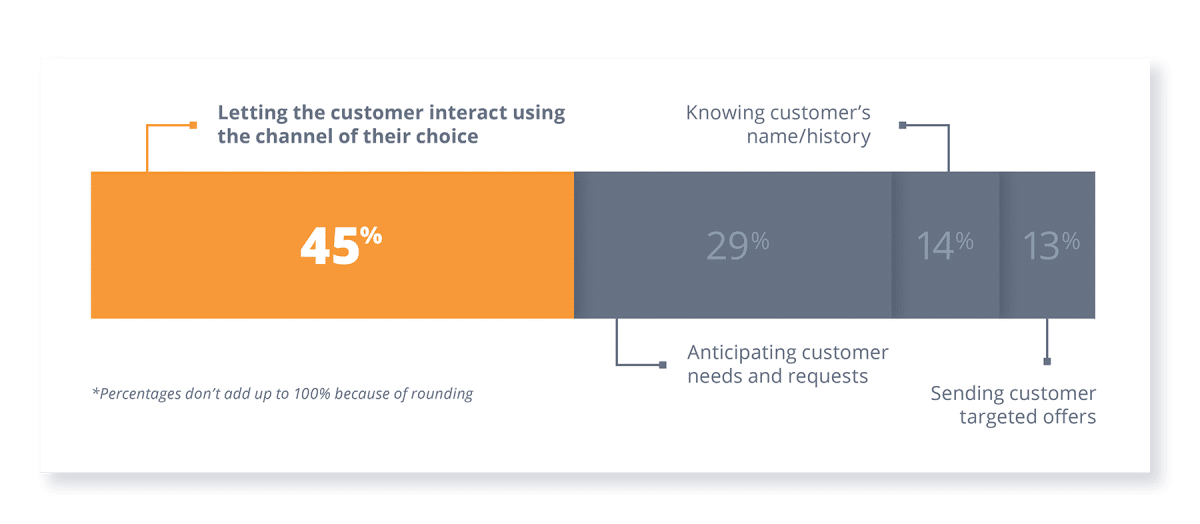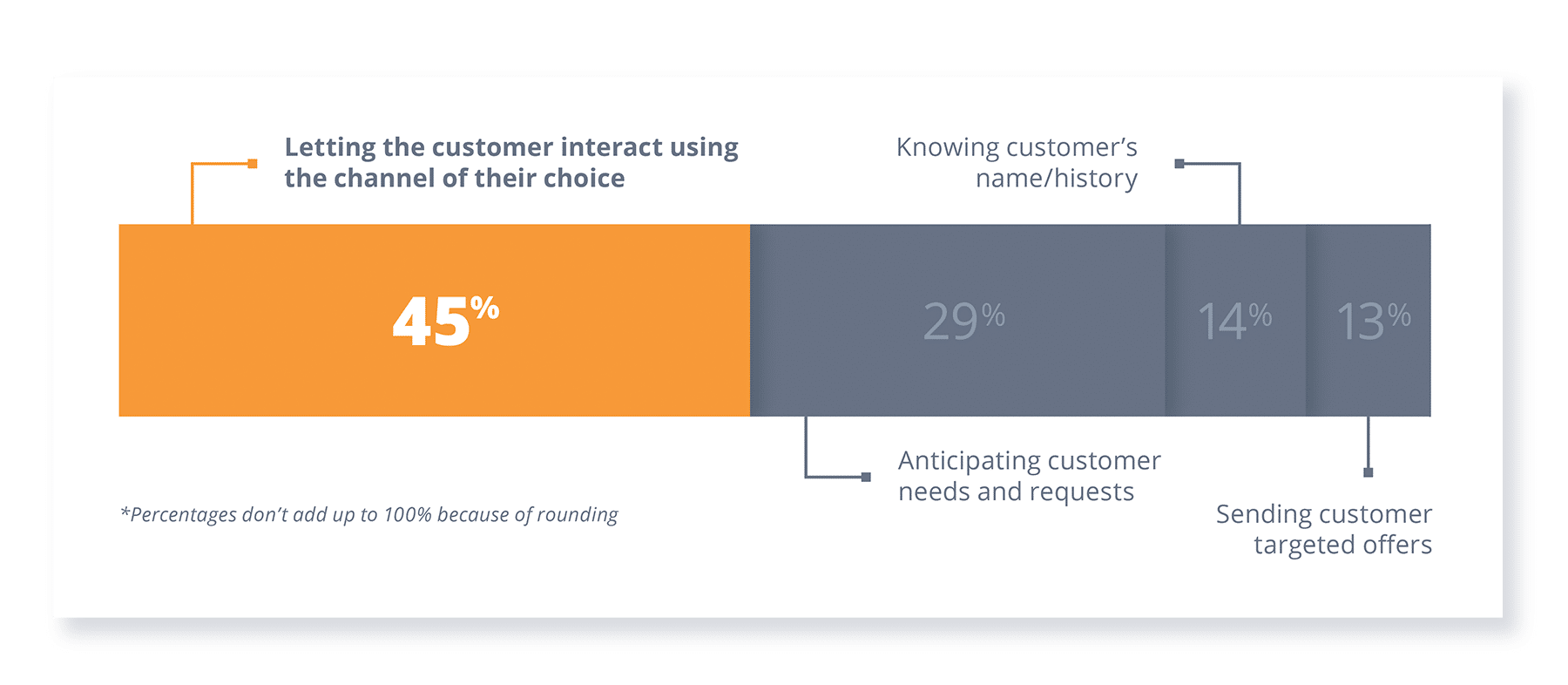 A recent report by Alvaria (formerly Aspect Software) found that 45% of consumers define a personalized experience as one that lets them interact on the channel of their choice.
Omnichannel customer service vs. multi-channel service
Not to mention, in today's fast-paced world, their preferred channel is likely to change often! They may start the interaction through online chat and follow up with a Facebook message or email. This can even happen more than once during a single customer service interaction.
If you provide multiple ways for your customers to get in touch with you, you're already offering multi-channel customer service. The nuanced difference between a multi-channel approach and an omnichannel approach comes down to the experience a customer has when utilizing multiple different channels.
An omnichannel strategy uses technology that integrates all of your channels and forms of communication into a single entity. This single entity is then what your customer service agents can use to offer a comprehensive and essentially channel-less experience.
Omnichannel vs multi-channel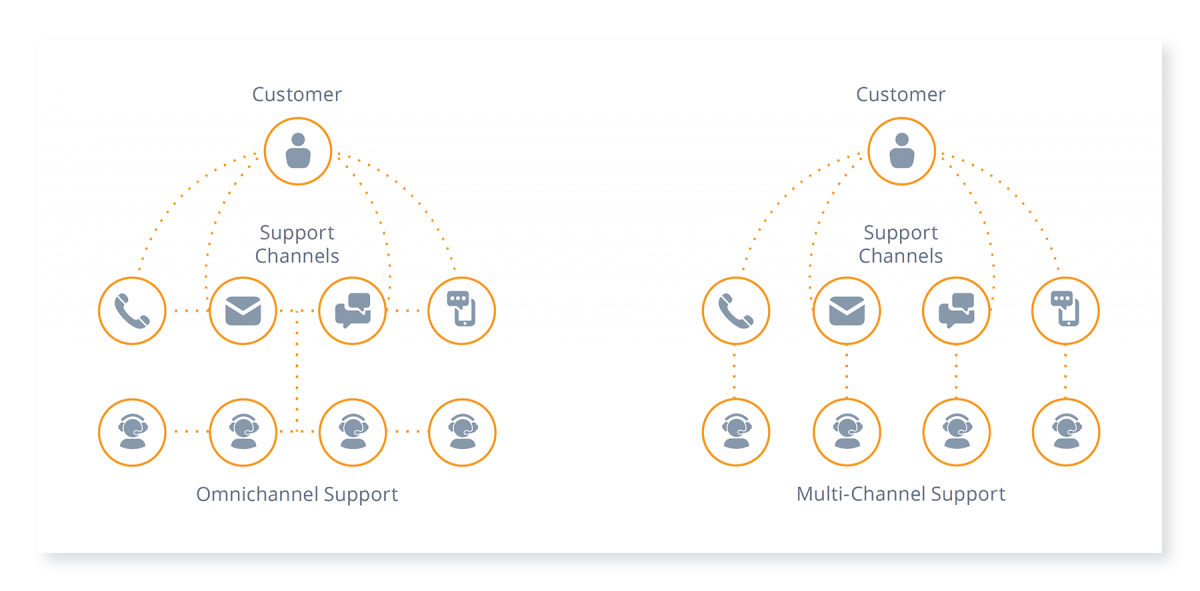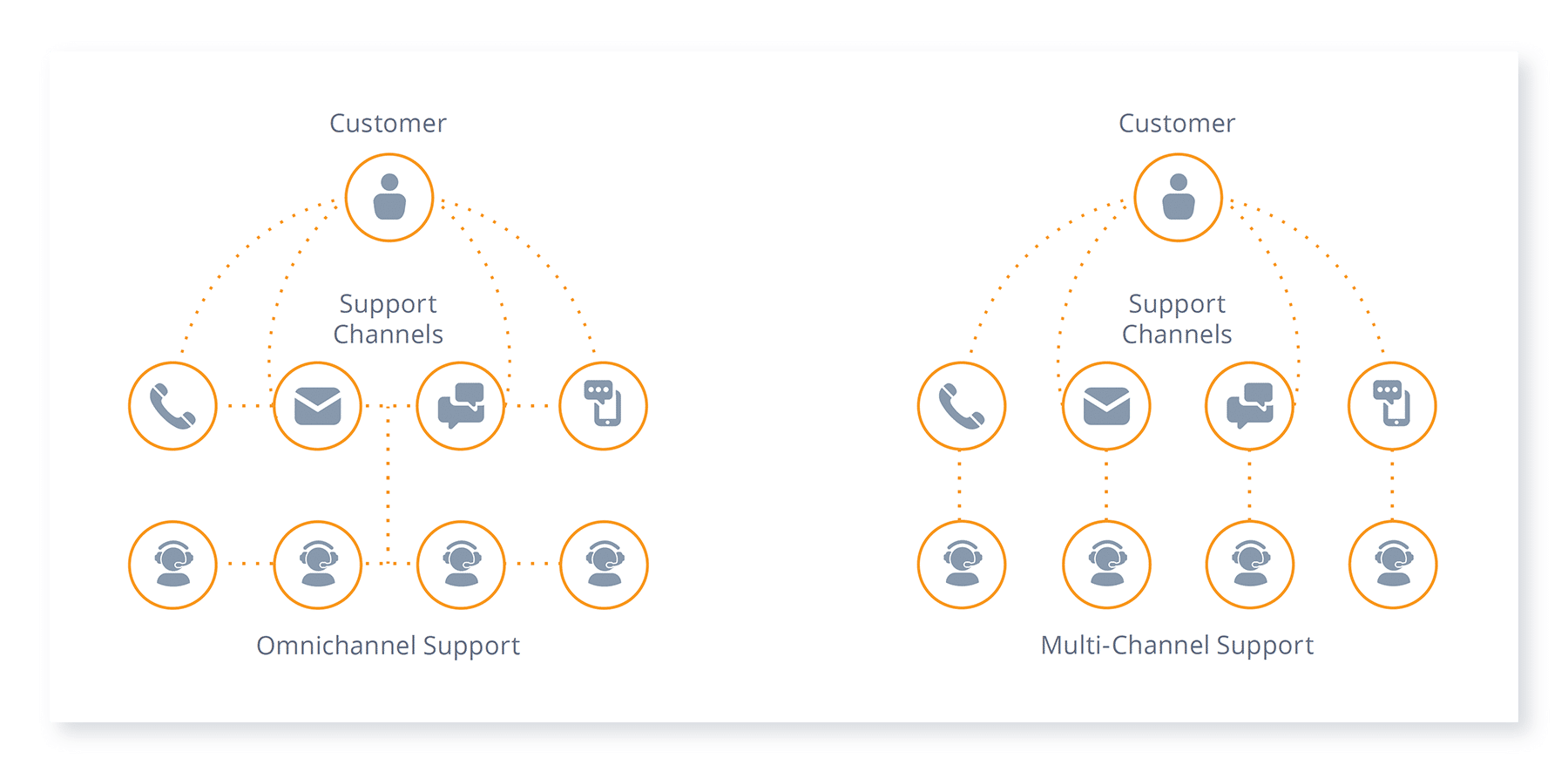 Customers like being able to connect a specific way, or through a combination of ways—but they do not like getting inconsistent or frustrating experiences as they transition from one channel to the next.
The biggest challenge to multi-channel support is the disparate experiences a customer may have between individual methods of communication. For example, if a customer begins a conversation on Twitter, calls in to add more detail, and then wants to follow up via email, they may have to start the conversation over for each channel.
Benefits of omnichannel customer service
As we've discussed, an omnichannel approach is about more than just adding in more platforms or channels—it's about bringing all of your channels together to create a unified experience.
When you do this successfully, you can…
Provide better service
One of the best ways to differentiate your brand in a crowded field is to offer the best possible customer service. People are more loyal to a brand that goes out of its way to offer exemplary support, making them feel truly appreciated. According to HelpScout, the customer service landscape is changing and customers are communicating across more channels than ever before.
Giving them the ability to choose how to communicate with you and supporting that journey across platforms will lead to a positive experience for all.
Empower employees
Your own employees could end up burnt out and frustrated if they're forced to operate without the context of previous customer conversations. This lack of context can lead to agitated customers who take out their negative feelings on your agents.
With an omnichannel approach, your customer service team has a complete view of the customer, along with the tools and information they need to thrive in their roles.
Gather insights
Every conversation you have with a customer provides an opportunity to learn how to serve them better than in the past.
When you have technology that aggregates and stores these conversations, you can gain a deeper understanding of your customers.
This not only allows you to provide better service, it also gives
you data that's valuable for your marketing efforts.
Enhance efficiency and productivity
When details about past interactions and customer history are available across channels, agents can respond with more accuracy and speed.
Accuracy is gained from having all the necessary customer data at hand. Speed is gained from not having to search through multiple systems to find all that information.


Best practices in omnichannel customer service
Embrace the right channels at the right time
The most effective channels for your brand will depend largely on your customers' preferences. Your target customer personas will help you determine how your customers are most likely to reach out. Refer back to the descriptions of each persona as you develop your strategy and consider questions such as:
Are they active social media users?
Do they spend the day with a smartphone in hand?
Do they prefer text messaging over phone calls?
As Carsten Schaefer, Founder of usetrust.io, reminds us—it's also important to
avoid channels for which you can't offer a great experience.
Only use those channels where you have enough time to devote to them. In other words, only create official channels and be active on them if you have someone who covers those channels regularly and who is there to respond to your customers. If customers don't get feedback in time, or even worse, if they get the silent treatment, they will simply go to a competitor.

Carsten Schaefer, Founder usetrust.io
But to truly offer an omnichannel approach, you have to go one step further. In addition to determining the best channels for your brand overall, you must choose the best channel for each customer every time you respond to them. To do this effectively, you'll need to make sure you have the context of their case history to know what the prior interactions were and on which channels they took place. Then you'll be able to accurately respond on the channel most appropriate for that customer at that time.
Speed up agent response time
We don't like to wait—and we love it when a brand anticipates our needs.
Brands should seek to speed up responses whenever possible. Your customers will appreciate you responding swiftly, increasing overall satisfaction.
When we think about customer excellence, it's important to point out the importance of fast contact, immediacy of every process and the importance of handling it digitally.

Radek Zaleski, Head of Growth Netguru
Incorporate technology that spans channels
There's a wide variety of these types of customer service platforms to choose from, but tools like Zendesk and HubSpot's Service Hub are good places to start. HubSpot's Conversations tool, for example, provides a unified inbox for your service representatives to work from. Regardless of whether the customer reaches out through live chat, service email or Facebook Messenger, the conversation happens in one place from the service representative's perspective. Since it's also tied to a CRM, those representatives can easily get the context they need and respond quickly through whichever channel the customer is using at the time.
There is no omnichannel without technology, as service agents can't handle dozens of channels all by themselves. Each channel has customers by its doors, who expect cohesive, contextualized experiences wherever they come from. Every channel you have should pump data into one customer service platform, with your agents at its heart, whose task isn't just to resolve a ticket, it is to build close-to-personal relationships with customers.

Dmitry Azarov, CMO Itransition
In addition to an integrated customer support platform, channel-agnostic tools can help to offer the seamless experience your customers crave. These can include internal chat tools and tools like TextExpander, which allows you to easily insert text snippets anywhere you can type from a library of saved responses.
Offer self-service
In some cases, your customers may want to bypass your team entirely. That's where self-service resources come in. Offering some form of self-service streamlines the process and allows your more rushed or tech-savvy customers to get what they need when they need it.
Self-service is an important, in-demand support channel customers want and fits right in with the omnichannel ethos of giving customers what they want where they want it.
FAQs, knowledge bases articles, useful downloads, video tutorials, and more can be made available online for your customers, increasing their ability to help themselves and decreasing the burden on your support teams. To be useful, all information needs to be easy to use and accurate. Poorly designed self-service portals are worse than having none at all.
Promote your omnichannel availability
Olga Mykhoparkina, Chief Marketing Officer at Chanty, makes sure that their customers are aware of the various ways they can reach the support team to ensure that their omnichannel approach isn't a wasted effort.
If your aim is to provide an omnichannel customer support experience, it's not enough to be present on all channels. Once you have a presence on a variety of networks, let your customers know that they can find you there. For example, in our first onboarding email, our customers get links to our Facebook group, social media pages, and our support email. If they want to find us, they have a large selection of channels, and we let them know
immediately after joining where they can find us.

Olga Mykhoparkina, CMO Chanty
Omnichannel customer service examples
Not every company has the budget of our following three examples, but they demonstrate what's possible when you embrace an omnichannel model.
Disney omnichannel customer service
Disney integrates the customer experience across a variety of platforms, making it easy for their operators and cast members to provide the legendary customer service the brand is known for.
When a potential Disney parks customer contacts them to make a reservation, the cast member taking the call can access detailed information, including past trips, preferences and any notes that have accumulated. Whether that customer logs into the website, uses online chat or calls the Disney line, they will get the same friendly and supportive attention.
For those heading to a Disney theme park, even more channels are offered. Innovative apps allow for instant support, while the Magic Bands offered to guests include theme park tickets, disability access details and even photographs. A simple scan of a band reveals many details to the cast member behind the desk, at a ride or at any guest services portal.
When a customer calls, emails, chats, or reaches out on social media, they receive the same level of response that they would in person. This omnichannel approach ensures that someone is there, regardless of how a customer reaches out. Everything from lost and found items to dining reservations and questions about tickets can be answered clearly and confidently in a single touchpoint, leaving a satisfied customer
that feels heard.
Amazon omnichannel customer service
This retail giant incorporates an omnichannel approach to their entire business.
For example, a customer can place an order by voice through Alexa, receive their receipt via email and get text messages when the order has shipped and once it's been delivered. If the customer wants to check on their status of that order at any time, they can do so through Amazon's website, app, Alexa, chat, phone or email.
In this way, Amazon offers the customer a seamless experience across a wide variety of traditional and novel communication channels. No matter what channel you want to use to communicate with Amazon or find the information you seek for yourself, you can get the same level of contextualized information.
QVC omnichannel customer service
This retailer adds a twist to omnichannel: the television.
Buyers can phone orders in based on what they're seeing on TV at the time, which works with the brand's huge base of seniors (who are not always tech-savvy). In some cases, they can even chat live with the on-camera presenter in real time. For the more tech-savvy customers, QVC offers instant messaging on Facebook, live chat on their website, text or self-service.
Channel integration at this level make this television retailer surprisingly adept at customer service. Could you imagine how the QVC experience would be different for their customers if the support rep on the phone had no idea what was being shown on TV?
Whether you embrace omnichannel customer service to differentiate your brand, to retain customers or even to increase productivity and efficiency, it can be a rewarding strategy. Learning more about this dynamic approach to customer support ensures you stay ahead of your competitors and retain the customers you've worked so hard to earn.
FAQ
What is omnichannel customer service?
Omnichannel customer service is a method that offers a unified, seamless experience across a variety of service channels. It aggregates support conversations for each customer from all available communication methods, providing a comprehensive view of the customer's history.
How does omnichannel differ from multi-channel?
While multi-channel customer service offers multiple ways to interact with a brand, it doesn't guarantee a consistent experience across these channels. On the other hand, omnichannel ensures a unified and consistent customer experience across all channels.
Why is omnichannel beneficial?
Omnichannel customer service provides better service quality, empowers employees with a complete view of the customer, offers insights from aggregated customer conversations, and enhances efficiency and productivity.
What are some best practices for implementing omnichannel?
Some best practices include embracing the right channels based on customer preferences, speeding up agent response times, incorporating technology that spans channels, offering self-service options, and promoting omnichannel availability.
Can you provide an example of a company using omnichannel effectively?
Disney is a prime example. They integrate the customer experience across various platforms, ensuring their operators and cast members provide consistent and legendary customer service.