Hiring and training new employees is a time-consuming and challenging process for any business, especially in customer service and customer success roles. These employees play a critical role in ensuring that customers receive the best possible experience, which can make a significant impact on the success of the business and its public appearance with customers.
However, providing effective training for new employees can be a tough task, especially when it comes to teaching them the specific skills and tools required for their roles with interacting with customers and staying on brand with messaging.
"A brand is what a business does, reputation is what people remember."

Ted Rubin
This is where TextExpander comes in. TextExpander is a powerful productivity tool that allows users to create Snippets for frequently used phrases, paragraphs, or entire documents. This saves time and reduces the risk of errors that can occur when typing the same content repeatedly. By providing new employees with the right training on how to use TextExpander, businesses can improve the onboarding period for new employees, helping them to learn faster and deliver better customer service from day one.
"We actually doubled the size of our team during COVID. But we were all remote. And so all of the training was remote. But because we had [TextExpander as] our knowledge base, it was really easy to train people," says Ty Schalamon, who served as a technical support manager at SketchUp for several years.
In this ultimate guide, we'll:
Explore how to effectively train new employees on using TextExpander, providing tips and best practices for maximizing productivity and streamlining workflows.
Cover the basics of using TextExpander during the employee onboarding process.
Examine the benefits of using TextExpander as a chatbot with a human touch.
Show how to search for Snippets in TextExpander.
Look at how you can use TextExpander with other tools.
By the end of this guide, you will have a clear understanding of how to use TextExpander to improve the onboarding process for new employees, making it easier and more efficient for them to learn their new roles and deliver exceptional customer service—regardless of employee experience.
"It is so much easier to be nice, to be respectful, to put yourself in your customers' shoes and try to understand how you might help them before they ask for help, than it is to try to mend a broken customer relationship."

Mark Cuban
Basic TextExpander training tips
For a new hire who has never used TextExpander before, it can be a bit overwhelming to get started. Here are some basic tips to help you explain how to use TextExpander to a new hire:
Explain the concept of Snippets: Start by giving a simple overview of what TextExpander does and how it works. Use examples that are relevant to their role or tasks, such as how to quickly respond to a customer email.
Show them the basics: Show them how to access TextExpander, and how to customize the settings, such as the abbreviations, the Snippet library, and the formatting options.
Create and edit Snippets: Show your new hire how to create a new Snippet by selecting the "New Snippet" button or the keyboard shortcut, and how to type the abbreviation, the content, and the optional placeholders or fill-in fields. Explain using the TextExpander editor to format a Snippet, add images or links, or insert dynamic content, such as dates, times, or clipboard content. Also, show them how to edit or delete existing Snippets, and how to organize them into groups. You'll also want to ensure they have access to the company Snippet library.
Practice and optimize: Encourage the new hire to practice using TextExpander in real-life scenarios, such as writing emails and responding to customers, and refine their Snippets based on feedback and experience.
See Getting Started: TextExpander 101 for an in-depth guide to getting started with TextExpander.
Set up Snippets for Inline Search in TextExpander
TextExpander Inline Search is a crucial feature new employees should learn during onboarding. Inline Search lets employees quickly find the Snippets they need, even if they don't know the exact wording or formatting.
"You teach them how to search TextExpander to find things and the keywords to search for. When customers write in and ask a question, [the CS agent] can type in some of those words from that email, find the answer, and just paste it in," Ty says.
"Because we had this knowledge base that was shared, when a new issue would come up, someone could quickly save it, and share it with the team," Ty adds.
Inline Search lets TextExpander act as a knowledge base for your team. However, to make the most of the search functionality, it's essential to use best practices for naming Snippets, and that starts by grouping your Snippets based on their purpose.
For example, you can create a Group for all customer service-related Snippets, another folder for sales-related Snippets, and so on. By grouping Snippets, your team can quickly find the Snippets they need without having to scroll through a long list.
The other advantage of grouping Snippets is that it makes them easy to share with your team. TextExpander Business accounts let managers create Snippet Groups and automatically share them with their teams, which makes messaging consistent and easy to change.
You also want your Snippets to have a consistent naming convention based on your Group names so your team can quickly locate the Snippets they need. One way to do this is by using Group prefixes to indicate which department or situation the Snippet is designed for. For example, if a Snippet is designed for the customer service department, and it's in a Group named "Customer Service," you should give it a Group prefix of "cs." so the Snippet abbreviation would be cs.snippetname.
Select a snippet you would like to try
Type this shortcut below sup.thanks
Type this shortcut below sup.bill
Type this shortcut below sup.tier2
Type this shortcut below sup.social
Type this shortcut below sup.faq
Thank you for your email! I'm happy to look into this for you.
I'm happy to walk you through our active-user-based billing system. TextExpander works on pre-purchased credits, where 1 user needs 1 credit a month, or 12 credits per year. We only deduct credits for users that expand a Snippet within a billing period.
There are two payment plans available:
Annual Payment: You purchase 12 months' worth of credits per user on your billing date at a 20% discount.
Monthly Payment: You pay for one credit per user at the beginning of each month
Once you use up your credits, you are charged again at the start of the next billing period, either for another year on the annual plan or for the next month on the monthly plan. There are also additional billing resources at this link.
Does this clarify?
Thanks for reaching out to TextExpander. I've escalated your request to our tier 2 support team, who should get back to you shortly with a solution.
Thanks so much for reaching out and I'm sorry to hear that you're having trouble. I've included a link here that should explain the proper way to troubleshoot this issue. Can you please follow the steps and let us know if the problem has been resolved?
Use inline search effectively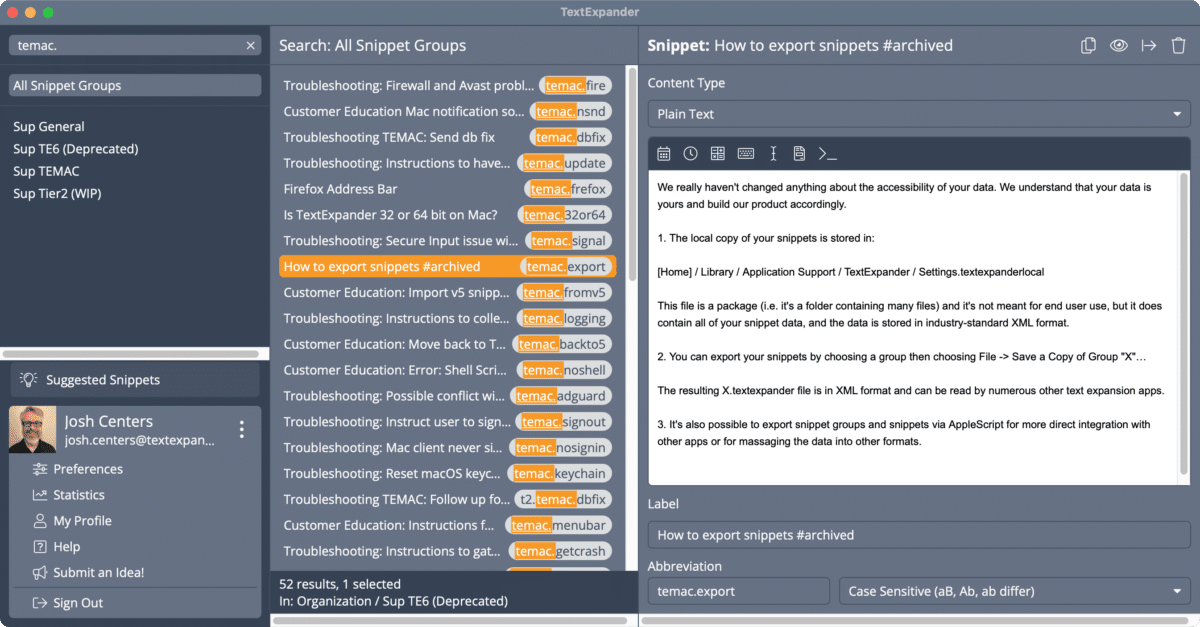 Also, it's important to note that new employees should be trained to use the search functionality in TextExpander effectively as they onboard into the organization. With several ways to search for Snippets within TextExpander, you can easily find what you need without scrolling through long lists. Here are some ways new customer service agents can search for Snippets in TextExpander so they can respond to customers faster and more accurately.
Search in place using the inline search hotkey
Inline Search is a convenient way to search for Snippets without moving away from the text field you are currently in. The default hotkey for each platform:
macOS: Command + /
Windows: Control + /
Chrome: Control + Period
You can customize the hotkey in TextExpander > Preferences > Hotkeys.
After pressing the hotkey, start typing in the TextExpander search window. Select the Snippet you need from the search results and insert it directly into your text.
If you followed best practices on naming Snippets, Inline Search is much more useful since you can search on the Snippet name or the Snippet prefix.
With these methods, customer service agents can easily search for Snippets in TextExpander and find what they need quickly and efficiently to respond to customers.
Search in the TextExpander app window
When you have the TextExpander window open, you can locate the "Search" field in the upper left corner. By entering a search term in the field, you can filter the Snippets in the TextExpander window based on your search criteria. Once you find the Snippet you need, you can copy it or drag and drop it into the desired location.
Search in the Quick Actions Menu from the TextExpander Icon
You can also use the TextExpander icon, which is located in your Mac menubar, Windows system tray, or Chrome omnibox. Simply select the TextExpander icon and locate the search field to search for a specific Snippet. The search results will appear in a dropdown menu, and you can choose the Snippet you need.
Adding public Snippet Groups and templates
Optimizing the onboarding process for new employees is crucial, and every minute counts. Public Groups created by other TextExpander users are a valuable tool for streamlining this process.
Adding Public Groups to your TextExpander library is a simple process that can save you valuable time during onboarding. These groups are created and shared publicly by other TextExpander users, and you can easily access and use them with just a few clicks.
To get started with Public Groups, visit our Public Groups library. There, you'll be able to browse groups and easily add them to your library. If you're adding a public group, know that the author can update the Snippets at any time. A handful of Templates can be used as a "starting point" for building out your team Snippet library.
TextExpander as a chatbot with a human touch
The human touch is an essential aspect of customer service that cannot be replaced, even with the most advanced automation tools. When customers reach out to a company for support or assistance, they want to feel like they are speaking with a real person who understands their needs and can provide personalized solutions to their problems—something chatbots cannot provide. This is where TextExpander shines as a tool that combines the efficiency of automation with the personal touch of human interaction.
According to a recent survey, a significant majority of people (73%) consider customer experience an essential factor when deciding to make a purchase. However, the same study shows that only 49% of consumers in the United States believe that companies are currently delivering a satisfactory customer experience. Empowering agents with the right tools to offer incredible customer service has a direct correlation with your revenue.
TextExpander gives your human agents the efficiency of a chatbot while keeping a "human in the loop" to personalize responses. Customers increasingly expect personalized customer service and are left unsatisfied by chatbots.
When customers feel like they are interacting with a real person who understands their needs, they are more likely to be satisfied with the service they receive and more likely to continue purchasing goods and services from your business.
This is particularly important during onboarding when new employees are still learning the ropes and may not yet have the confidence or expertise to handle all customer inquiries about very specific product questions. By using TextExpander as a chatbot with a human touch, new employees can provide exceptional customer service from day one, building trust and rapport with customers that will pay off in the long run.
It's also worth noting that TextExpander can be customized to fit the tone and voice of the company, ensuring that all customer interactions are consistent and on-brand. For example, companies that want to project a friendly and approachable image can use informal language and emojis in their Snippets, while companies that want to project a more professional image can use more formal language and avoid using emojis. By customizing Snippets to fit the company's brand voice, new employees can ensure that they are providing a consistent customer experience that aligns with the external brand image.
Select a snippet you would like to try
Type this shortcut below cs.billing
Type this shortcut below cs.food
Thank you for bringing to our attention that you received an incorrect monthly utilities bill. We understand that accurate billing is essential and we apologize for any inconvenience caused.
To resolve this issue, we would appreciate it if you could please provide us with your account number and the meter reading on your bill. Additionally, please let us know if there have been any changes in your usage or any recent maintenance activities in your area that may have affected your billing.
Once we receive this information, we will investigate the issue and take the necessary steps to ensure that your billing is corrected and accurate.
We appreciate your patience and understanding, and thank you for your continued business.
We're so sorry to hear that you received the wrong order. We know how important it is to get your food just the way you like it, and we want to make things right for you.
To make up for any inconvenience caused, we'd like to offer you a credit for a free meal on us! 🎉🎁 Simply use the promo code FREEMEAL at checkout the next time you place an order with us.
We hope that you'll give us another chance to deliver your favorite dishes to your door. We appreciate your loyalty to our food delivery service and we promise to do better next time.
If you have any other concerns or feedback, please don't hesitate to let us know. We're always here to help!
In addition, new employees should be encouraged to personalize Snippets based on each customer's specific needs. For example, if a customer is frustrated or upset, new employees can use Snippets to express empathy and understanding while offering solutions to their problems. By taking the time to customize Snippets to fit each customer's needs, new employees can provide a more personalized customer experience that goes above and beyond the customer's expectations. As we said, it's a chatbot-style experience with a human-centered touch. Automate what you can, but never remove the human element.
Wrap up on using TextExpander with new hires
By integrating TextExpander into their workflows, companies can ensure that their new hires are well-equipped to deliver exceptional customer service at the speed of social media, which is crucial for business success.
In addition to the best practices outlined in this guide, there are other ways that businesses can use TextExpander to improve productivity and efficiency. For example, TextExpander can be used within other tools like CRM systems, website chat tools like Qualified, and ticket systems like Zendes to speed up customer response times across all your tools. By integrating TextExpander with other tools, employees can save even more time and reduce the risk of errors by automating repetitive tasks and creating a more cohesive workflow.
Another way to maximize the benefits of TextExpander is to encourage collaboration among employees. By creating a shared library of Snippets that all employees can access, companies can ensure consistency in messaging and responses. This is particularly useful for larger organizations where employees may be spread across different departments or locations. By sharing Snippets, employees can ensure that they are all using the same language and tone when interacting with customers, which can help to build trust and improve customer satisfaction.
Moreover, companies can also use TextExpander to create custom forms or templates that employees can use when responding to customer inquiries. For example, a company may create a form for customers to request a refund, which includes all the necessary information and prompts for the employee to follow. By using TextExpander to create these forms, employees can respond quickly and efficiently to customer inquiries while ensuring that all the necessary information is included in the response.
Wrapping up, TextExpander is a powerful automation tool that can help companies deliver exceptional customer service and create a hive-like knowledge base of customer responses. As your team's use of TextExpander grows with more customer interactions, teams can provide a speed of service that's as fast as a chatbot, but with a more human touch.