The new TextExpander for Chrome extension—version 7.7—is now available in the Chrome Web Store, and with it, the full power of TextExpander arrives inside your web browser.
Our new TextExpander extension offers a full Snippet-editing experience, support for Teams, and seamless integration with our desktop apps. Try it today!
TextExpander for Chrome is an easy way to access our tool within your Chrome web browser. You can leverage TextExpander's core features and functionality from the Chrome extension.
Here's what's new:
The perfect complement that works anywhere: Quick and easy onboarding and seamless movement between devices. Start in Chrome, and keep your content wherever you work. Use in any platform or web app you use without integrations or downloads.
Get the full experience without the full effort: The TextExpander for Chrome browser extension gets you up and running using text expansion quickly and easily. You can get the full TextExpander experience of creating, editing, and expanding snippets in your Chrome browser.
Seamless knowledge sharing: Create and edit snippets from your browser toolbar, then share them with the rest of your team on the web.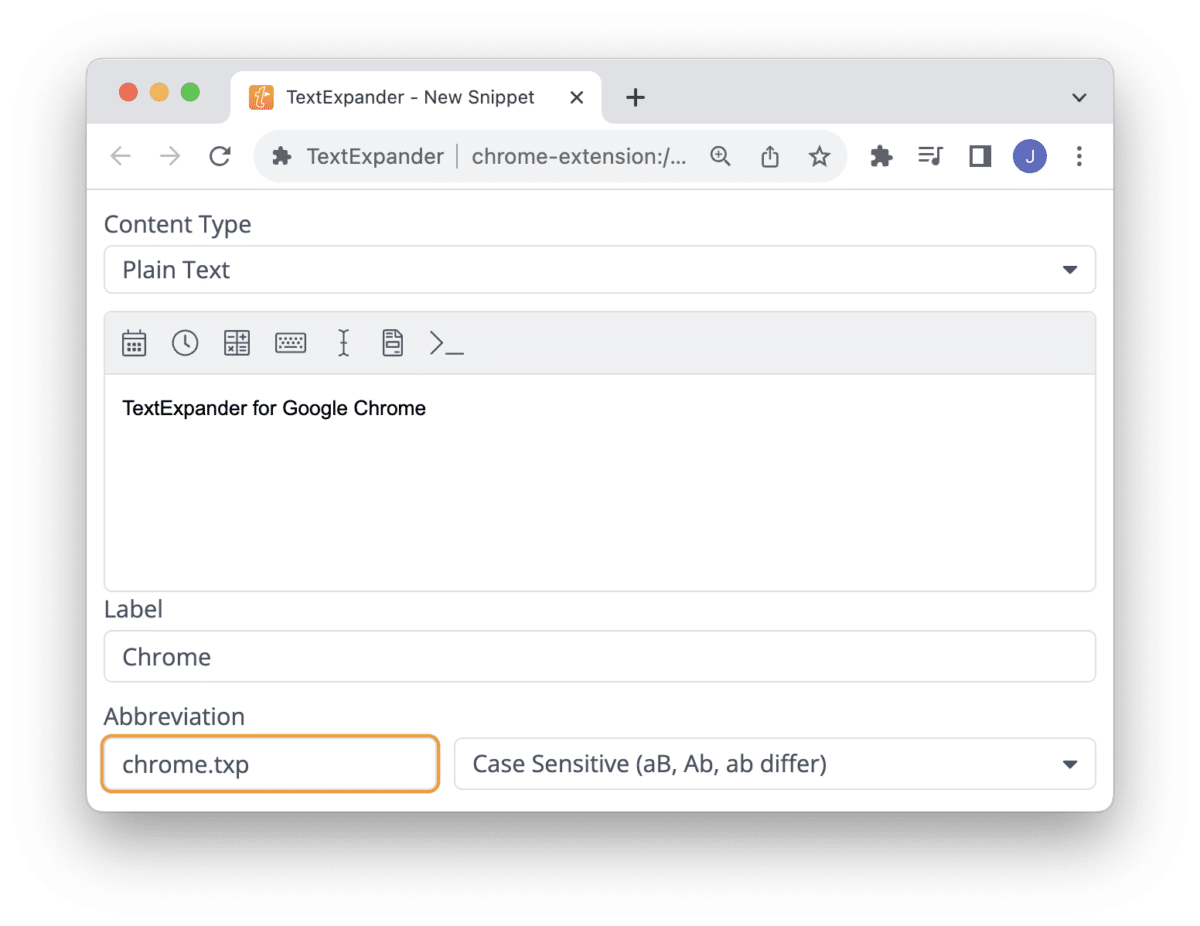 If you already have TextExpander for Chrome installed, it will update automatically. If you'd like to try TextExpander for Chrome, visit TextExpander in the Chrome Web Store and click install. Once installed, you can log into your existing TextExpander account or create a new one with a 30-day free trial.
Here are answers to common questions about TextExpander for Chrome.
What is TextExpander and what can it do for me?
TextExpander is a productivity tool that allows your team to instantly access your most frequently used content, personalize it, and input it into any platform, browser, or text field with just a few keystrokes in a matter of seconds. Whether it's templated emails, common customer responses, recruiting messages, sales outreach, or any other business-critical content. With TextExpander your team will fly through their repetitive tasks while ensuring quality and consistent internal and external communication.
Who is the new TextExpander for Chrome for?
The new TextExpander for Chrome is for anyone who wants to quickly and easily try out TextExpander without the full install process of our desktop apps. It's also ideal for users of Chromebooks or anyone who works in a secure work environment where app installation is not allowed, but installing browser extensions is allowed.
What does the TextExpander extension for Chrome cost?
The extension is free for every TextExpander subscriber. If you do not already subscribe to TextExpander, you can create a new account and sign up for a free 30-day trial directly from the extension.
I already have TextExpander for Chrome installed. How do I update to the latest version?
The update should occur automatically and will be available to all TextExpander for Chrome users.
If you can't wait, there is a method to force all of your extensions to update. However, this method requires you to temporarily enable Developer Mode, which may be unavailable if an organization manages your browser.
How to Update Chrome Extensions
I received a notification that the extension is disabled until I accept permissions. Is this an error?
If you had the previous version installed and the extension automatically updates, you may see an error stating, "
TextExpander: Keyboard Shortcuts & Templates is disabled
To re-enable it, accept the new permissions:
The new extension requests an additional permission to communicate with the TextExpander desktop apps so the extension and app do not conflict.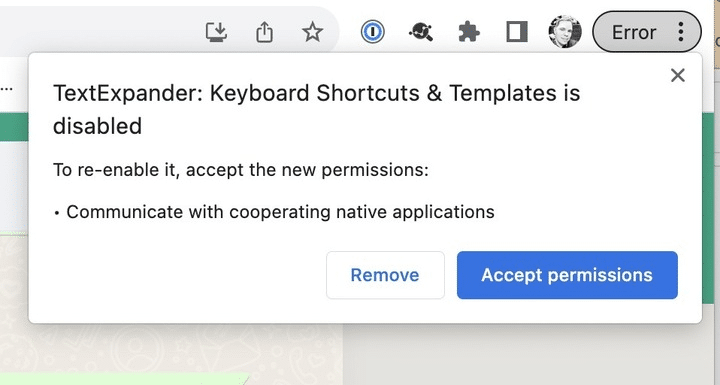 Click "Accept permissions" to resolve the error and reenable the extension.
How do I access Inline Search in TextExpander for Chrome?
Press Control and period. Press Esc to exit Inline Search.

If I use TextExpander for Chrome, do I still need the desktop app?
Even after installing TextExpander for Chrome, you may still find our TextExpander desktop apps helpful in the following situations:
If you need to expand your Snippets outside of your web browser.
If you want to expand Snippets in the URL bar or Omnibox, which is helpful for cross-browser bookmarks.
If you want our helpful notifications, like Snippet Reminders and Suggested Snippets.
I already use TextExpander on the desktop. Do I need the Chrome extension?
Not necessarily, as our TextExpander desktop apps expand your Snippets in any application, including your Web browser, however, we have found that the new TextExpander for Chrome extension can be a helpful addition. Installing both together gives you the best of both worlds.
Do the Chrome extension and the desktop apps "compete" with each other?
No. TextExpander for Chrome now works seamlessly with TextExpander for Mac and TextExpander for Windows.
Using the Chrome Extension with the Desktop App means you get a seamless experience no matter where you use TextExpander. In the Chrome browser, the extension runs the show, ensuring TextExpander expands wherever you need it on the web. You can create and edit Snippets right from your browser toolbar quickly and easily.
What browsers does TextExpander for Chrome work in?
TextExpander for Chrome is officially supported only in the Google Chrome web browser. It may work in other Chromium-based browsers, but it's not supported.
Does the TextExpander extension work in Safari?
If you use a Mac, we recommend TextExpander for Mac.
Does TextExpander for Chrome work in Linux?
We do not officially support Linux, but TextExpander for Chrome should work within the Google Chrome browser and offer the best TextExpander Linux experience yet, albeit with the limitations of Snippets not expanding outside of the browser or in your browser's URL bar.
More TextExpander for Chrome tips and tricks