With TextExpander, you can quickly expand chunks of text, such as email messages, instructions, and frequent tweets, by giving each an abbreviation to type out instead. In this way, each snippet has its own keyboard-shortcut-like abbreviation. But those certainly aren't the only keyboard shortcuts for TextExpander.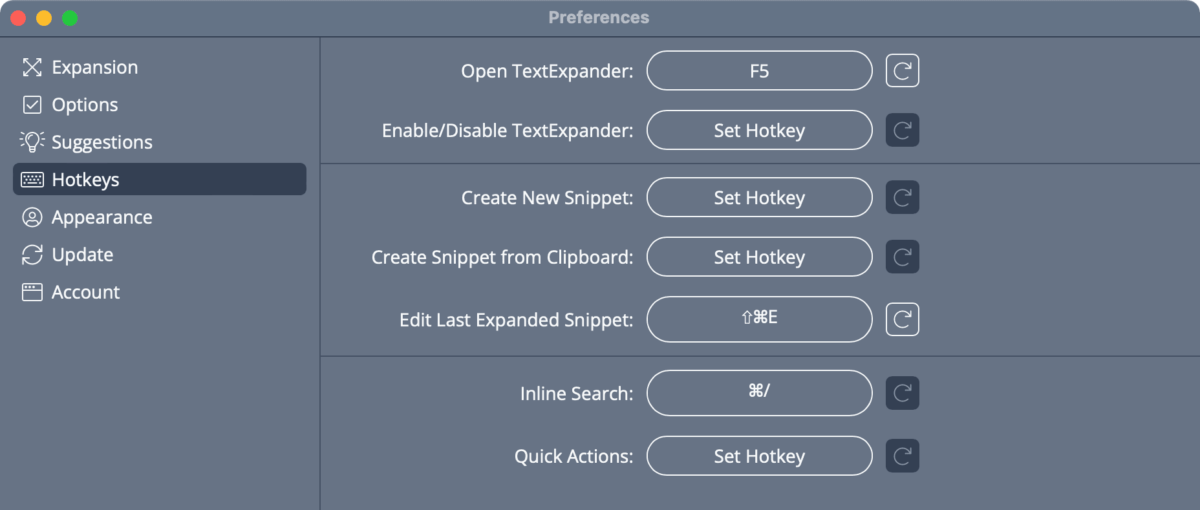 If you open TextExpander > Preferences > Hotkeys on a Mac or PC, you'll see a set of keyboard shortcuts that can do some pretty powerful things.
For example, the Inline Search shortcut—Command + / (Mac), Control + / (PC), and Control + . (Chrome)—allows you to search your entire snippet library on-the-fly in any app. Once you find the snippet you need, press Return to expand it into the current app.
The Create Snippet from Clipboard shortcut does just that: copy some text—say, a recent customer email or a common tweet you repeatedly post—then use this shortcut to create a new snippet.
Also useful is the Edit Last Expanded Snippet shortcut. It's a great way to update an outdated snippet quickly.
How to set TextExpander keyboard shortcuts
To set a shortcut (or "hotkey") in that preferences pane:
Click the "Push to set hotkey" button next to any command
Press a key combination that includes Command (Mac), Alt (Windows), Control, Option and/or Shift, plus any letter or number to set your hotkey
Some good hotkey examples are Command-Control-1 on a Mac, or Control-Alt-S on a PC. Check out our support documentation to learn more about creating hotkeys and their combo requirements.
Feel free to explore these shortcuts, as they can become supremely useful to any TextExpander workflow. Click the button next to any of them to set the actual shortcut, then go wild.
Try TextExpander yourself with a 30-day free trial and discover what TextExpander can do for you and your team. When you're ready, contact our sales team to supercharge your support team. Team-based pricing starts as low as $8.33 per user per month.