The best way to become a more efficient teacher is to use TextExpander—at least according to the teachers on Twitter who are TextExpander users. Here are some of the things they're saying about TextExpander:
"If you're a teacher and you haven't learned to use TextExpander, you're wasting time every week."
"How did I ever do electronic grading without TextExpander?"
"God, I don't even know how I EXISTED without TextExpander."
Those are strong statements, but TextExpander users will understand.
TextExpander can save you hundreds of hours—and if you're a teacher, it can help you become much more efficient at grading, emailing, and giving feedback.
Inger Mewburn, director of researcher development at The Australian National University (and creator of The Thesis Whisperer, a website for PhD students who need help completing their dissertation), says TextExpander saves her approximately one week a year.
(She's such a big fan of TextExpander as a productivity tool for teachers that she co-wrote a TextExpander guide to academics.)
So what is TextExpander, how does it work, and how can it help you become a more efficient teacher? In this post, we'll answer all of these questions.
We'll also show you the basics of how to use TextExpander and share tips for getting started.
Ready? Let's begin!
What is TextExpander?
TextExpander is a tool that helps you write faster by using shortcuts that expand into larger fragments of text.
You can save any type of text into TextExpander—codes, URLs, email addresses, and entire messages.
For each text fragment you save, you assign it a keyboard shortcut or abbreviation. From then on, whenever you want to insert the saved text, all you have to do is type the abbreviation.
Building a snippet library—a repository of text fragments you can summon up using shortcuts—helps you type much more quickly. With the right snippets, you can blaze through online forms and craft an entire email in seconds.
How can TextExpander make you a more efficient teacher?
Here are some ways teachers use TextExpander to increase their efficiency at work: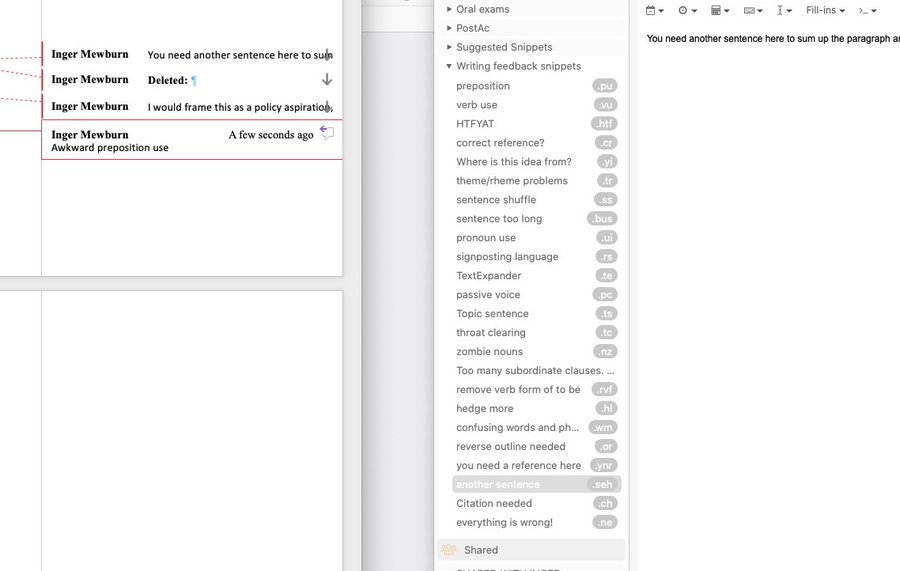 How to use TextExpander to be a more efficient teacher
Ready to become a more efficient teacher with the help of TextExpander? Here's how to get started.
Step 1. Sign up for a free trial (no credit card required!)
To sign up for a 30-day free trial of TextExpander, head over to our education page, then click the "Try It Free" button.
Note: Signing up via this page ensures you get our 30% discount for teachers if you subscribe!
To create your account, you'll need to enter your first name, last name, email address, and password. That's it; we don't ask for your credit card details at this point.
In addition to creating an account on TextExpander.com, you'll need to download the TextExpander app. (TextExpander is available for Mac, Windows, Chrome, and iOS.)
(If you need more details on how set up TextExpander, visit our Learning Center or contact support.)
Step 2. Subscribe to Public Groups
Public Groups contain snippet packs created by us and the community for public use. Subscribe to a Public Group to automatically add the snippets from that group to your personal library.
To see the public snippets available, visit the Public Groups page—we have at least a few that can help you be a more efficient teacher.
For step-by-step instructions on how to subscribe to Public Groups (and how to make your own snippet packs public), see TextExpander Public Groups 101.
Step 2. Create your own snippets
Public Groups will help get you off to a good start, but if to use TextExpander to become a more efficient teacher, you'll need to create your own snippets.
Kerry Provenzano recommends creating TextExpander snippets for:
Your personal details, such as your name, the subject you teach, your short bio etc.

Responses to frequently-asked questions (FAQs)
Useful links
Frequently-sent reminders, requests, and instructions
To create snippets for grading, she suggests making a note of the comments you repeatedly make on assignments as well as looking through your Sent folder to identify frequently-used phrases and repetitive responses.
Don't know how to create a snippet? Watch the video tutorial below:
Tips from teachers who use TextExpander
1. Start small.
Professor Jason Downs tweeted: "Find a snippet you will use all the time (e.g. a favorite feedback phrase, or your institutional ID number). When they become second nature, add more, but slowly."
2. Come up with a shortcut system that work for you.
Mr. Anderson, who has saved over 300 hours using TextExpander, recommends coming up with a snippet abbreviation scheme that works for you, not copying somebody else's.
"It's your shorthand—you don't have to follow someone else's naming conventions," he says.
3. If you send it twice, turn it into a snippet.
Using TextExpander to become a more efficient teacher has everything to do with building a robust snippet library.
To cultivate a habit of creating snippets, try this tip tweeted by associate professor Brooke Lester: "Whenever I write the same phrase/sentence to > 1 student, it gets a TextExpander snippet & I never write it again."
4. Don't worry about remembering your abbreviations.
Although most people remember the shortcuts they use regularly, memorizing them isn't required. As professor Jason Downs tweeted, "TE has a good search function if your library eventually gets enormous (like mine)."
Be a more efficient teacher
Using TextExpander snippets makes you a more efficient teacher because it saves you hours on tasks like grading assignments, giving feedback, and responding to emails.
Anything you repeatedly type can be turned into a snippet: a phrase you always use when giving feedback, your institutional ID number, an agenda for a recurring meeting, or a link to a paper you wrote.
But you don't need to create your own snippets to start using TextExpander—subscribe to public snippet packs created by us and the TextExpander community to start typing more with less effort today.
Get our discount for teachers
We offer teachers, students, and faculty a 30% discount—and you can try TextExpander free for 30 days before you subscribe. (No credit card details required!)
Click the button below to start your free trial and become a more efficient teacher: