Chrome productivity extensions: which ones are the best? The Chrome Web Store offers over 100,000 extensions—how can you narrow down to only the best? This post shares an up-to-date list of the best Google Chrome productivity extensions.
Make 2024 your most productive year yet by exploring the free and paid Google Chrome productivity extensions below. 
Best free Google Chrome productivity extensions
TextExpander for Chrome
What it's for: Automating repetitive writing
TextExpander for Chrome brings the full power of our desktop apps to your web browser. TextExpander enables you to store text you frequently type as abbreviations that you can "expand" with just a few keystrokes. You can use TextExpander for free for 30 days. 
Try it now:
Select a snippet you would like to try
Type this shortcut below ;em
Type this shortcut below ;hq
Type this shortcut below ;letsmeet
textexpander@textexpander.com
350 Bay Street, Suite 100, PMB 278
Hi,
Let me know when you're available to meet. Or, if that's easier, feel free to pick a time that works for you here:
<calendar link>  
Thanks!
Adblock Plus  
What it's for: Blocking pop-ups and ads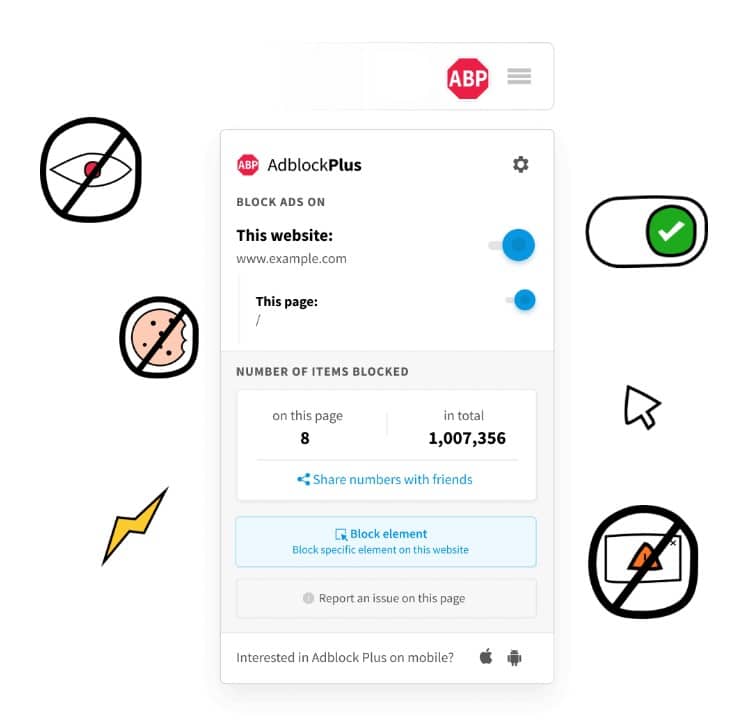 If you don't have AdblockPlus installed, go download it. AdblockPlus isn't just nice to have; as far as Google Chrome productivity extensions go, it's the one you can't do without.
AdblockPlus prevents invasive ads, pop-ups, and banners from showing up on your screen, freeing you from distractions while improving your browser speed and protecting your privacy (because, as you can tell, advertisers track you across the internet). Adblock Plus also blocks ads on YouTube so you can watch videos in peace.
Of course, there will be times when you'll actually want to see the ads or pop-ups on a website you trust — in which case, all you have to disable ad-blocking for that specific page or website. AdblockPlus puts you in control so you can decide when and where you're okay with seeing offers and alerts.
With tens of millions of users worldwide, AdblockPlus is one of the most popular browser extensions ever. It has a 4.5-star rating on the Google Chrome Web Store based on nearly 300,000 reviews.
Find out more about AdblockPlus
StayFocusd
What it's for: Limiting the time you waste online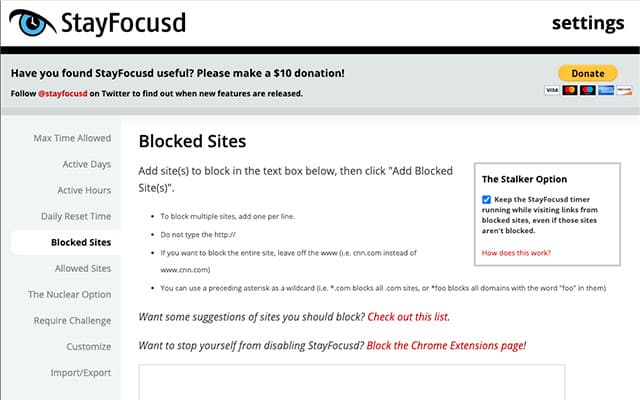 Ever waste your time on social media when you should be working? Just kidding. We know you have. The internet has turned us all into addicts. The solution? NOT self-control. As James Clear explains in Atomic Habits, self-control isn't an effective strategy, at least not long-term.
If you want to spend less time on Facebook, blocking your access to it is the easiest way. To quote Clear: "The most practical way to eliminate a bad habit is to reduce exposure to the cue that causes it." 
StayFocusd helps you do just that. Here's how it works: You list sites you need to stay away from; you set an amount of time (per day) for spending on them. Once you choose your settings, you can't change them. 
StayFocusd is free and rated 4.5 on the Google Chrome Web Store based on over 6,900 reviews. 
Find out more about StayFocusd
Bitwarden
What it's for: Managing passwords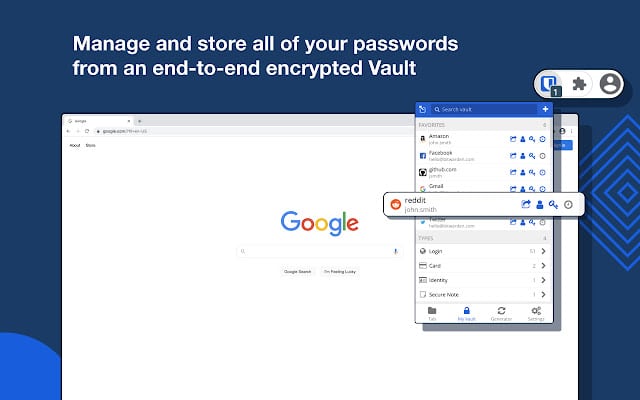 Password managers are essential productivity tools — they help you stay safe, save time, and free up mental space for meaningful work. But can you trust a password manager that's free to use?
The answer is yes. Bitwarden is open-source software, which means that the source code is available for anyone to review. Third-party security firms and independent security researchers routinely audit the software.
Also, Bitwarden doesn't store your actual passwords, but encrypted versions only you can unlock. In other words: it enables password management with zero-knowledge encryption. 
Millions of businesses and individuals use the extension, rated 4.8 on the Google Chrome Web Store based on over 5,500 reviews.
Like other password managers, Bitwarden has a premium plan, but the free version offers all of the essentials, including the ability to sync passwords across multiple devices, generate secure passwords, and autofill.
Grammarly  
What it's for: Grammar checking and writing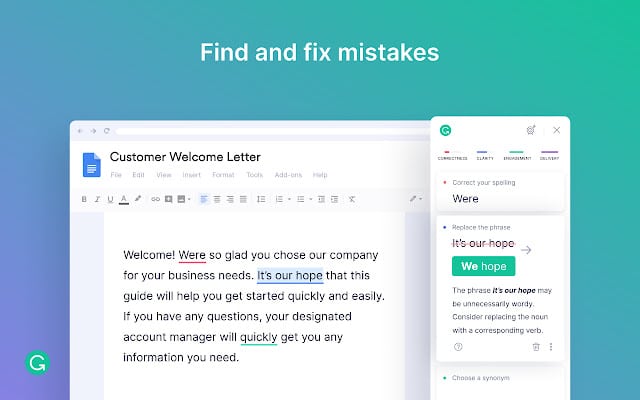 Grammarly is an AI-powered editor that checks your spelling, grammar, and punctuation as you write.
Although there's a desktop app, the extension for Chrome is way handier — it means you don't have to copy your content and paste it elsewhere.
With Grammarly for Chrome, you can have your editor running in the background and pointing out what needs to improve wherever you're writing, whether that's Gmail, Google Docs, LinkedIn, Twitter, Facebook, Instagram, or Zendesk. (Grammarly works everywhere you type.)
Rated 4.5 on the Google Chrome Web Store (based on over 40,000 reviews), Grammarly's free version offers all of the essential features and is hugely helpful for anyone who writes (pretty much everyone).
Momentum
What it's for: Setting a priority for the day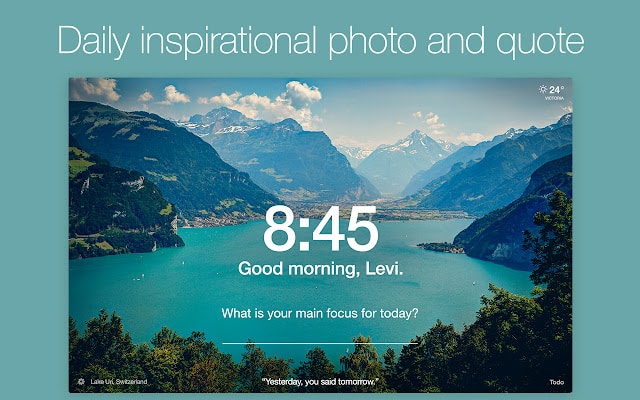 Momentum goes hand in hand with the idea that focusing on one thing at a time is the key to productivity.
This free extension turns every new tab page on your browser into a dashboard that gently reminds you of your day's priority while helping you stay organized with features such as a to-do list and shortcuts to handy websites. (It also gives you the local weather, which is nice.)
Momentum is rated 4.5 based on approximately 14,000 Google Chrome Web Store reviews.
Workona
What it's for: Managing tabs
Are you overwhelmed with browser tabs? Of course you are. Workona helps you organize your tabs by project, keeping you focused on the many tasks you juggle.
Workona's free plan lets you create up to 5 tab spaces for free.
Posture Minder
What it's for: Correcting your posture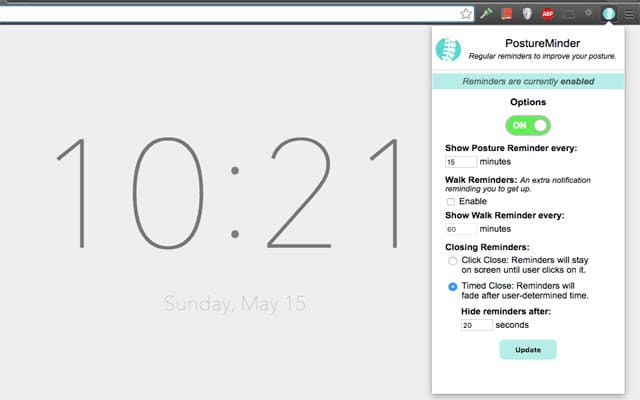 Do you struggle with pain from sitting all day? Posture Minder is a free and simple Chrome extension that can regularly remind you to sit up straight or take a walk.
Best paid Google Chrome productivity extensions
Although the Chrome Web Store only features free extensions, you can pay to unlock premium features from your favorite apps.
1Password  
What it's for: Managing passwords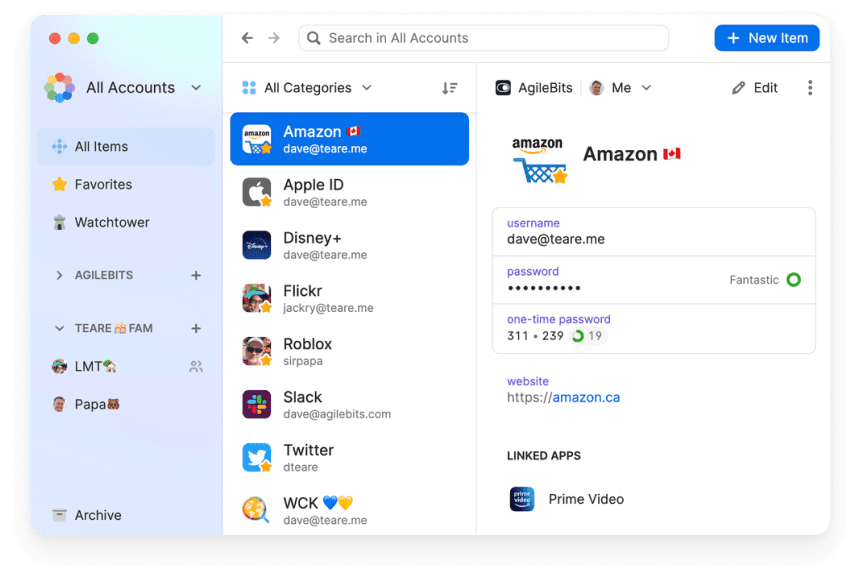 Although Bitwarden offers the essentials — access to a secure password vault, autofill, and a password generator — the free password manager doesn't let you share your passwords with more than one person.
If you need that, you'll have to pay for a subscription. With over 100,000 business clients, 1Password is the leading enterprise password manager. Their Starter Pack (up to 10 users) costs $19.95 per month, billed annually.
Momentum Plus
What it's for: Improving your focus

If Momentum turns new browser tabs into reminders of what you want to accomplish, Momentum Plus gives you the tools to get there.
These include soundscapes (like "crackling fire" and "peaceful rain"), a Pomodoro timer, integrations with various task management apps (Asana, Trello, Todoist, etc.), metrics (for tracking your progress), countdowns (for counting the days till deadlines or events), world clocks (for converting time zones), and more. Momentum Plus starts at $39.96/year.
Find out more about Momentum Plus
TwoSlash
What it's for: Automatically generating content
TwoSlash adds the power of ChatGPT directly to your web browser. Type //ai followed by your prompted and TwoSlash automatically generates content in any text field.
TwoSlash starts at $9 per month or you can use your own GPT API key for a single $49 lifetime charge.
Readwise Highlighter
What it's for: Saving web articles with highlights to read later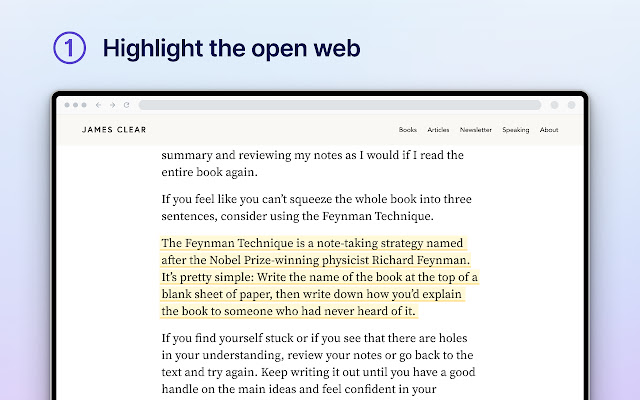 Many "read later" services exist, but Readwise is our favorite because it works with everything. It can import notes and highlights from Kindle, Instapaper, Pocket, and Apple Books and export them to the most popular note apps. Unlike many of its competitors, Readwise lets you save highlights in web articles, so you can easily track down what you want to remember.
Readwise Lite starts at $4.49 per month and the full Readwise is $7.99 per month.