TextExpander enables you and your team to share support responses, marketing messages, links, and more with a couple keystrokes or a quick search. It can be especially useful for your company messaging and marketing, as there are a few tricks that ensure everyone in your organization can help spread your best promotions across all channels.
An Example Marketing Snippet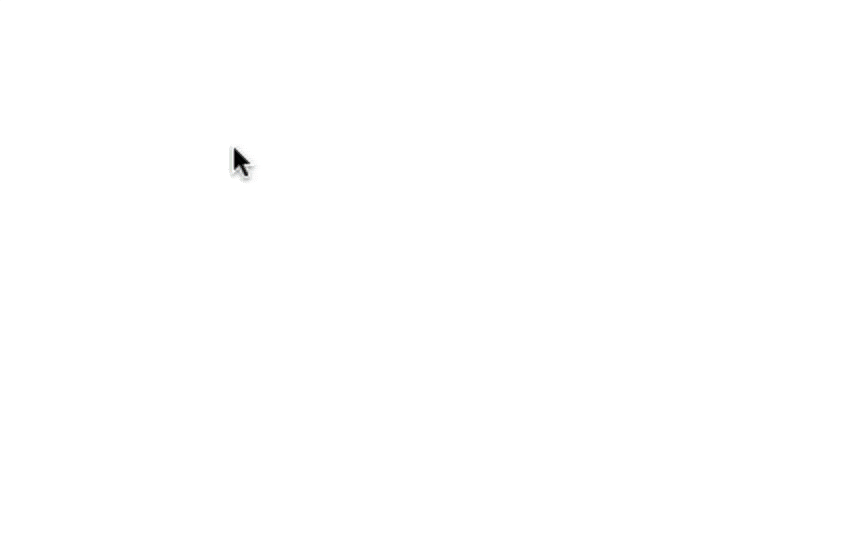 At Smile Software, we all have personalized snippets for our email signatures. Those snippets include some form of our current promotional message, which usually informs customers about our latest release. Our current message is:
We're celebrating the 1 year anniversary of the new TextExpander—see what gains we've made, from new apps to powerful collaboration: http://smle.us/68zv2o

PDFpen and PDFpenPro 9 - Out Now Over 100 enhancements to improve your PDF editing experience. Check out what's new http://smle.us/qa57mh
That snippet was created by our marketing folks, who maintain and update it when we have something new to share. Once they update it, everyone in the company automatically gets the new messaging via the magic of shared snippets and nested snippets. This message can be automatically added to things like email signatures, adapted for social media campaigns, and more. Here's how it all works.
Note: We'll stick with the email signature for examples in this post. But these snippets and techniques can expand way beyond email to social media efforts, blog post templates, forum responses, and much more.
Sharing Snippets With the Team
With TextExpander for Teams, you can share groups of text snippets with others in your organization. Many of our customers have groups for things like common customer support responses, links to frequently used company resources, marketing messages, and even fun stuff like emoji.
You can even assign admin to snippet groups so they can make changes to snippets. TextExpander makes sure any changes are immediately available to all other group subscribers. Check out our blog post on how to get started with TextExpander for Teams and sharing snippet groups.
Nesting Snippets Inside Other Snippets
Here's where the magic happens. TextExpander allows you to nest snippets inside other snippets. As in, if you make a reference to other snippets inside of one, you can expand all at once. To see how this works, here's one example from our customer support email signatures: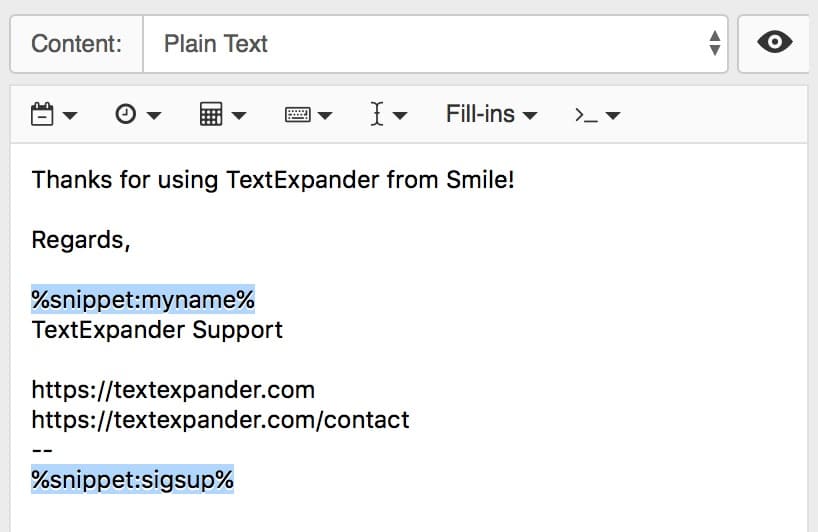 See the %snippet:myname% and %snippet:sigsup% bits in that signature? That's how you include snippets inside others—by adding snippet:[abbreviation] (the unique abbreviation assigned to triggering a particular snippet). Whenever one of our representatives uses this support email signature, those nested snippets tell TextExpander to also include:
A snippet that calls their name (the "myname" snippet)
Our latest marketing snippet (the "sigsup" snippet)
Our support reps generally don't have admin privileges to edit marketing snippets, but that doesn't matter. Our marketing folks keep them up to date, which enables our support reps to share our latest company messaging without lifting a finger.
Go Forth and Embed
We hope this helps you and your organization spend less time typing, and more time #onbrand. Let us know what you think of shared snippets and embedded snippets on our TextExpander support page, Twitter @TextExpander, and LinkedIn.