When you're working remotely or with a multi-departmental team, it can be difficult to maintain communication and consistency, as well as keep everyone on the same page. You might find yourself emailing back and forth with questions that could have been answered right away if everyone was in the same room. You may even miss important task update notifications.
Luckily, there are new tools available to help teams save time and boost productivity by improving cross-departmental communications.
That's what ClickUp and TextExpander are here for. 😉
In this blog, we'll get you familiarized with ClickUp and TextExpander. We're covering what they offer and how they can help improve your team's communication, eliminate inconsistencies and friction in your team's workflow, and save time. Let's set your team up for success—wherever they may be in the world. 🌎
Let's get into it!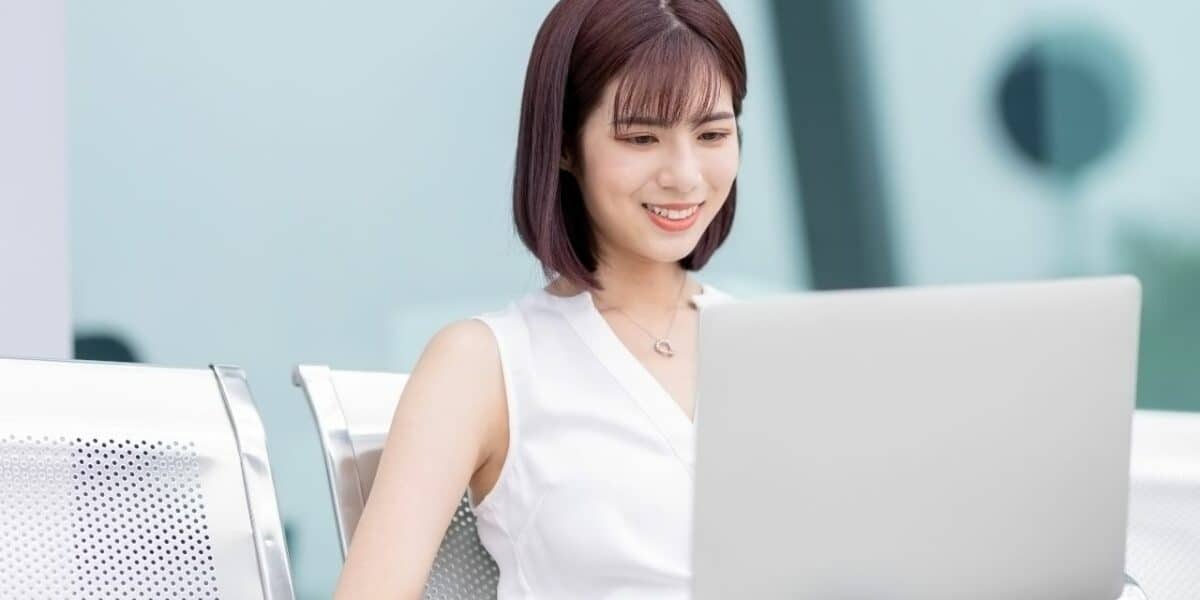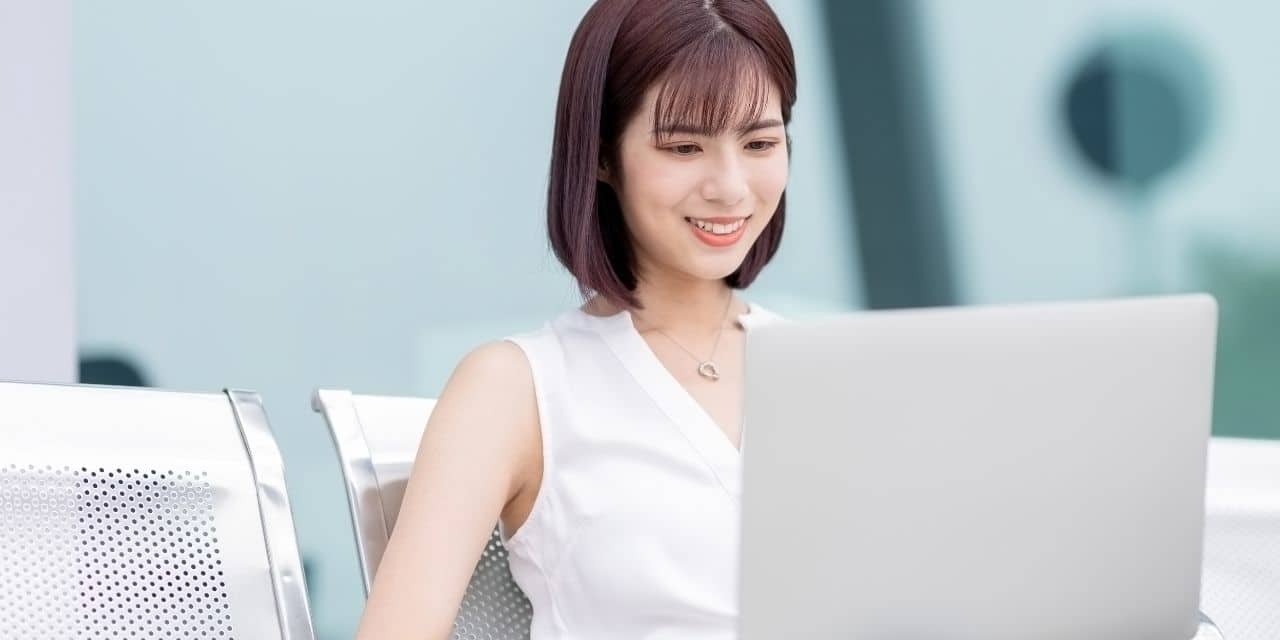 Benefits and Challenges of a Hybrid Work Model
The way in which people work is changing. Previously, most people worked in an office and had to be there for a certain number of daily hours. Today, it's common to offer remote positions or hybrid work structures where employees choose when they come into the office.
In the light of the pandemic, the hybrid work structure has become more popular. It's giving both employers and employees the flexibility to work from home or remotely. In May 2021, the Remote Work & Compensation Pulse Survey from Salary.com revealed that 48% of the participants prefer to be fully remote. That same study showed 44% favored a hybrid work environment.
Remote and hybrid working offers many benefits. These include reduced commuting time and costs, better flexibility with work hours, and increased job satisfaction due to more autonomy over their workdays. On some level, it's helped teams become more productive. This is because they're exposed to fewer or side conversations than they typically would face in an office environment.
However, this newly normalized work model has also affected the way teams communicate and collaborate. It's not easy to stay aligned and keep your processes consistent when you have teams that span multiple time zones and locations around the world. Without a proper system, process, and the right work tools, your teams may experience a decrease in work efficiency, work silos, frustration from lack of communication, and even a feeling of burnout.
So how do you keep your remote and multi-department teams on the same page without sacrificing productivity?
Productivity and modern project management tools!

With the right tools in your belt, your team can navigate the challenges that come with remote and hybrid work. By using them, you can improve all parts of the business including your team's communication.

It's time to introduce you to TextExpander and ClickUp. 😉 🤝
Bring All Your Work In One Place With ClickUp
ClickUp is an all-in-one project management tool built to handle simple to complex projects, improve team collaboration, and cross-departmental communication. Small to large teams across various industries choose ClickUp because of its user-friendly interface and advanced customizable features that adapt to their business needs and workflow preferences. We make working with remote teams more enjoyable and manageable.
Keep your hybrid and remote teams connected with ClickUp's built-in Chat view for instant messaging, collaborative editing in Docs, multiple assignees in tasks, and more. It even lets your team chat within a task and assign comments to a particular team member for extra visibility. You can also record your screen with the Clip feature, ClickUp's in-app screen recorder.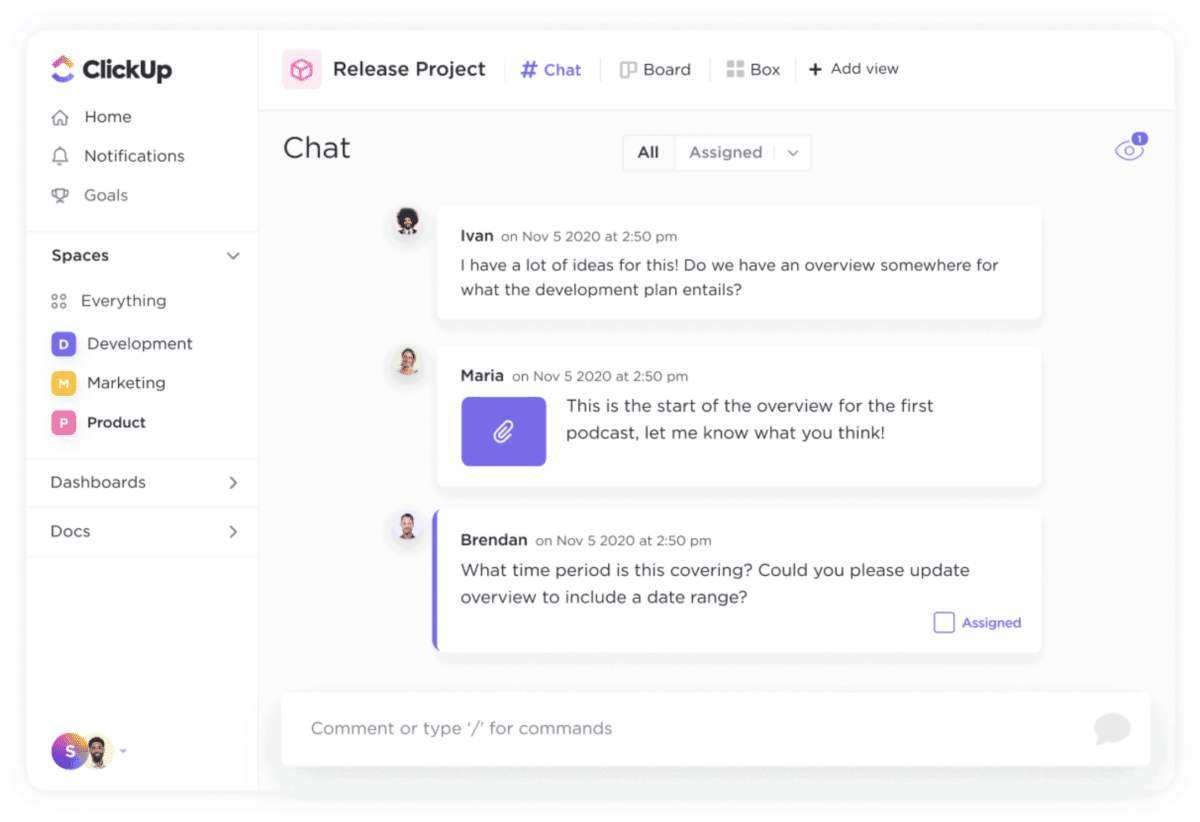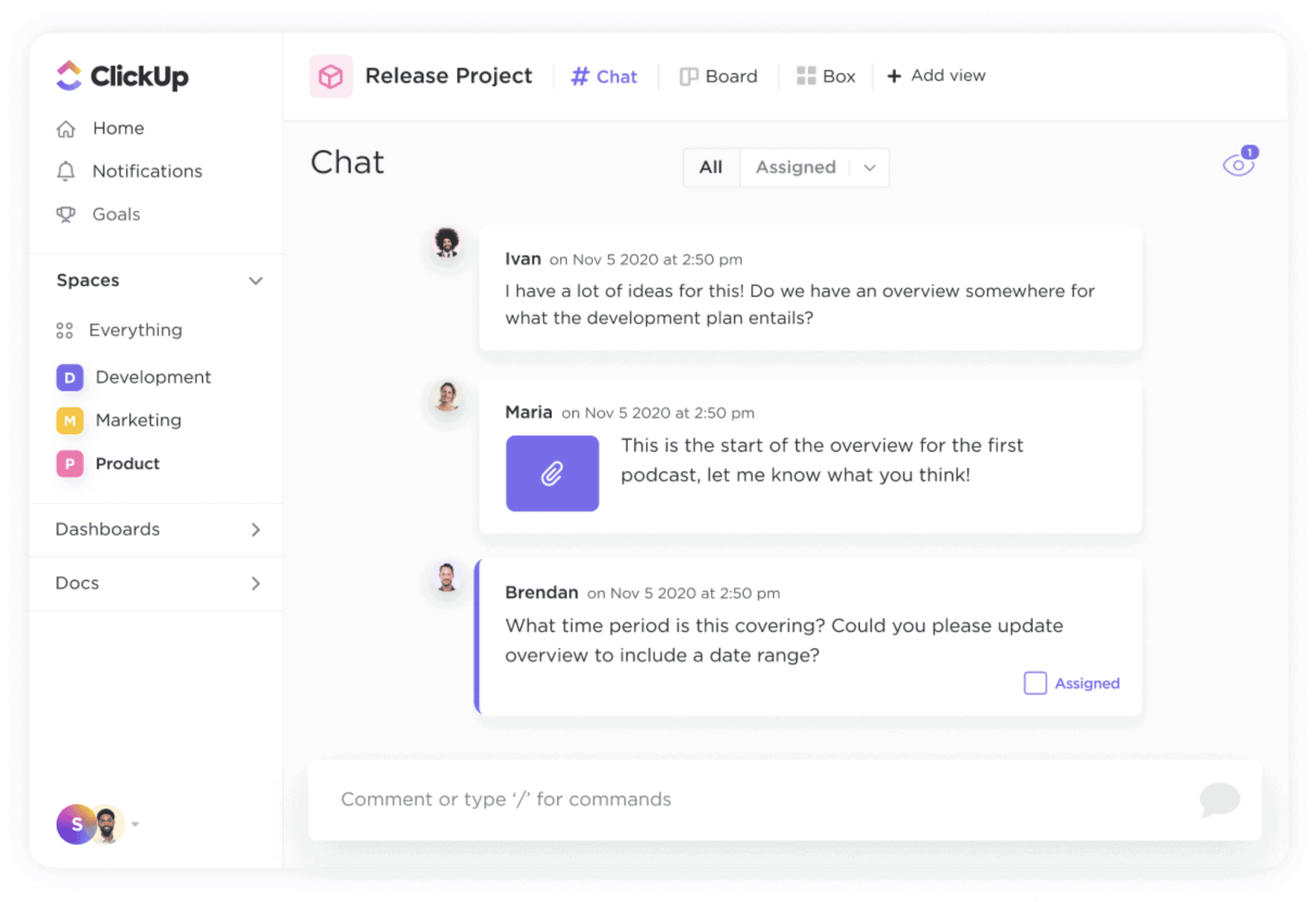 Other key features for remote collaboration include watchers to get automatic task updates, Profiles to view what each team member is working on, image and PDF annotation to centralize feedback and expedite approval processes, and a global time tracker to track time spent on tasks and billable hours. Did we mention you can also integrate ClickUp to over 1,000 other work tools? Connect ClickUp to your most-used apps to sync all your work and streamline your team's workflow.
What makes ClickUp the best choice for remote and hybrid teams?
Take a look at these features:
Multiple views including Workload and Chat view (15+ options)
Hundreds of customizable features to adapt to business needs and personal preferences
Team insights and real-time reporting
Collaborative detection and editing
Integration capabilities (connect 1,000+ tools for free)
Free Forever Plan and affordable paid plans
With all the features for team communication in ClickUp, your team always has the right tools to stay aligned, informed of task updates and progress, and have easy access to all the other key information they'll need to be successful in their role, wherever they may be!
Add TextExpander to ClickUp to Save Time & Keep Your Messaging Consistent
ClickUp is all about saving people time so we're here for anything that helps make that a reality! 🤝
Another productivity tool that can streamline your team's workflow is TextExpander—a knowledge activation tool that helps you write faster. So how does it work? You can save any type of text into TextExpander—words, phrases, paragraphs, codes, URLs, emails, even entire book chapters! For each text fragment you save, you assign it a keyboard shortcut or abbreviation. From then on, whenever you want to insert the saved text, all you have to do is type the abbreviation.
With TextExpander in ClickUp, you'll be able to delegate tasks and manage recurring tasks with speed and consistent messaging using set snippets. Once a snippet and abbreviation have been created, you and your team can use the shortcut to insert the full block of saved text anywhere that you type. (Simply put, you can use TextExpander wherever you're able to enter text in ClickUp. 😉)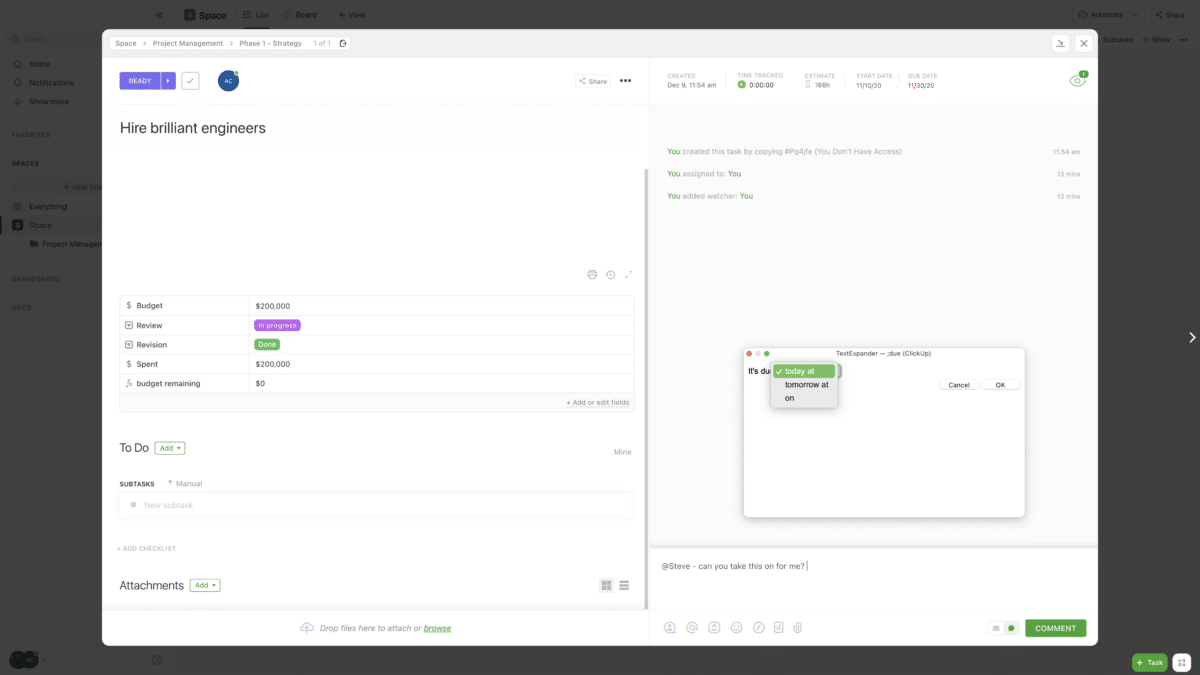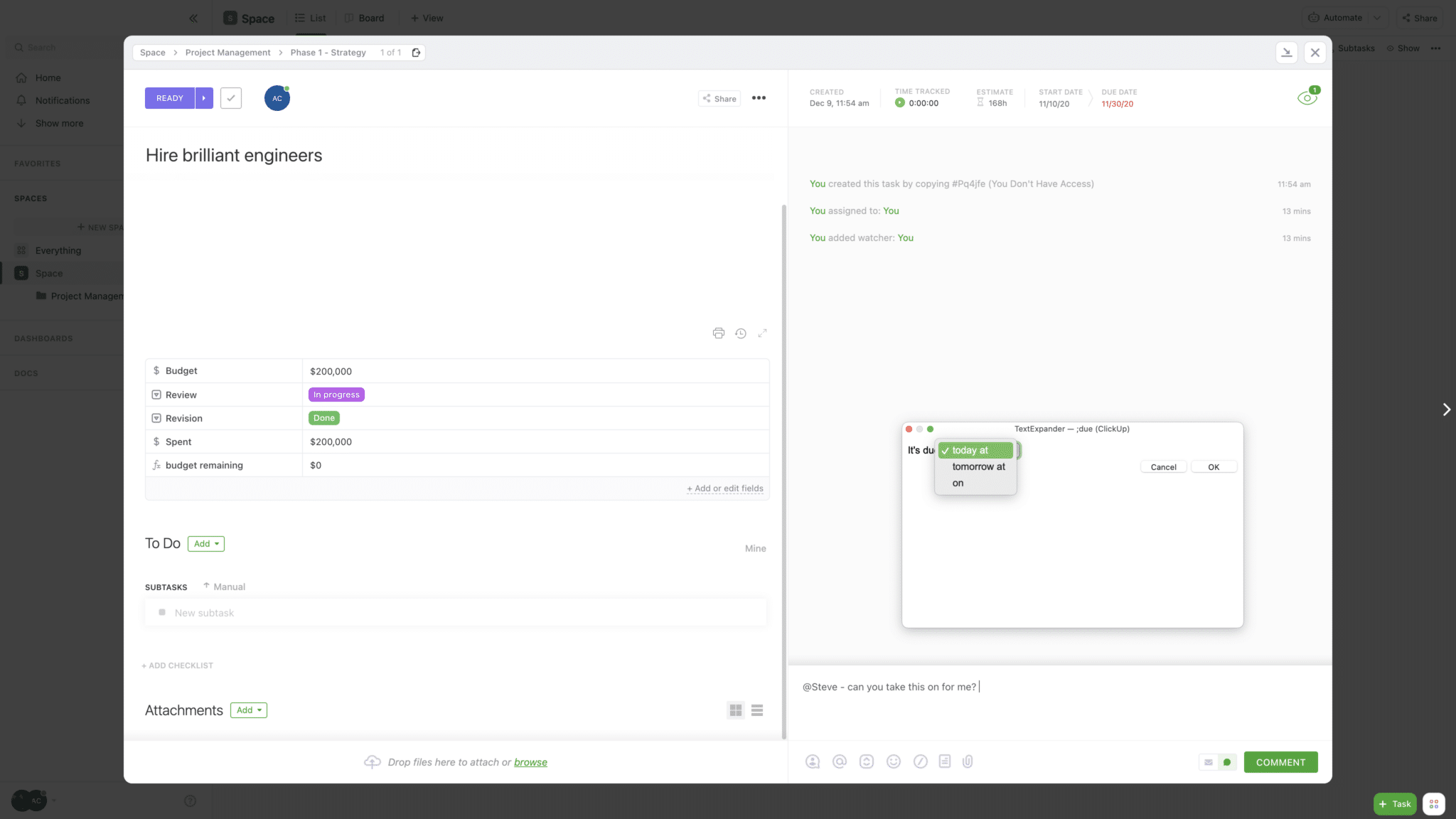 Additionally, TextExpander allows teams to share common language across departments. Save snippets of boilerplates, FAQs, sales pitches, and more. Be sure to share them with your team so that everyone can improve workflow and avoid inconsistencies in messaging.
It's so much easier to communicate with your team, customers, and clients as a result of these shortcuts. This helps everyone stay on the same page and save time wherever they are!
Use TextExpander in ClickUp to work smarter, save time, and align your hybrid and remote teams by supercharging your team communications. ⚡️
The Future Is Bright For Remote and Hybrid Teams
Life is about to get a lot easier for remote teams. The days of feeling like you're in the dark, disconnected from your colleagues are over, thanks to work tools that allow team members to stay connected and on task—like ClickUp and TextExpander.
Use ClickUp, a fully customizable project management system, to improve communication and keep your team connected. Bring in TextExpander to breeze through typing comments within tasks, emails in ClickUp, and more.
No matter where you work, you can count on ClickUp to bring all your work into one place, keep your teams organized, and stay up-to-date on current tasks without having to constantly update multiple people at once with emails or texts.
And when you use TextExpander with ClickUp, your team can expect to save time by creating shortcuts that will expand into full words or phrases when typed into a text field. You save even more time by using these shortcuts throughout your day-to-day activities so you don't have to type out long phrases over and over again.
It's 2022—the future of work is here! Let ClickUp and TextExpander help your team communicate better, save time, reduce work inefficiencies and inconsistencies, boost productivity, and improve their overall work experience wherever they are. 🙌