You may already know how much money TextExpander can save your company. Companies like Automattic, SketchUp, and Uber have discovered that TextExpander can more than double their team productivity, with top users saving over 31 hours per month.
But did you know that TextExpander's pricing model can save you even more?
There's nothing worse than buying something you don't use. That exercise bike collecting dust in the corner, shelves of unread books, kitchen gadgets whose purpose you long forget, or that empty filing cabinet are all painful reminders of wasted money.
As bad as that feeling is, it's even worse when it comes to business purchases. It's all too easy to buy what seems like a great tool, only for it to not click with your team, and now you're stuck with an expensive line item you struggle to justify. That's why when we developed TextExpander pricing for teams, we decided to implement usage-based pricing.
In short: you only pay if a member of your team uses TextExpander in a given month.
Note that usage-based pricing does not apply to Individual plans, but only to Business, Growth, and Enterprise plans. If your team currently uses multiple Individual plans, contact our sales team to find out if you can save money with one of those other plans.
Here's a quick video explaining how it works. Read on for more details and some math demonstrating how TextExpander saves you money.
How TextExpander pricing works
TextExpander Business starts at $8.33 per user per month. Let's say you have a team of ten. After the first month, five of your team members use TextExpander consistently every month, while the other five promptly forget about it.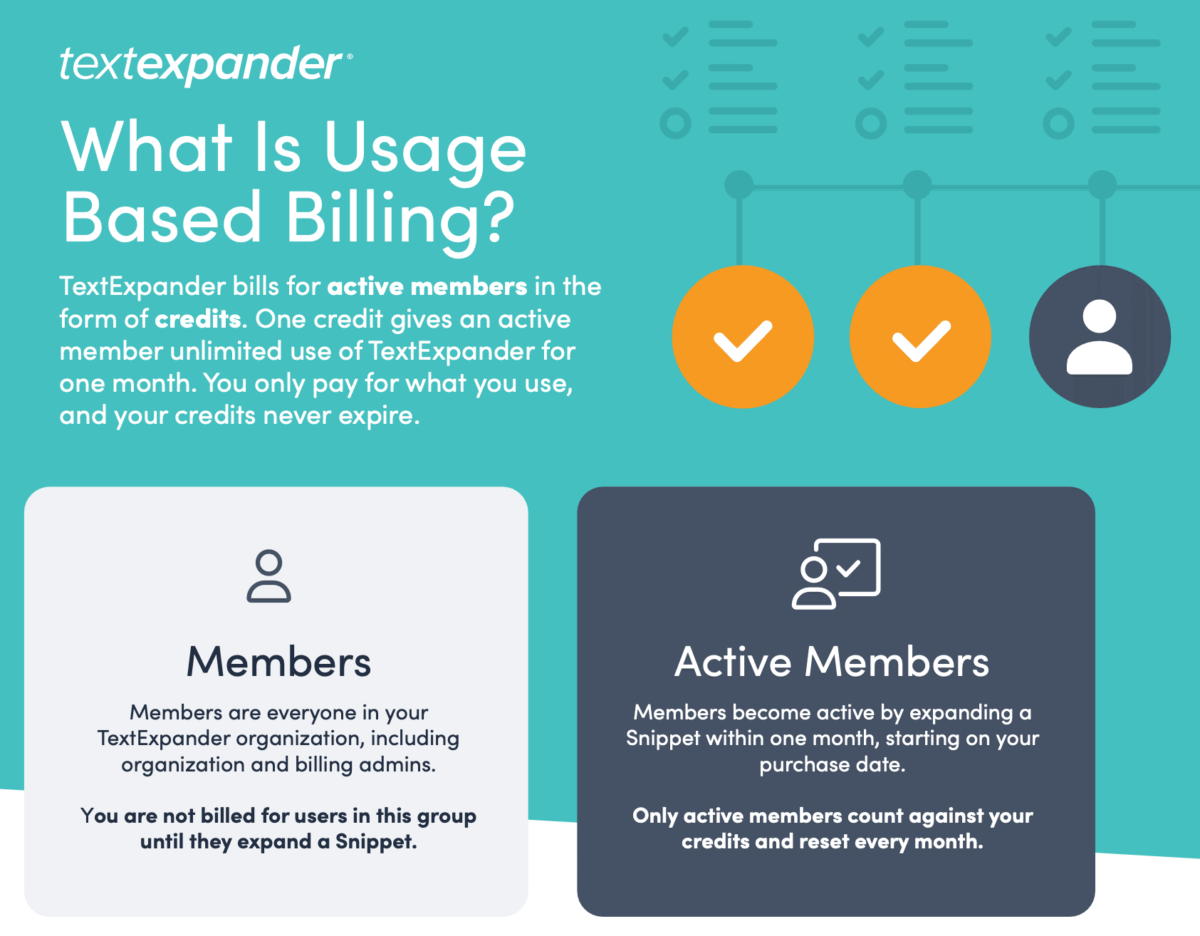 For those ten users, let's say you paid $999.60 for the year. As cheap as that is, it gets even cheaper if only half of your team uses TextExpander. Let's reframe the pricing: what you really paid for was 120 months of TextExpander, and we automatically transfer those months from the inactive users to the active ones.
In the first month, all 10 members used TextExpander, so you used up 10 of those months. You have 110 months left.
Over the next 11 months, 5 of your members keep using TextExpander, using up 55 months total and leaving you with 55 leftover months at the end of the year. Those 55 TextExpander months will last you another 11 months, assuming the same 5 people are consistently using TextExpander.
So that fairly inexpensive $999.60 for the year actually lasts you a full 23 months. Your usage dropped by half, so your bill also dropped by half. Don't you wish every subscription service worked the same way?
And in our experience, the most adept and enthusiastic team members jump at the chance to save time and drudgery with TextExpander.
"But I don't know how to budget this! The pricing is variable!"
One of the most common objections we hear is that the pricing is too variable. Businesses want consistent, predictable pricing. But the thing to keep in mind is that the variability always works in your favor.
So how do you budget that? Let's use our example above: for your team of 10 on our Business plan, you budget $999.60 for the year. Again, following the above example, 10 use it in the first month, and then only 5 use it after that.
The next year rolls around and your 5 dedicated users keep using TextExpander every month. 11 of the months are already paid for. When those run out, buy 5 annual subscriptions for those users at $499.80 total.
Now, if you really want, we could charge you the full amount—$999.60 in this example—every year. But what you can do instead is budget the full amount for TextExpander every year. So for the 10 users on the Business plan, budget that $999.60 every year. That way, you have some wiggle room in case you add more members to your team or TextExpander skeptics become believers.
We can almost guarantee that your TextExpander budget will have an annual windfall, and that's a good thing.
Tips for maximizing your TextExpander budget
TextExpander months work like credits or tokens: if a user uses TextExpander to expand a Snippet in a given month, you're charged for that user. So if a single user only makes one expansion per month, it's not an efficient use of the budget.
Ideally, you want your TextExpander users to be expanding Snippets multiple times per day. One way to do this is to ensure that all of your TextExpander users have an arsenal of easy-to-remember Snippets for things they commonly type. Here are some we recommend for everyone:
myemail
myname
myphone
mytitle
See how TextExpander works
The best practice for these is for each individual user to set these up in a personal Group.

When they set up the group, instead of typing "my" over and over, they can set the Group Prefix to "my." So that way, each Snippet in the Group is named something like "phone," "title," and so on. The "my" is added automatically as a prefix.

As for Snippets particular to your business, observation is your friend. Identify things you and your team type repeatedly. The Suggested Snippets feature in the TextExpander sidebar can help you here.
But you don't have to figure all of this out on your own! TextExpander's first-class sales, support, and customer success teams are here to help you maximize your investment. Talk to our sales team today and find out how TextExpander can transform your team's efficiency.