With countless tools on the market, it's no surprise that 91% of recruiters use some form of recruitment technology or software. TextExpander is a productivity multiplier which eliminates the need to type things over and over.
Using TextExpander snippets, or preset chunks of text, recruiters can automate the most predictable aspects of their workflow and save considerable time on administrative tasks.
Here are five commonly used emails-turned-snippets that will save you keystrokes and allow you to focus on the tasks that can't be automated – spending face time with candidates, managers, and teammates.
Snippet 1: Strategy Session Notes
Kick off the intake meeting or strategy session equipped with both questions and insights for the hiring manager.
Use this formatted text snippet to remind you of key pieces of information that you want to capture and share during the meeting. The clean table makes it easy to skim at-a-glance.
Label: Strategy Session
Abbreviation: xss
Content: 5 Must Have Snippets for Recruiters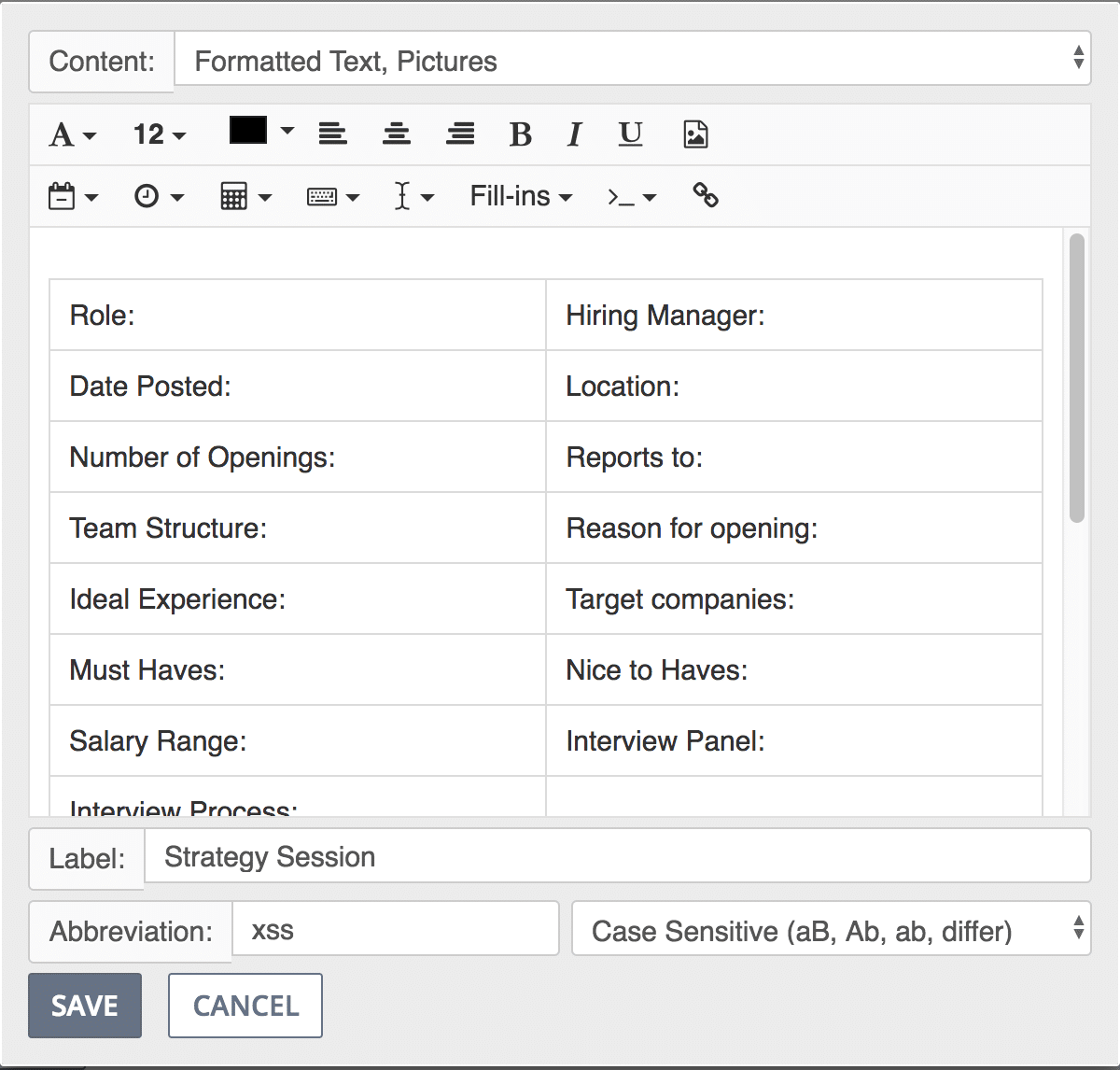 Snippet 2: Phone Screening
While no two positions will need the exact same screening, this plain text snippet can serve as a baseline for your calls. Customize the snippet using the "must haves" captured during the strategy session for maximum effect.
Label: Phone Screening
Abbreviation: xps
Content: 5 Must Have Snippets for Recruiters
Using a simple 3 character shortcut "xps" populates this Evernote file with screening questions.
Use TextExpander within your favorite note-taking tool like WordPad or Notes. For more on optimizing TextExpander with the apps you love, check out our #CrossOver series.
Snippet 3: Next Steps
Always an exciting message to send, use this plain text snippet to share the good news and also prepare the candidate for what is to come.
Label: Next Steps
Abbreviation: xns
Content: 5 Must Have Snippets for Recruiters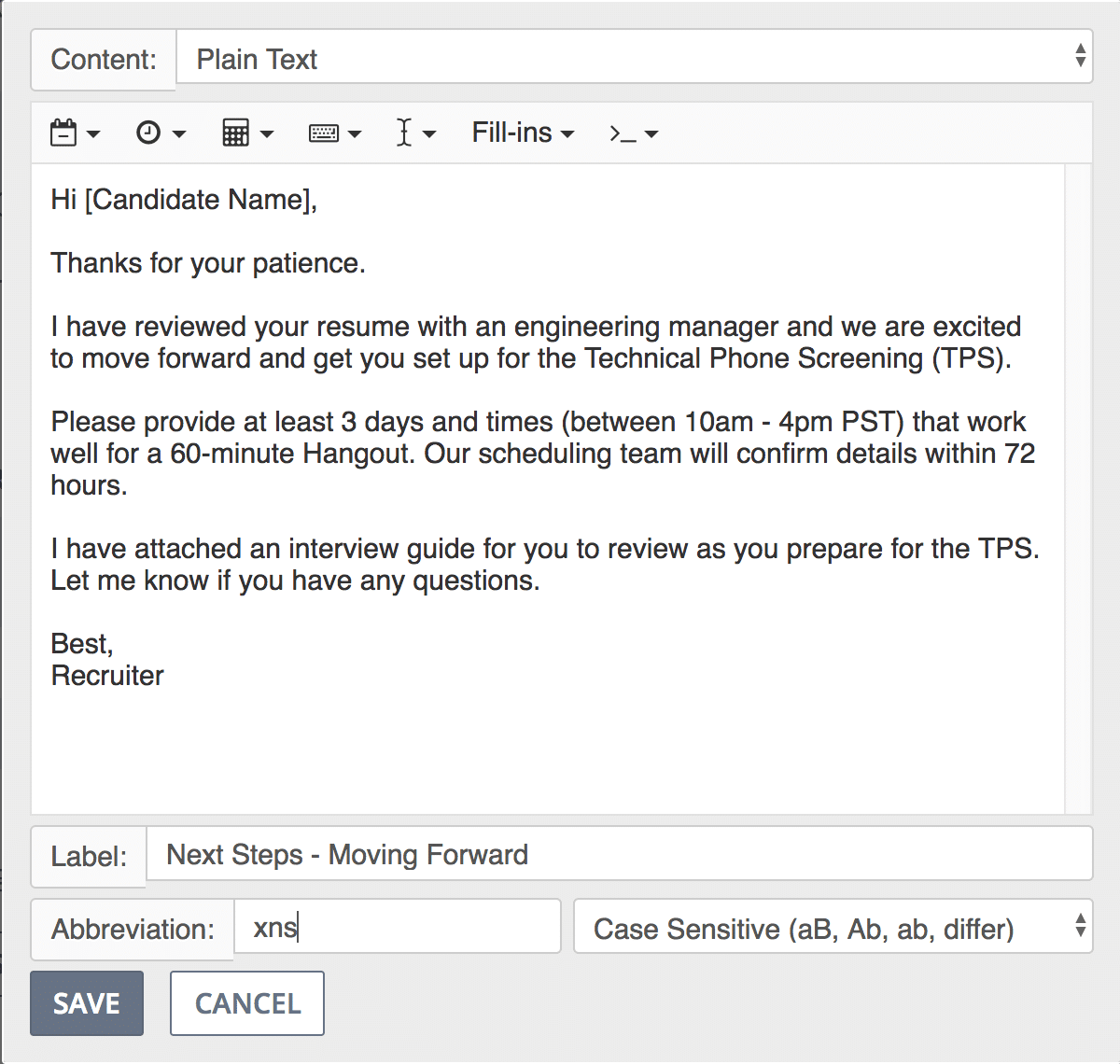 Snippet 4: Rejection
Rejecting a candidate is never easy, but best-in-class recruiters are committed to closing the loop. Use this fill-in snippet to update the candidate that you won't be moving forward after a phone screening.
Label: Rejection
Abbreviation: xrj
Content: 5 Must Have Snippets for Recruiters Source: Adapted from an original email by Tessa Wilder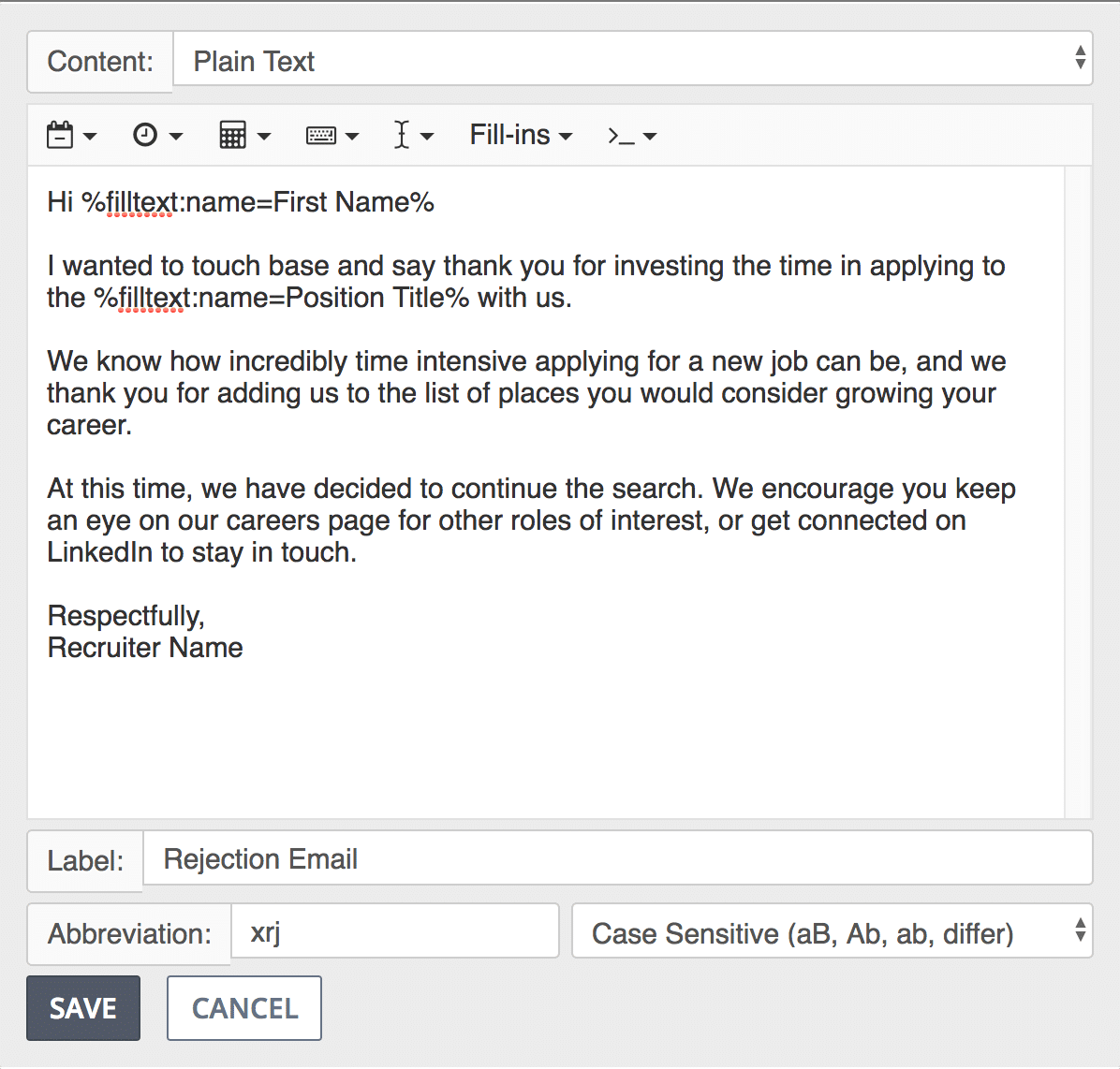 Snippet 5: Weekly Update to Hiring Managers
Keeping a cadence of proactive communication makes building trust with your hiring managers easier. Use this formatted text snippet for a weekly or bi-weekly update to the teams you support.
Label: Weekly Update
Abbreviation: xwu
Content: 5 Must Have Snippets for Recruiters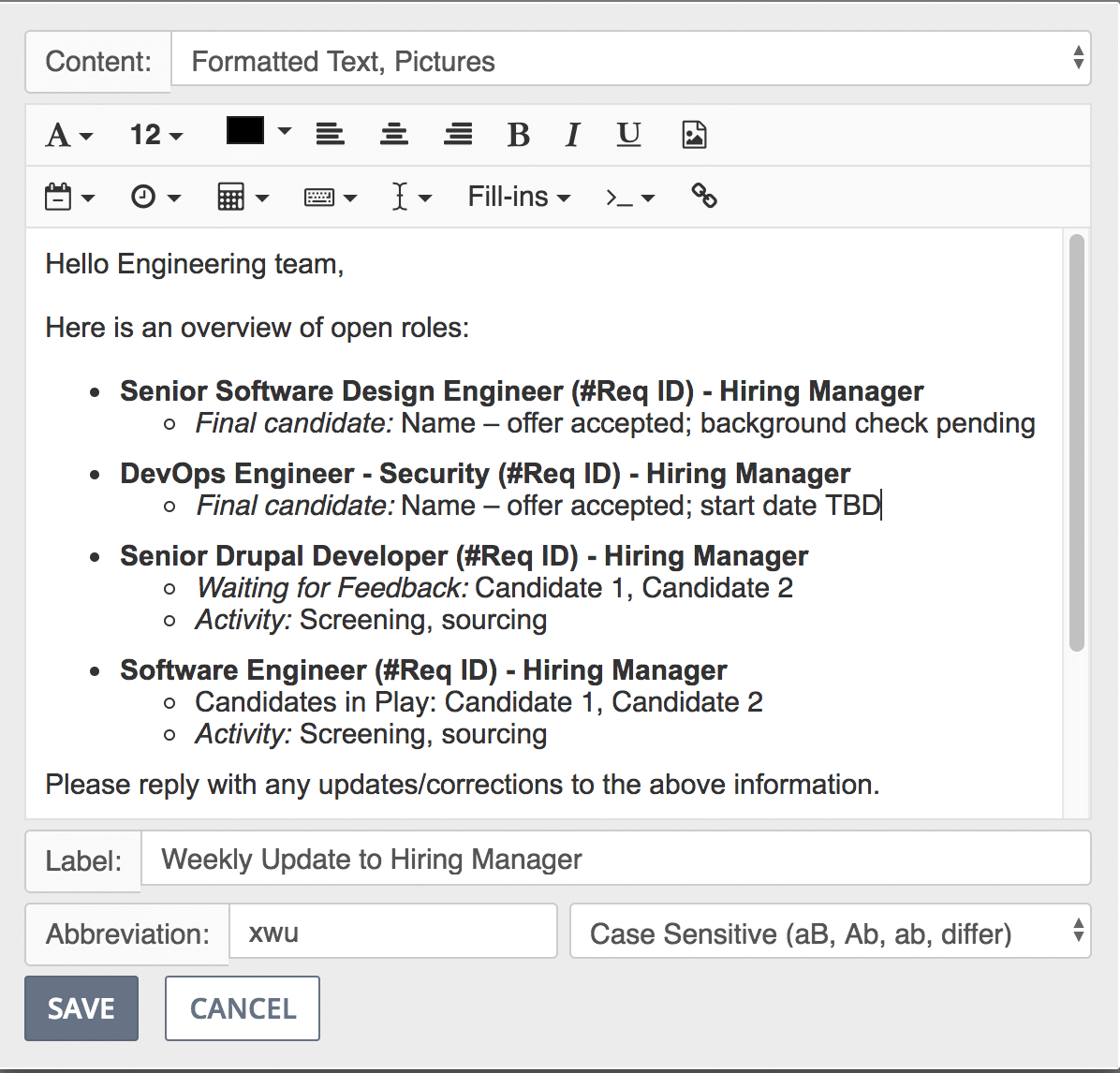 Keep Creating
Why stop with five? Continue creating snippets for common communications in your recruiting process. Happy expanding!
Access this public group of must-have snippets on the TextExpander Public Groups page.
For more great tips and tricks, like us on Facebook and join us on LinkedIn.