Skills-based hiring saved LaShana Lewis from low-wage jobs that were way below her potential.
LaShana has always been a curious problem-solver. As a child, she liked to take things apart and put them back together for fun. By high school, she had learned to code and fix computers.
Her teachers noticed her computer skills and urged her to pursue a degree in computer science. But after studying at Michigan Tech University for three and a half years, she dropped out. Like many underrepresented students in white prevailing institutions, she didn't feel like she belonged. She'd also run out of scholarship money.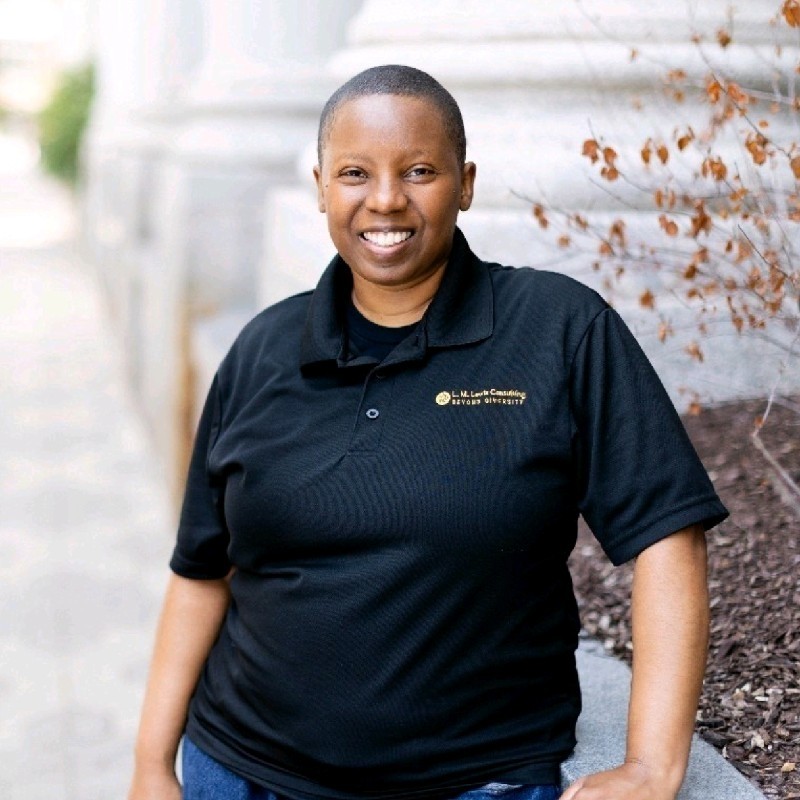 Still, she had learned a lot in college. She'd leveled up her programming skills and learned to design websites at a time when people were just starting to discover the internet.
But skills weren't enough to get her a job in tech. Without a degree, she couldn't even get a data entry job. So she worked as a van driver for an after-school program for six years. Then she got a job at a helpdesk, which she stayed at for ten years.
Had it not been for LaunchCode, a non-profit organization that helps people break into tech, her potential would continue to go to waste. LaunchCode matched her with an employer that needed her skills, and she began an apprenticeship that turned into a full-time job as an assistant systems engineer.
Her career took off. She began working as a software engineer. Then, Barack Obama took an interest in her story. She began talking to journalists about the need for diversity in tech. Today, LaShana Lewis is the CEO of her own company, L.M. Lewis Consulting, which provides technology services in addition to diversity and nonprofit consulting.
She is also a champion of skills-based hiring and a poster child for Opportunity@Work, a platform that connects employers with STARs, which stands for professionals who are skilled through alternative routes.
"There are millions of STARs like me just waiting to work and all they need is an opportunity," LaShana said in a promotional video for the organization. "Let someone take the first step in changing your company or organization into something that's more aligned with what the future is going to be."
Skills-based hiring and the future of work
The future is going to be skills-based, at least judging from the recent data. In 2019, there was a 20% increase in managers hired who don't have a traditional four-year degree.
In a recent article for Forbes, Tom Vander Ark, CEO of learning design firm Getting Smart, noted that the pandemic (and the so-called Great Resignation) accelerated the rising trend toward skills-based hiring.
Skills-based hiring is likely to keep growing. One of LinkedIn's five talent predictions for 2022 is that hiring will "continue to move beyond degrees and diplomas."
But what is skills-based hiring?
Skills-based hiring is hiring based on what someone can do, not where they went to school or the jobs they had before. Gopika Maya Santhosh, insights analyst at LinkedIn, defines it as "weighing a candidate's competencies over their credentials."
Although skills-based hiring may seem like an unconventional hiring strategy, it's how orchestras, restaurants, and the US National Football League have been hiring for years.
"In performance-driven businesses, job auditions have been around almost as long as jobs have been, allowing for more informed and equitable decision-making," Samantha McLaren, copywriter at LinkedIn, wrote.
Why skills-based hiring is better
You can't judge someone's skills based on where they went to school. Although education is used as a proxy for skills, research shows that it's a poor proxy. You also can't judge what someone can do based on their work history—just think of LaShana and how her resume did not reflect her actual skills.
"Companies are missing out on skilled, diverse talent when they arbitrarily 'require' a four-year degree," Byron Auguste, founder of Opportunity@Work, wrote. Instead of hiring for pedigree, he says, they should be hiring for potential.
But how do you identify potential? Through tests, auditions, and projects, workplace experts say.
How to conduct skills-based hiring processes
Here are some ways to hire for potential, not pedigree (also known as running a skills-based hiring process).
1. Relax "requirements"

In skills-based hiring, job descriptions should highlight responsibilities, not requirements. "Try focusing on the results you'd like to see, rather than the type of person that you think could deliver those results," Gopika suggests.
The result will be a more effective job description. LinkedIn data shows that job seekers prefer job listings that mention skills needed and results expected because it helps them understand the role better.
When writing job descriptions, it also helps to remember that, as LaShana wrote, "ready-made employees don't exist." Resist the urge to balloon demands "beyond people's ability to actually meet them," or there will be no one for you to hire.
2. Ditch the conventional application form
Even the experts agree that most application forms are tedious, time-consuming, and ineffective. (It's no wonder that 60% of job candidates abandon them halfway.)
In skills-based hiring, you can do away with application forms completely. Toggl OÜ, the company that operates time tracking software Toggl Track, starts off its hiring process with a skills test.
Or you can do like Zapier and keep the application form, but transform it completely. Instead of asking candidates to submit all of their personal details and job history, get them to answer questions designed to test their knowledge of your product.
3. Use skills tests
Use pre-hire assessments, aka skills tests, to check if candidates have the hard and soft skills you are looking for.
There are a variety of tools you can use for this purpose. Toggl Hire helps you create tests that are job-specific. HireVue has game-based psychometric tests you can use to test cognitive abilities. (They also have video analysis software for measuring emotional intelligence.)
Learn more about leveraging skills tests for recruitment.
4. Give top candidates a project
At the selection stage of the hiring process, give candidates a project to work on.
It's what we do here at TextExpander. Projects help us learn more about candidates and their skills than resumes ever could.
5. Let candidates audition
Another option is to let candidates audition for the job. For example, if you're hiring a remote customer support agent, you could let them work alongside your customer support team for a day. Seeing how they think, communicate, and collaborate will help you decide whether or not they are a good fit.
Learn more in our Essential Guide to Remote Recruiting.
Partner with LinkedIn
LinkedIn's skills-based hiring initiative, SkillsPath, combines LinkedIn Learning courses with skill tests to help recruiters evaluate candidates based on their skills. Candidates can close skill gaps with LinkedIn courses, demonstrate their knowledge through LinkedIn assessments, and get matched with a recruiter if they pass.
Skills-based hiring is the future
Skills-based hiring is the best way to identify capable talent, increase diversity in companies, and improve retention.
Skills-based hiring also saves companies time (it's more efficient) and money (because it leads to increased quality of hire), and help improve the candidate experience.
Learn more about the future of work
To learn more about the future of work, check out these articles: