Sales people love creating relationships and making that all important sale. The Customer Relationship Management software, or CRM, that you use is integral to the sales process. Without it, it'd be difficult to track deals, monitor performance and understand your customers.
But salespeople don't always love entering data into the CRM. It can become the dreaded task, which can lead to inconsistent and missing notes. What's more, the sales manager then has to remind the team to enter everything correctly, which can put a strain on an otherwise healthy working relationship.
To take away the pain point of entering data into a CRM, to make it faster, easier and more accurate, have your sales people use TextExpander.
How Salespeople Can Use TextExpander in a CRM
Using TextExpander, salespeople can quickly insert frequently-typed text into their CRM in just a few taps.
The Basics
Here's how it works:
Write that frequently used wording you want the team to use in a 'snippet'.
Create an abbreviation for your snippet.
Next time you're typing and want the content, type your abbreviation and it will expand right there

You could create a snippet for:
Frequently typed notes, such as 'follow-up meeting scheduled'
The current date and expected close date – just use TextExpander's Time and Date math feature
Tricky customer names
If everyone uses the same language to put info into the CRM, it will be much easier to search on things later and get information back out of the CRM.
Fill-Ins
To take your notes a step further, you can create flexible note forms with fill-ins.
Fill-ins, which can be inserted from The Editing Bar, allow salespeople to quickly add their notes in the format you want, but with the custom details they need at the time.
Plus with pop-up menus, optional selections, and more, sales notes can be as thorough as they are consistent.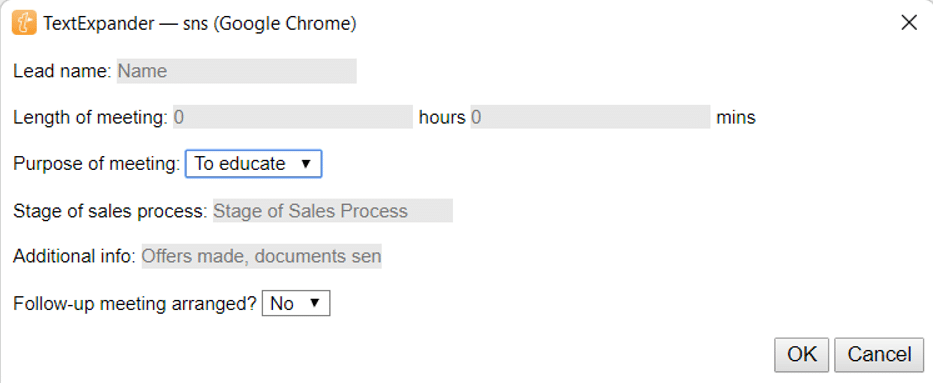 Snippets for Qualifying Questions
When chatting with a lead, the goal is to close business. To make sure that happens, you need to know if your lead is the right fit for your product and if you are talking to the right person. You may have a set of questions to establish that, such as:
Who is the decision maker?
Is there a budget for your product/service?
What is the process for buying your product/service?
What is the expected close date?
All these questions and more can be put into a snippet of qualifying questions. This can then be expanded in the CRM, or perhaps just a notes app, so the salesperson has prompts throughout and can fill in the answers as they arrive.
Snippets for Lost Opportunities
Sales that didn't go through can provide valuable data. Create a notes outline snippet for lost opportunities. The popup menu is particularly useful—and includes an 'Other' option so reasons not listed can be typed.

Share with the Sales Team
TextExpander snippets can be shared with the whole team, keeping everyone on track. This means note templates, qualifying questions, and more can all be created and edited by the sales manager, ready for the team to use.
How to Share Your Snippets
Read more on sharing snippets in our post on using TextExpander as a team.
TextExpander as a Training Tool
By sharing snippets, the sales manager can communicate the standard of notes they expect in the CRM, as well as make it easy for the team to write them.
Over time, the team will learn the pieces of information needed and the questions to ask. TextExpander is a great tool for getting it done quickly, but it also acts as a training tool to show junior salespeople the level of accuracy and detail expected.
Plus, it leaves the team to get back to what they do best—selling!
Empower Your Team
With TextExpander snippets, you can empower your team to gather the right information and log it correctly.
To try TextExpander FREE for 30 days (no credit card details required), click the button below: