In many industries, meeting with other people is a standard part of the job, from Sales and Recruiting, to just getting the monthly office meeting together. This process is usually an exercise in frustration, though, with days-long email exchanges and scheduling tennis. Fortunately, TextExpander and Calendly can help. A lot!
For the uninitiated, TextExpander is our typing app and service. It helps you and your organization communicate smarter and save a ton of typing time. As for the folks at Calendly, they built something we love: a great way to take the pain out of scheduling meetings, creating the calendar event, and reminding everyone to attend.
The Old Way to Set Up Meetings
Does this email exchange look familiar?
Day 1: "Let's get together to discuss. How about 10am on Friday?"
Day 3: "No, can't do that."
Day 8: "Can you suggest a time that does work for you?"
Day 17: "How about Thursday at 11am?"
A month later: "11am doesn't work, how about 10am the same day."
This back and forth may take a few days, or it can… drag on. But sooner or later, you usually pin something down.
Finally! Now you can open your calendar (in our case, Google Calendar), add an event, and invite the other party. But invitations can be lost, you might forget to create it in the first place, or people might simply forget to show up. Don't worry, it happens to the best of us!
There's a better way.
The New Way to Set Up Meetings, Thanks to TextExpander and Calendly
To show you a much easier way to schedule meetings people will actually attend, let's set up some context.
TextExpander allows you to instantly insert chunks of text—boilerplate responses, links, today's date, marketing messages, and more—anywhere you have to type. Calendly gives you a shareable landing page where people can easily schedule meetings with you. We know what you're thinking, and the answer is yes: it plugs into your calendar so you don't double book. Plus, Calendly automatically adds the event to your calendar and everyone involved gets an attendance reminder.
When combined, TextExpander and Calendly can do some pretty cool things:
Sign up for a free account at <Calendly.com>
Follow its onboarding process, plug in your calendar service of choice so Calendly can see when you're busy, and set up at least one or two meeting types that people can choose to meet with you
Copy your Calendly link—click the menu in the upper right, choose "Share Your Link," and copy it from the window that appears
Create a TextExpander snippet that contains your typical "let's set up a meeting" pitch. But this time, tweak your process to offer to let the other party choose a time that works best for them. Remember: Calendly already know which times work for you
Paste your Calendly link into the snippet
Give it a memorable abbreviation that's easy for you to trigger, and you're good to go. One suggestion: sch,meet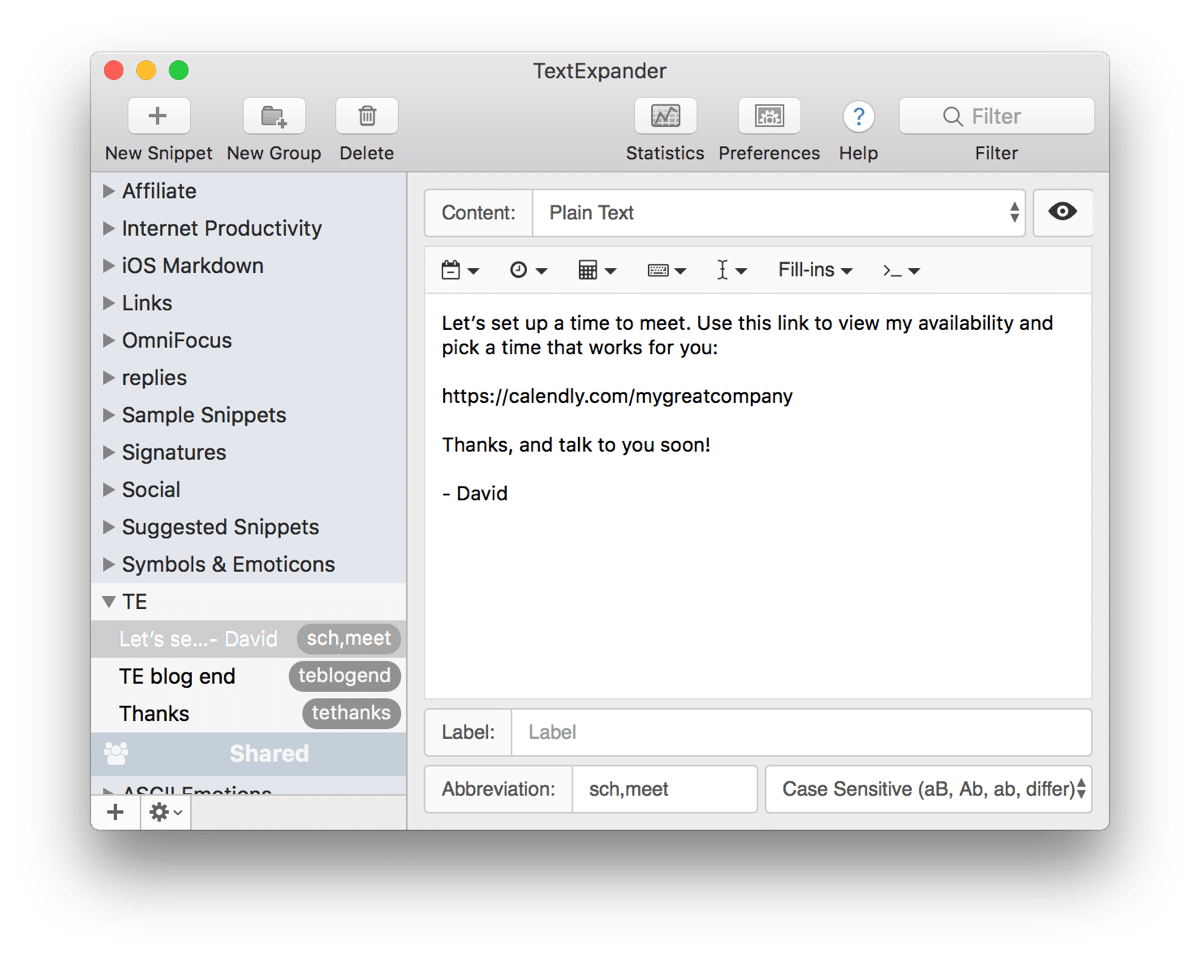 Now, the next time you have to put something on the calendar, use your snippet abbreviation and watch the magic happen. TextExpander will do all the typing and link pasting for you, Calendly will handle the scheduling and reminding, and you can handle looking like an expert meeting scheduler.