Many of us share a lot of content throughout the day. Emails for work, texts with friends, and some social media sprinkled in for good measure. There's probably a fair amount of links in all that sharing—online documents, our latest wishlist item, the perfect response GIF. But what if you didn't have to do all that copying and pasting?
Now, there are two ways you can share links. If you just need to send a link in chat, text, drop a link for a video conference in your browser, or any other situation where you just need the raw link, then you can use a "plain text" snippet. Check out our guide to making and sharing links in Use the Web and Share Links Faster With Text Snippets.
The second way, the way we'll explore here, involves rich text. This means your email signature can have links to your homepage, and the link itself can say whatever you want. You can have whole emails with various links to resources and subtly impress your clients with clean, legible links, and no messy exposed https://.com?tag=blah&source=AR12Kz ? junk. It's the difference between sending this:
Take at look at my portfolio.
And this:
Take a look at my portfolio: https://textexpander.com/assets/TextExpander_Presskit.zip
How to create rich text link snippets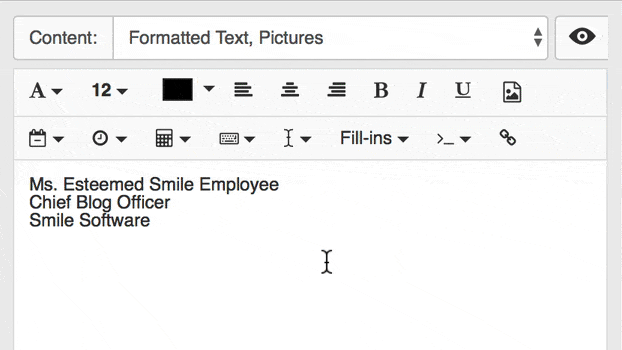 This process is similar to creating plain text links, with just a couple twists. We'll use an email signature for our example, and add a clickable link to our website, like this:
Ms. Esteemed Smile Employee
Chief Blog Officer
Smile Software
Here we go:
Open the TextExpander app and create a new snippet
Set the Content type to Formatted Text, Picture (and notice how the editing bar gains new formatting options)
Paste your email signature into the snippet editor
Select the text you want to link
Click the link button on the right of the Editing Bar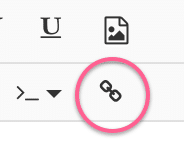 6. In the Enter URL sheet that appears, paste your link and click OK

7. Finish off your snippet with a descriptive Label, so that you can, you know, remember what it's for 8. Add an Abbreviation, a few characters you can type to expand this snippet
How to use link snippets
Now, there are two ways you can use these link snippets in your documents, emails, and anywhere else you need:
Search and expand your snippet using Command+/ (Mac), Control+/ (Windows), then press Return to insert
Type the Abbreviation you assigned to instantly insert the snippet where you're typing
Plain Text vs Rich Text
Remember that this is rich text, so you can expand the snippet in rich text emails, Word, Pages, and other word processors with all that lovely formatting intact. If you expand this snippet in a plain text field, all the formatting will be stripped away. So, if you expand your snippet but can't see your link, check the settings of the app you expand in to make sure the field is rich text. On a Mac this is typically in the Format > Make Plain/Rich Text menu. On Windows, for example, WordPad defaults to rich text, and Notepad defaults to plain text.
Matching your fonts
Since you have set your snippet to keep the formatting for links, images, bolds, and all, it will also keep your snippet's font. If you've set your snippet to Helvetica 12pt, and you expand it in your Times 10pt email, you will see the difference.
To solve this disparity, we suggest setting your default font the same across the board. This means taking a bit of time up front that will save you time later on correcting mismatched text. Set the default font in TextExpander settings, set the font for new emails in Mail, Gmail, or Entourage, and set default document fonts in Word, Pages, and wherever else you type.
More examples of link snippets
To help you get the gears turning, check out these ideas of how link snippets can be useful in a variety of scenarios and workflows:
Frequently used online documents
Create a library of snippets linking to online documents that you frequently share, edit, or reference can help avoid a lot of tedious copying and pasting. These can work great by themselves or fitted into templates for emails and other documents.
Real estate clients and listings
No one wants to see long junky links when looking for their next home. Creating and maintaining a body of clean, well-labeled listing links can go a long way toward your next booking or sale. You could also maintain some email snippets with formatted links to helpful resources you like to offer clients.
Client emails and introductory materials
If you work on a client basis, you owe it to yourself to create a library of link snippets to your introductory materials. Label them properly, and new clients will appreciate your clear communication and attention to detail.
Lawyers and resources
The legal world is built on documentation. Lawyers would do well to have a body of link snippets and templates for legal resources and forms.
Affiliate links for your business
Affiliate links are a great way to generate income for yourself or your business, and they work well in blog posts, email marketing, and elsewhere.
File sharing for humans
Services like Dropbox, OneDrive, and Box.com have revolutionized how we share files. They also cluttered our communication with long, ugly URLs. Creating link snippets with descriptive titles for your online folders and files can go a long way towards ushering files to the right folders and people. Even just using a URL shortener will help you. We happen to have a snippet which can help with that in our Internet Productivity public group.
Photographers, portfolios, and scheduling
Photographers capture the beauty in the world, so the links they share should strive for that same goal. A collection of clean, labeled links to your portfolio and scheduling services like Calendly (of which we are fans) will speak volumes to potential customers.
Link away
We hope this tip helps take some of the busywork out of sharing links. We'd love to hear what you think on our TextExpander support page, on Twitter @TextExpander, and LinkedIn.