What customer service characteristics are most likely to drive ROI for your business? At our recent Virtual Summit, author and CX expert Adrian Swinscoe outlined how to drive ROI through your customer experience strategy. There are 4 characteristics of customer service that can take your customer experience and ROI to the next level.
Adrian is a best-selling author, Forbes contributor, speaker, investor, advisor, and host of the Punk CX podcast. His clients have included brands such as Apple, Olympus, HarperCollins, and Nespresso. He is a frequent writer, podcaster, and speaker on all things related to customer service and experience. His books include How to Wow: 68 Effortless Ways to Make Every Customer Experience Amazing, Punk CX, and Punk XL.
During his talk, Adrian listed 13 service characteristics of top companies:
They are clear on their experience, vision, and strategy and how it connects to business objectives.
They really know their customers.
They take an experience, data, tech—ordered approach.
They are brilliant at the basics.
They are relentless at the identification and removal of 'grit.'
They make things as simple as possible – inside and out.
They focus as much on their employees as they do on their customers.
They understand where loyalty is earned.
They strike the right balance of technology and the human touch.
They are proactive by nature.
They personalize everything about their experience, not just their marketing, and they do it in a non 'creepy' way.
They have the right sort of leaders and leadership.
They strike a balance between present and future demands.
4 Characteristics of Customer Service
In his presentation, Adrian elaborated on 4 characteristics of customer service.
Have a Clear Vision of Your Customer Experience
The most important of the customer service characteristics is a clear vision of your customer experience. But many leaders don't understand what it means to have a clear vision.
"If I ask people, 'What is your vision for your customer service customer experience,' many people will come up with this assemblage of five or so different kinds of buzzwords they'll put together. They'll say, we want it to be omnichannel and AI-enabled and seamless and friction-free and blah blah blah," Adrian says.
"That's not really a vision. I don't really understand what that means for both customers and the people that are trying to do it," Adrian adds.
Instead, Adrian says that companies have to build rich stories explaining what the ideal customer experience should look like. Then your individual team members can read the story and identify where they fit into the customer experience.
Read A Punk CX Guide to Customer Experience Strategy for more on Adrian's tips on translating your vision into business goals.
Consistently Identify and Remove "Grit"
A smooth experience is a key customer experience characteristic. When Adrian speaks of "grit," he's talking about small things that annoy your customers. The best companies are constantly on the hunt to find and remove "grit" from the user experience.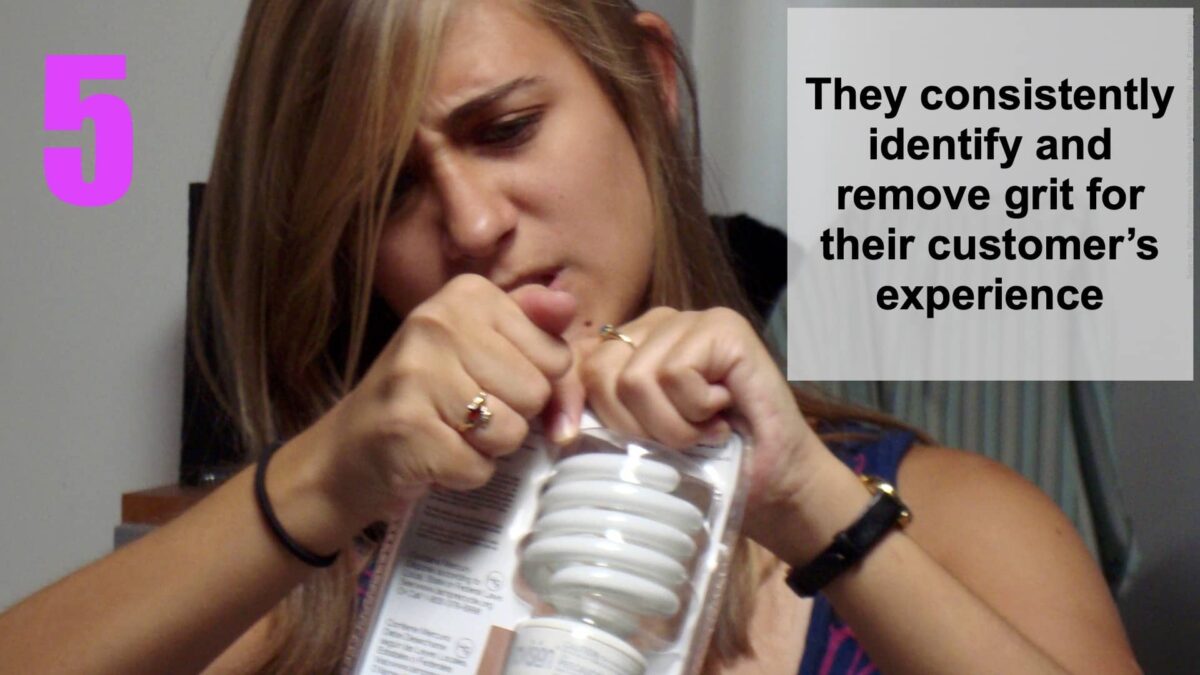 For example, Adrian highlights blister packs—like the ones some lightbulbs come in—which are notoriously hard to open. There's even a term for this: wrap rage, which sends thousands of people to the hospital every year.
"We have to be consistently looking for these little bits of grit, these little pebbles that just make our service and experience suboptimal," Adrian says.
Adrian emphasizes making many small improvements in multiple areas of your business.
"If you can make a 1% improvement in 10 areas of your business, that then adds up to quite a lot, rather than actually trying to make a 10% improvement in one area of the business, which is generally quite hard," Adrian adds.
Focus on Employee Experience
One of the best customer experience characteristics is to have a great employee experience.
As Adrian explains, CX is a function of EX—employee experience—and WX—which is all of the others that support your business, like suppliers.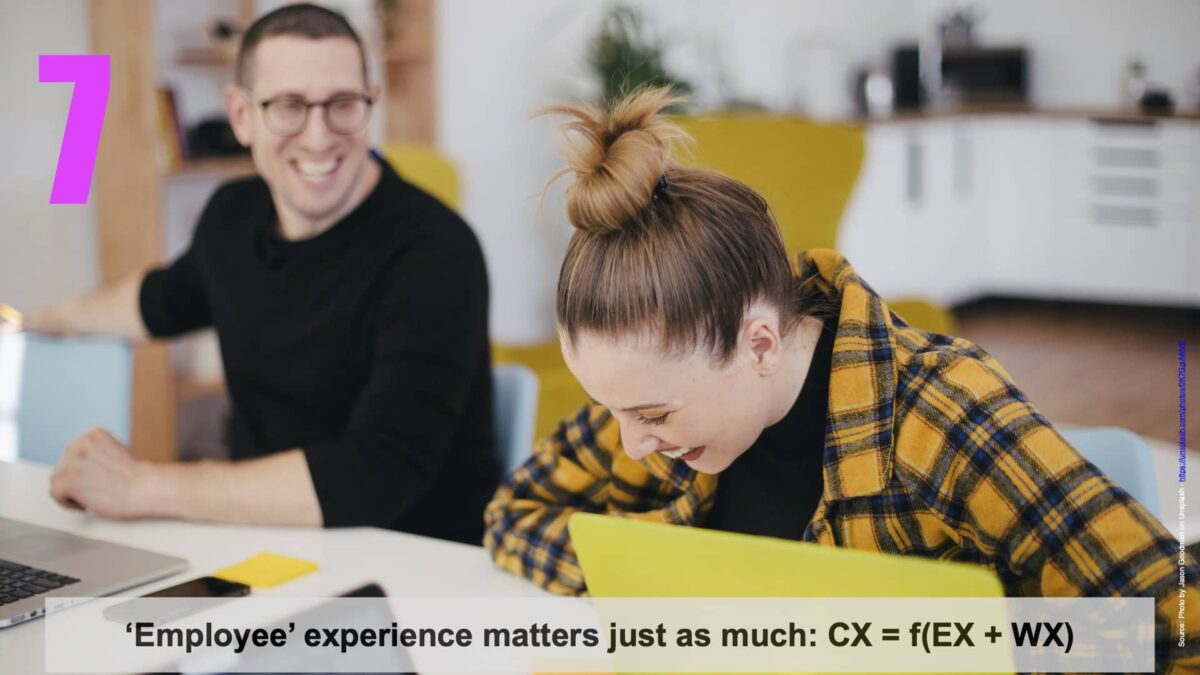 A common source of friction for CX employees is the sheer number of tools they need to perform their work. Adrian mentions that RingCentral has said it takes on average between 8 and 12 tools to handle customer service requests.
"That's complicated," Adrian says.
One agent told Adrian they needed 40 different tools to do their job.
"Can you imagine having 40 different tabs open on a browser to try and do your job? It's like mind-blowing," Adrian says.
And so if you think about that experience for an employee and the barriers and the challenges that they have to go through in order to…deliver a better experience, then there's a lot of work that we can do to try and help improve that," Adrian continues.
Simply put, if your employees are struggling to do the basics of their job, they're going to struggle to satisfy customers, and they're not going to have the extra bandwidth to go above and beyond for an exceptional experience.
Proactive by Nature
A great customer experience strategy means not playing catchup. "The leaders know they need to be proactive by nature. Because traditionally customer support and customer service are always being reactive. We get a question, and we respond to it," Adrian explains.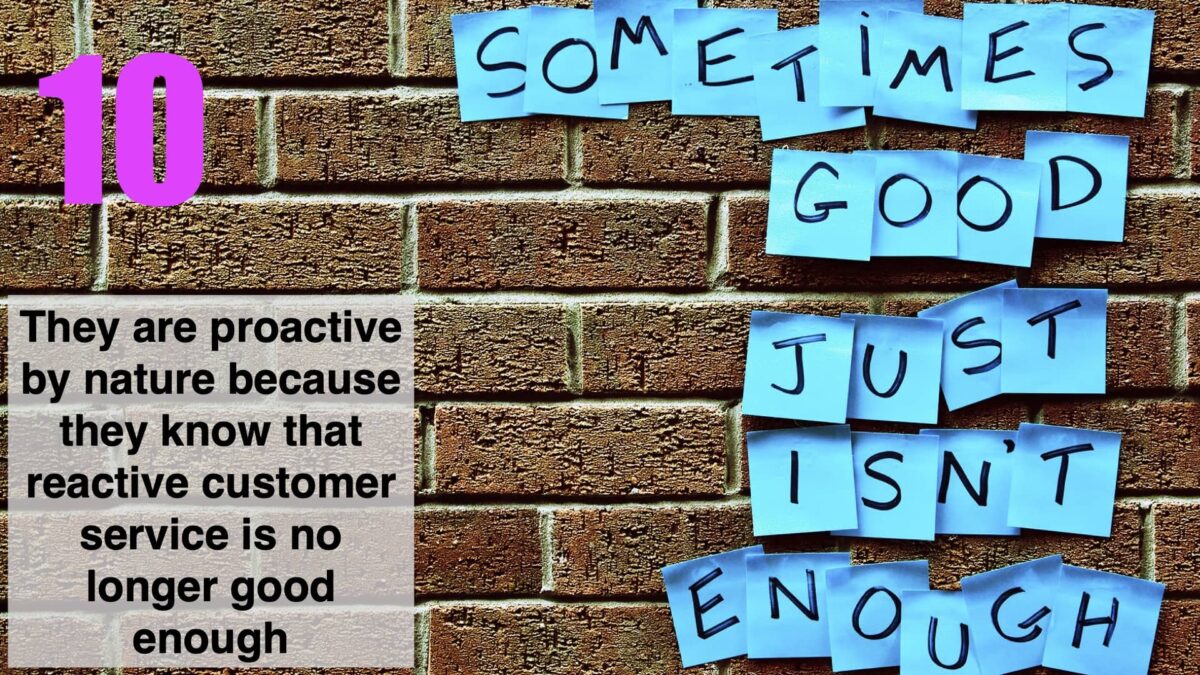 However, he says that's no longer good enough. By and large, people don't want to have to contact customer service. They would rather self-serve, but often can't. As Amazon leadership principles proved, the best service is no service.
Adrian says that about 60% of all customer service contacts are because the customer couldn't find the right information on the company website.
"Well figure out what they're asking for and then put that information up front and help them invest in your self-service tools. That reduces your cost to serve and makes life easier for the customers," Adrian says.
Adrian's customer service characteristics, especially the 4 characteristics of customer service he emphasized, should give you some idea about how to better direct your customer experience and boost your ROI.
Read More on Customer Service Characteristics