We all want to make our customers happy. There (hopefully) isn't a company in existence that doesn't care about customer satisfaction at all. But it turns out that a lot of the customer satisfaction survey questions that companies use to measure this key metric are outdated.
That's right — "How satisfied are you with our response?" is as out of date as bell bottoms and flip phones.
It's no longer about just making the customer happy once, you have to make sure that they are consistently happy.
A recent study from McKinsey uncovered that measuring consistency versus one-off satisfaction ratings was 30% more predictive of overall customer satisfaction. Not only that, but by maximizing the amount of satisfaction your customers feel overall, you can actually increase customer satisfaction ratings by 20% and boost your revenue by up to 15%.
So, it's clear that consistent satisfaction is important, but which customer satisfaction survey questions are best able to measure that level of consistency? We've broken it down across several different question types and topics to bring you some of the best ways to measure the most important aspect of your customer experience.
Ask about your customer's past experiences
How can you plan to make things better in the future if you don't know anything about the past? Try asking customer satisfaction survey questions that help you gauge how your current performance stacks up to past performances.
Measuring across the lifetime of your performance helps your team understand if your level of service has changed. It also helps you gain perspective into things that you may be doing better (or worse) than you were doing before.
To better understand past experiences, ask your customers how many times they've reached out to support, how the experience has been when they do and if they find your support team trustworthy and consistent:
Is this your first time reaching out to support?
Was your last experience with our support team similar to this experience with our team?
Do you find that our support experience remains consistent each time you reach out?
Did this experience match up with past experiences with our support team?
How many times have you spoken with our support team?
How does our service compare to other companies that you have worked with?
Not only is gauging your consistency against yourself important, but asking survey questions that help measure your consistency against other competitors and products can also be indicative of key successes or opportunities in your business. This way, you can understand how you're making your customers feel outside of the vacuum of your own customer experience.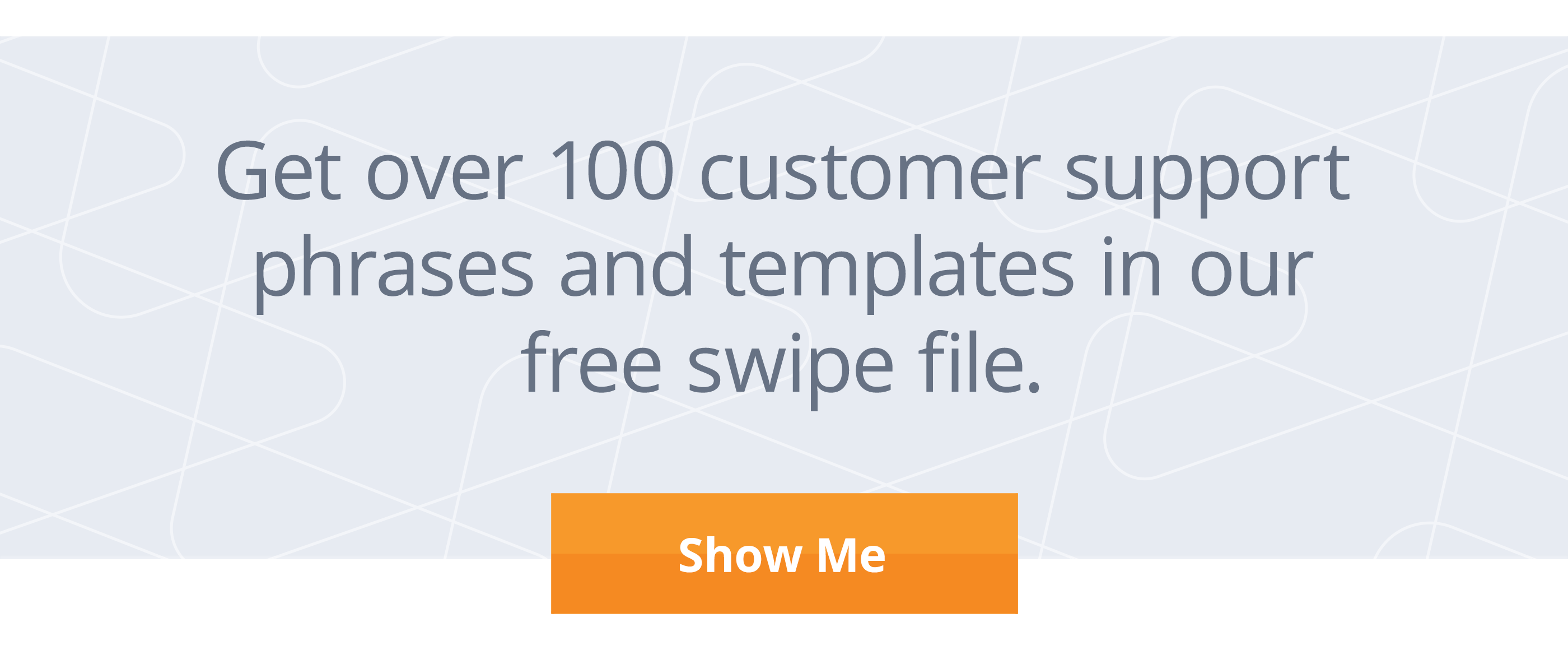 Gather information about each individual response
While it's good to ask questions to help understand the entirety of a customer's experience, it's also important to have a handle on how individual experiences went. Asking detailed questions about one-off interactions can provide useful data points along a customer journey timeline.
For example, while your customers may have had an awesome interaction with your support team the last time they reached out, the next time might not be quite so good. Collect more information so that you have even better benchmarks to compare against the next time they fill out one of your customer satisfaction survey questions.
Did you speak with more than one representative of our team?
Was your ticket escalated?
Were you informed about the status of your ticket regularly?
Did our responses help you achieve your goals?
If you could change one thing about our service what would it be and why?
Not only will the additional data points be useful in measuring consistency, but they give you a good, grounded understanding of how you're doing in each individual instance of support.
Ask about their experience with your product
A common misconception is that customer satisfaction is solely impacted by your customer service team, and that surveys like Net Promoter Score®️ (NPS®️) are solely influenced by your product. There's actually a lot more crossover between the two than you might expect.
Your customer's satisfaction, as much as it can be shifted by an excellent experience with your support team, is also fairly indicative of your product's quality — and vice versa. Here are a few questions that you can use to understand how your customers feel about your product and how consistent that feeling is.
How often do you use the product/service you purchased?
On a scale of 1-10, how reliable do you find our product?
How could we improve our product/service?
On a scale of extremely dissatisfied to extremely satisfied, how would you rate your overall experience with [your company name]?
Was there anything surprising or unexpected about your interaction with our support team?
Notice that there is a question that addresses the customer's feelings about your support team. That's because, for some companies, support can be treated like a product. Productizing support and offering certain support services — like phone or live video — can help create additional revenue while keeping customer expectations in check.
Survey customers about their expectations
Customer expectations may be largely unfounded in fact, but they're still important to understand. After all, customers don't have anything else to measure you against, most times, than their own expectations.

You don't have any control over how they form their expectations, but you do have the ability to understand them. Start surveying your customers on their expectations so that you can move forward with more information.
Here are a few questions that we find helpful for gauging customer expectations and understanding how your team measures up:

Was it easier or harder to get a response to your question than you expected?
On a scale of 1-10, how likely are you to buy from us again?
Was the quickness of our response faster or slower than you expected?
Were our prices aligned with what you were expecting?
Did our product offer the features that you expected, and were they as easy to use as you expected?
Is there anything missing from our support offering that would have helped this interaction?
Notice that these customer satisfaction survey questions don't just cover aspects of the support. They also ask about what customers were expecting of the product and of the sales process and pricing. Customer satisfaction should be holistically gauged — that means that everything should be considered, not just support.
Conclusion
Customer satisfaction is one of the oldest metrics used for gauging and understanding how successful your support team is. But, outside of understanding how successful your support team's interactions are, customer satisfaction survey questions can also give you a deeper handle on the consistency of your support team, product, and other key aspects of your organization.