What is TextExpander?
Communicate smarter with TextExpander. It's a knowledge base from which you can communicate quickly and accurately across your devices. Easily insert "snippets" of text in any app from a library of content created by you and your team.
For example, type "em1" and it expands to your email address of "email@companyemail.com".
TextExpander comes with a variety of ready-made snippets to get you started, available from Public Groups. These snippet groups include autocorrect libraries in English, French, and German to correct your typing in all apps, as well as groups for Accented Words (crème brûlée), HTML and CSS (<h1></h1>), Symbols (©), Emoji and more.
Create flexible templates for emails and forms, using "Mad Libs" style fill-in-the-blank areas. As you expand email template snippets, customize the field for the recipient's first name, and any other data unique to the situation. This is both faster and more accurate than typing it out by hand, or coping/paste from a previously written message. Insert the current or future date, paste copied text as a snippet expands, choose the final cursor location, and run scripts.
Affiliate exclusions
Offer cannot be combined with any other promotion.
---
TextExpander Landing Page Examples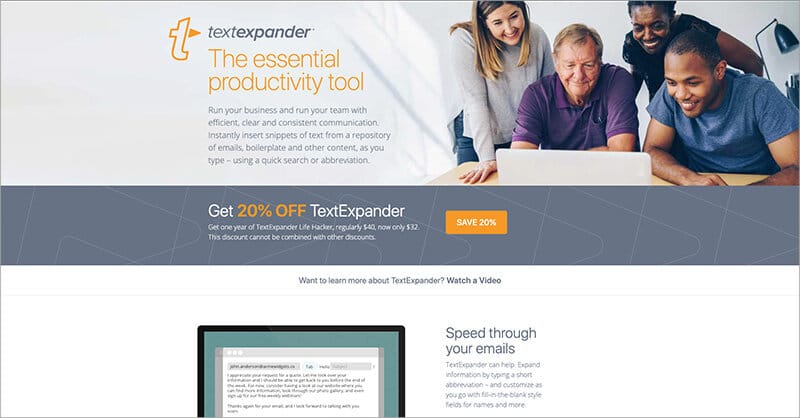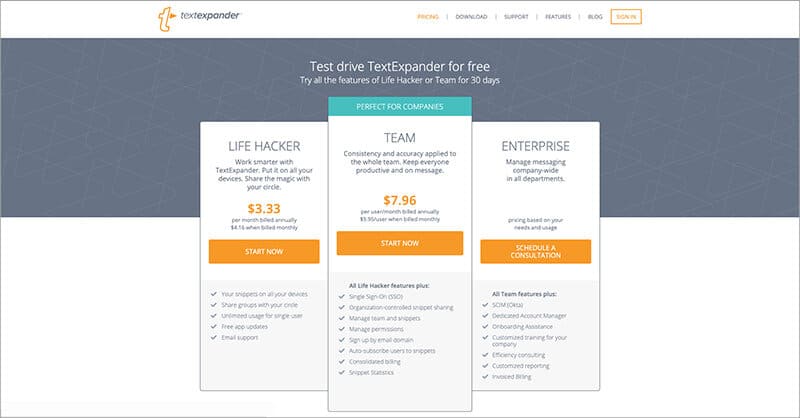 ---
12 Ways to Promote TextExpander
If you are using TextExpander in your everyday workflow, creating an article about your own experience is an excellent first step. Don't stop there though! Because of TextExpander's versatility and everyday uses it brings to the table, creating additional content that showcases those features will increase overall conversions.
To help you amp up your TextExpander content, we've put together a list of other ideas to help promote TextExpander.
If you are not an existing TextExpander user, grab our 30 day trial.
Important Reminder: All your affiliate promotions of Smile products need proper disclosures using FTC guidelines. You can read those guidelines here and here and here.
For a less legal description of these rules, check out these blogs:
---
1. Write a TextExpander review
According to an article by G2, 95% of shoppers read online reviews before purchasing.
Tips
Use banners, images, screenshots and videos! TextExpander is best explained by showing. Why not add a video of a snippet being expanded, creating a snippet or even inline search? There are many TextExpander features that you can focus on through video.
Create a rating system and categories to use on all of your reviews
Related Posts
---
2. Write about TextExpander in an upcoming newsletter
According to a recent DMA Consumer Email Tracker Report, most consumers (59%) prefer email communications from brands of any other channel, no matter the context, followed by text (20%) and face-to-face (12%). According to Campaign Monitor, for every $1 spent, email marketing generates $44 in ROI. In short, if you have an email list, start spreading the word about TextExpander!
Tips
Include your link for TextExpander in your email signature
Types of campaigns: series, single, welcome email.
Related Posts
---
3. Record a screencast to demo TextExpander
A screencast is a digital video recording of your computer screen and includes audio narration. It's a great way to show off what TextExpander can do while teaching your visitors how to use the product. Create short videos on specific features or show off TextExpander with an in-depth tutorial on all the features we offer.
Tips
The software you use doesn't have to be a huge investment.
Have fun with your screencasts!
Think about offering videos on your workflow so your visitors can really see TextExpander in action.
Related Posts
---
4. Include TextExpander as a valuable resource
Partners who offer products like eCourses, Consulting, eBooks, or downloadable guides have found great success in incorporating TextExpander into their marketing plan to boost commissions.
Tips
Have your visitors take advantage of the Public Group feature in TextExpander. Create a group of snippets you feel they could use regularly, then share it with them.
TextExpander works well with topics such as productivity, freelancing, consulting, coaching, automation, small businesses and more.
Make signing up for TextExpander's free trial a recommended first step for any new clients you onboard.
If you are consulting, offer to set up TextExpander for your clients and adapt it into your pricing structure.
If your client is using a competitor's software, please let us know – we can help make migration to TextExpander easy.
Related Posts
---
5. Develop a step-by-step TextExpander tutorial
Similar to screencasts, it's a good idea to write step-by-step TextExpander tutorials and include the screenshots. Written tutorials help boost search engine traffic and if you pair them with your screencasts, you'll be providing two ways of learning TextExpander, helping cater to the different ways people prefer to learn.
Tips
Including a screenshot with each step helps your visitors through the process.
Some ideas for tutorials:

How to create a snippet
How to embed a snippet inside of a snippet
How to add formatting to your snippet
…and many more! Get creative.
Related Posts
---
6. Include TextExpander in a product roundup article
Your visitors appreciate learning which tools and resources you use daily. Appeal to their intrigue with a roundup article that features your favorite tools, sites and products – a great opportunity to showcase TextExpander.
Tips
Here are a few theme ideas:

The X Must-Have products for Busy Small Businesses
The top products I install immediately when I purchase a new computer
A Curated List of Tools and Software for Freelancers

These articles are a great opportunity to use some of our creative flair! Incorporate logos, screenshots and banners into your post.
Work with a keyword tool to narrow down the main search phrase you will target for this article.
Related Posts
---
7. Share a personal story of how TextExpander helped you
How did you discover TextExpander? Sharing a personal story allows you to tell your audience how TextExpander has helped you. Whether it's how it saved you time, allowed you to write your articles faster, or changed how you send emails, give them the details! Your visitors will be curious about your experience and it will encourage them to try TextExpander.
Tips
Keep your story genuine and truthful. Overstating your experience could lead to a loss of trust with your audience.
Showcase how you did something before TextExpander and how you do it now. The efficiency will speak for itself!
Suggestion: If you are not using TextExpander, grab the free trial and document your first 30-day experience and share with your readers.
Related Posts
Affiliate Posts
---
8. Add a TextExpander banner to your website
According to "The Rule of Seven", your audience needs to see a brand 7 times before they notice and purchase. Though using banners is not the highest way to convert, it's an easy way for you to increase TextExpander exposure – and get closer to that 7th viewing!
Tips
Place banners anywhere on your site, so experiment! Common areas are in the sidebar, footer and top of site. Experiment with placement to find out which position gets the most conversions.
All TextExpander banners can be found within the affiliate platform. However, if there is a size or message that you want, reach out to your affiliate manager and we'd be happy to create it for you.
Suggestion: If you haven't added TextExpander banners to your site yet, now is a great time to do so.
Related Posts
---
9. Include TextExpander on your resources page
Similar to a round-up article, a resource page is the perfect way to share your favorite software tools and products – only instead of being an article, it's a live page on your site.
Tips
Your resource page can be a simple list or you can add logos, product descriptions and other graphics.
Place TextExpander at the top of the list to increase your affiliate commission.
Related Posts
---
10. Share TextExpander in a learning webinar
Take your screencast or tutorial and bring it into a webinar. Or create a webinar about your workflow, using several of your favorite tools and host a webinar. Teaching your audience something new while promoting your favorite products is key.
Tips
Do you have an email list of 1,500 or more? Contact your TextExpander affiliate manager and we can help you put the webinar together.
A few webinar ideas:

4 Ways to Get Things Done Faster as a Freelancer", "4 Rockstar Tools That Save my Business Every Day"

If you wish to focus just on TextExpander, webinar ideas could be "How to Get Started with TextExpander" or "Do you need the Individual plan or Business plan of TextExpander?"
Related Posts
---
11. Shoutout to TextExpander in a podcast
TextExpander loves podcasts. If you have a podcast, mention TextExpander to increase your commissions.
Tips
Remember your listeners should know that you are an affiliate of TextExpander when they hear your endorsement. Include your TextExpander affiliate link and a banner in the show notes.
If you have a well-established podcast, reach out to your affiliate manager to schedule a time for a team member to be a guest on your podcast.
Check the monthly newsletter that you receive from TextExpander as it includes valuable podcast talking points.
Related Posts
---
12. Share TextExpander across Social Media
Advertise TextExpander everywhere! Pinterest, Facebook and Twitter all allow affiliate links, so share TextExpander with your followers across platforms.
Tips
Include visuals and hashtags to increase the popularity of your promotions. You can find TextExpander banners and screenshots on ShareASale.
Test out linking to one of our landing pages as well as linking to any articles or blog posts you have created for TextExpander.
Use the Pinterest keyword tool to optimize your pins for search engines.
Related Posts
---
BONUS: Reach out to your affiliate manager for a brainstorming session
Schedule a time with your dedicated Smile affiliate manager who can provide an inside look at what's converting already, who to target in future articles and more data points to increase your ROI.
Your dedicated affiliate manager is here to help! Get in touch with your affiliate manager at partners@smilesoftware.com.