CASE STUDY


CompanyCam Significantly Increases Sales Call Volume with TextExpander

CompanyCam offers a simple solution for contractors to take, share, and organize job site photos. With a huge demand for the product, the key to success for a CompanyCam salesperson often comes down to how many conversations they can have each day.

This case study shares what happened when CompanyCam's leader in sales call volume told his team about his secret weapon: TextExpander.
Where should we send your case study?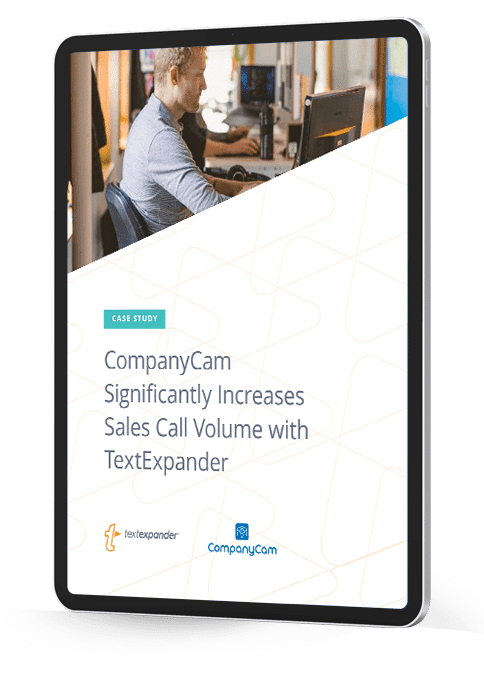 More Calls, More Sales
Brian at CompanyCam estimates that with the time savings TextExpander gives him, he's increased his call volume by about 5%. Over the course of a year, that equates to 1,000 extra calls or more! "You can sell a lot of software with an extra thousand calls."
Became an essential part of CompanyCam's sales tech stack
Completely closed the efficiency gap on CompanyCam's sales team
Offers more simplicity and flexibility than other sales tools
You're in Good Company
TextExpander allows us to quickly and consistently answer questions with fewer resources than before. It's a powerful tool.
Ty Schalamon, Technical Support Manager, SketchUp
Get the CompanyCam case study
Learn how CompanyCam accelerated sales volume with TextExpander.