We built TextExpander to help you communicate smarter and save a lot of time typing. But how much time are your text snippets actually saving you? If you work in an organization, how about time saved across everyone on your team? Fortunately, you can check your statistics, complete with a pretty graph!
How to check your personal TextExpander time saved
Individual TextExpander users can check their statistics on Mac. Simply open the main TextExpander app and click the Statistics button in the toolbar.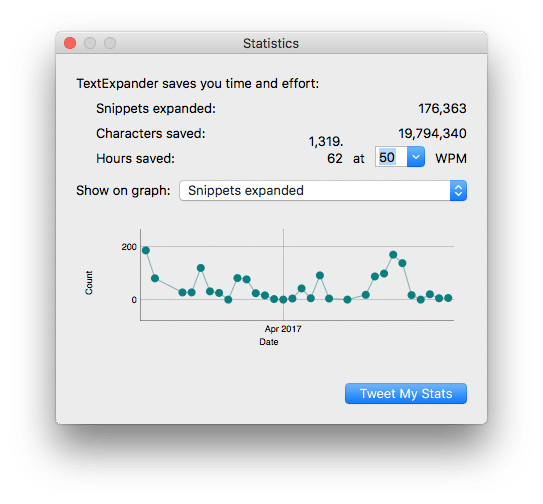 The window that appears displays a few key stats:
Total snippets expanded
Characters saved (the number of characters the snippet expanded, minus the characters you typed in the abbreviation)
An "Hours Saved" stat you can adjust based on your average typing speed
An adjustable graph that plots your most frequently used snippets, total snippets expanded, and characters and minutes saved.
This is a great way to measure and visualize how much good TextExpander is doing for your workflow. For bonus points, there's a "Tweet My Stats" button that makes it easy to share your time saved stats.
How to check your personal time saved at TextExpander.com 
TextExpander Individuals on Mac, Windows, iOS and using our TextExpander for Chrome extension can check their statistics at TextExpander.com.
In the Overview tab, you can see the number snippets expanded over the last 30 days and the time saved along with your daily activity. In the Snippets tab,  you can sort snippets (ascending and descending) by Snippet Group, Abbreviation, and the number of expansions.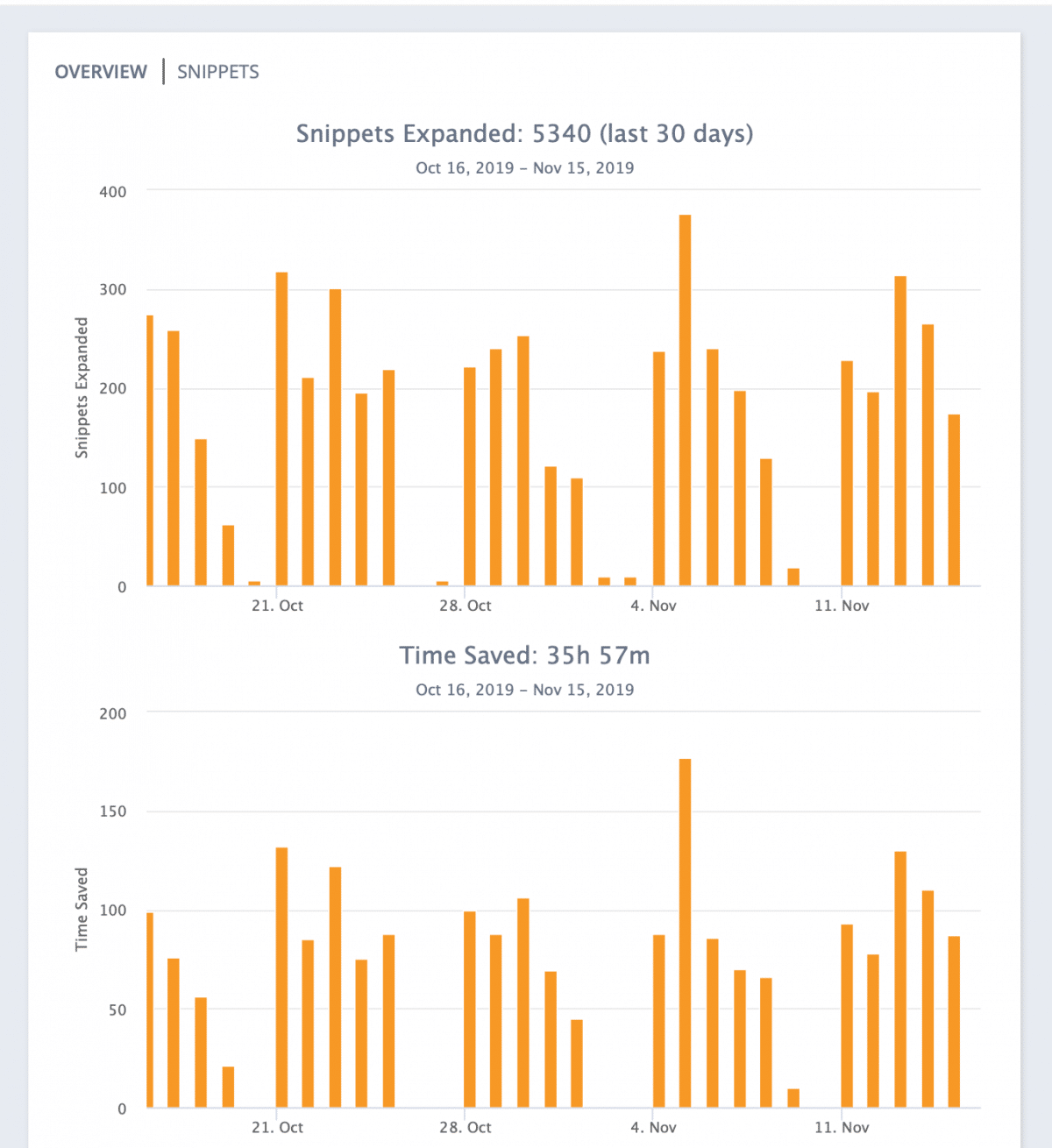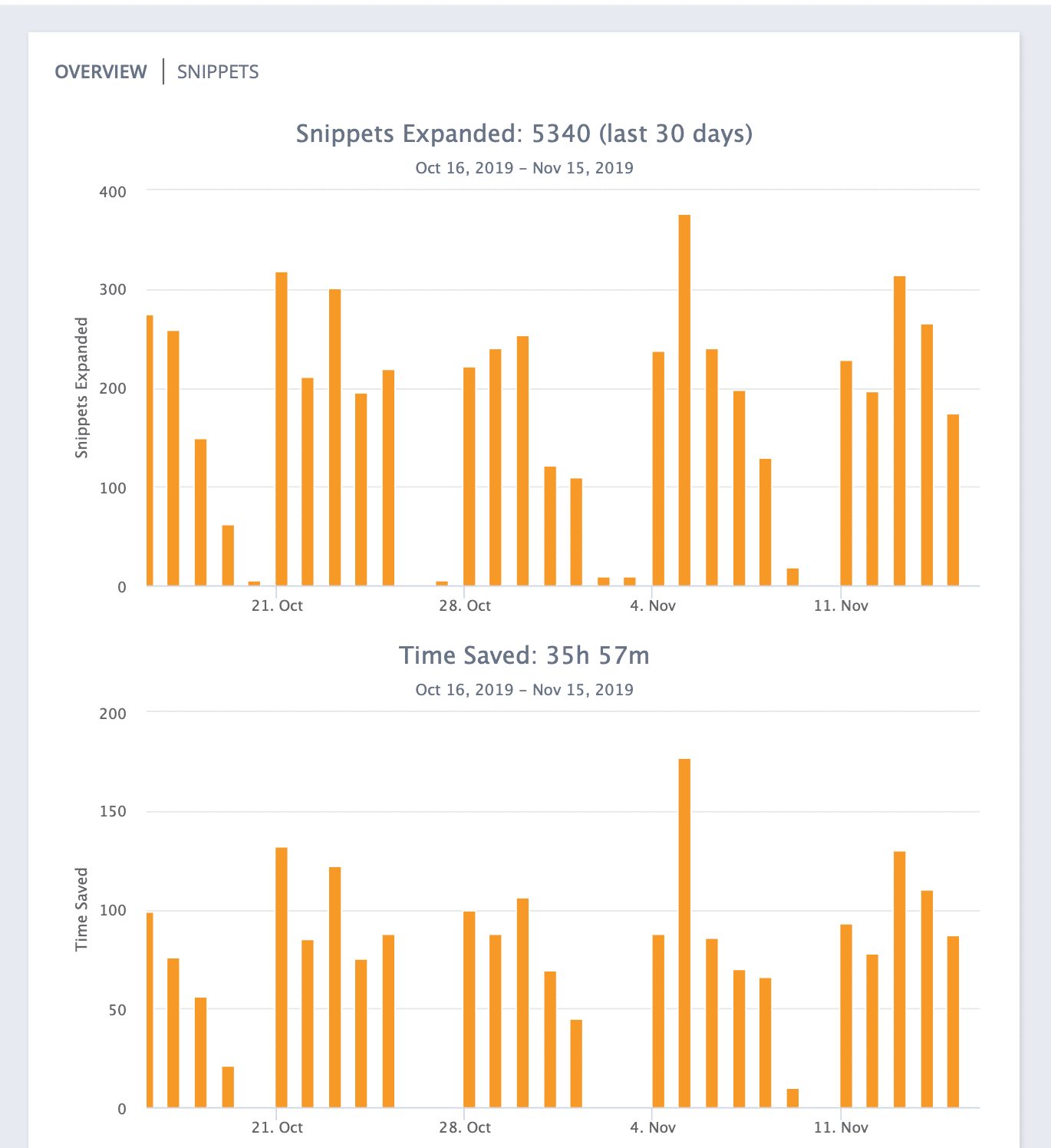 Sign in to TextExpander.com
Choose your name in the upper right
Choose Personal Statistics
How to check your TextExpander Organization's time saved
In addition to individual accounts, TextExpander also has Team accounts for organizations, businesses, and groups who want to use their snippets together. In this setting, you can check aggregate statistics for your whole organization to see how much time you're all saving—yes it is very, very cool.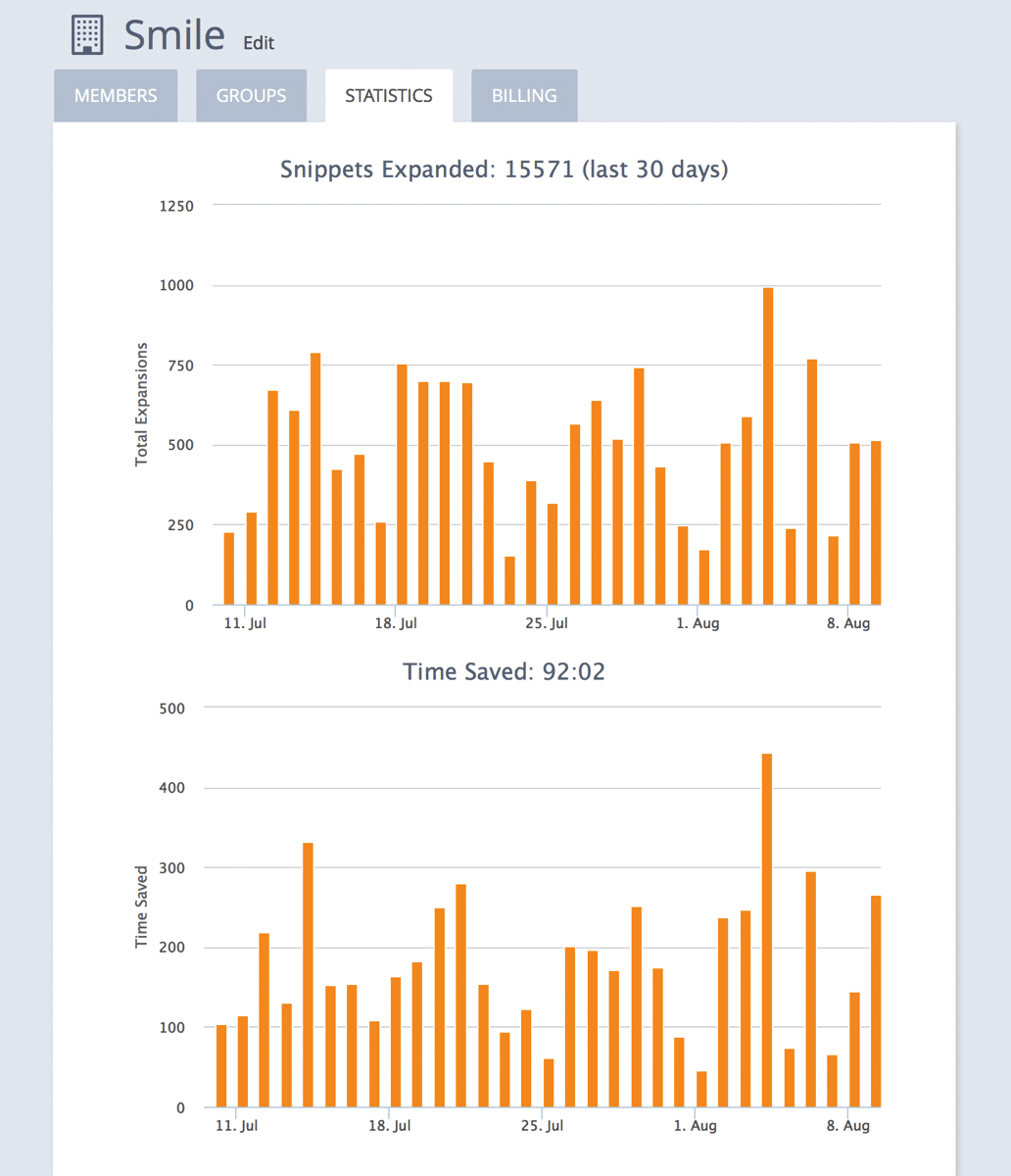 You can learn more about TextExpander statistics for organizations and some of the cool extras we baked in, but in short:
Sign in to Textexpander.com
Click on your avatar at the upper right
Select \ settings, where Organization is the name of your organization
Click the Statistics tab
Only Admins of the TextExpander Organization have access to these stats. If you don't have access, but want to know, ask your Admin to post the results to the company Slack. That way, you can all see how you're doing!
We hope knowing your statistics opens the door to a whole new world of TextExpander appreciation and encourages you to expand more. We'd love to hear your thoughts, so catch us on our TextExpander support page, on Twitter @TextExpander, and LinkedIn.