What's better than an app that speeds your communication and saves you from embarrassing typos? One which does so while staying out of your face. TextExpander for Mac can do just that, quietly helping from the background so you don't have to see it if you don't want to.
The TextExpander app waits for the right trigger to instantly expand your text snippets. On the Mac, by default, this means it appears in the Dock and the app switcher, like any app, and has a Menu Bar icon for fast access. But if you're the type who likes to customize your workspace, we're happy to say TextExpander is happy to oblige. You can set whether or not TextExpander appears in any of those places.
If you open TextExpander and go to Preferences > Appearance, there are two toggles to control:
Show TextExpander in the Menu Bar
Hide TextExpander icon in the Dock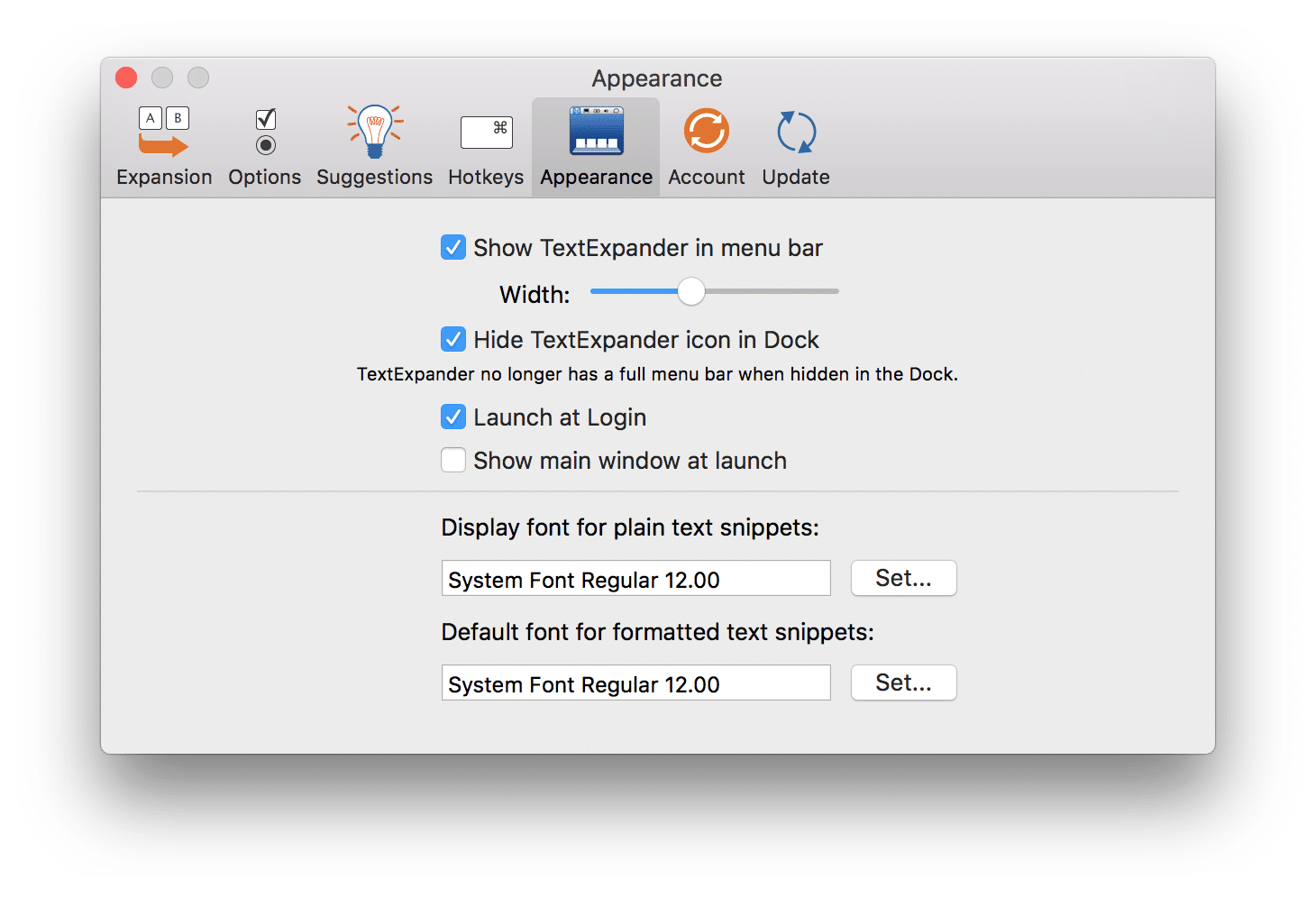 By all means, you can leave both the Dock and menu bar icons visible. But you can also disable one or both. If you try the latter, it means TextExpander will run both quietly and completely hidden in the background.
However, note that, if you want to hide both icons, we highly recommend you memorize the hotkey which triggers a snippet search (Command+/) and set a keyboard shortcut to show the TextExpander app window. This will allow you to get back to TextExpander's app controls and preferences.
We should also mention that TextExpander for Windows runs loyally and quietly from the System Tray. This makes it easy to reach a number of features and preferences without slowing you down.
We wanted to give you the flexibility to use TextExpander in the way you see fit. Let us know what you think on our TextExpander support page, on Twitter @TextExpander, and LinkedIn.