12 Great Examples of How To Respond to Customer Complaints
Customer complaints are most companies' worst nightmares, but when they are in public they are ten times worse. Especially in the face of an outage or widespread issue, responding to unhappy customers can feel like death by a thousand papercuts.
But why not take a bad situation and try to make it better? Mastering the art of responding to customer complaints in a voice that is true to your brand is one of the best things you can do. Not only does it make for an excellent customer experience, but it also makes the experience more enjoyable for your support team.
We've found 12 examples of companies doing an excellent job at defusing and delighting their customers over social media. Take some tips from these professionals, and you'll be on your way to developing a voice that both eases your customers' concerns and gives them a smile.
1. Skyscanner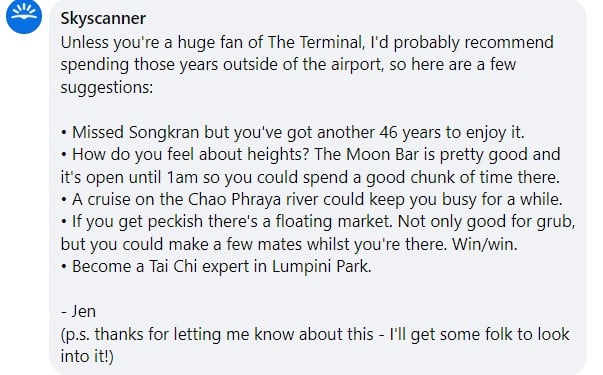 In this Facebook post, James shows a picture of a 47-year layover that Skyscanner, a cheap flight booking software, suggested to him. The brand took a tongue-in-cheek tone in its response. Jen, the support agent, gave him a list of great things to do in the area of the Terminal while he waits for his next flight.
If you do it carefully and have already cultivated a friendly tone for your brand, many customers will be receptive to a more jovial and personal response to their inquiries. Of course, she also advised that she'd be looping in her engineering team to rectify the issue—you have to actually resolve the issue, not just make the customer laugh.
2. Adidas
Sometimes, when you make a mistake, there's no better way to make your customers feel better than genuinely apologizing. This is especially true if what your customers are complaining about is a marketing snafu that could be seen as cruel or disingenuous. That's definitely the case with the marketing email that Adidas sent out after the Boston Marathon where it congratulated people on their survival.
The company, owning up to its mistake, issued a public apology on Twitter, as well as in numerous statements to publications such as Time.
If you have the capacity to do so, a public acknowledgment and apology for your mistakes is a great way to cultivate goodwill with your customers. Especially if you go through the trouble of trying to respond to each individual tweet.
3. Adobe
Outages happen to everyone, but that doesn't mean that it's any less painful to your customers when they occur. Proactively letting people know what's going on, and apologizing for it, allows customers to feel as if you're on the same team. Here's a great example of a notification from Adobe:
Not only do they let their customers know that they are having an outage, but they try to keep it light and jovial with a sweet puppy GIF.
4. Trader Joe's
A great customer service policy makes it easy for your employees to have a framework for understanding how to resolve customer issues. Refund policies, for example, remove a lot of the guesswork that can be anxiety-inducing for support people.
That said, there should be some wiggle room—your employees should be empowered to make adjustments to the policies if it's the best for your customers. Here's a great example from Trader Joe's: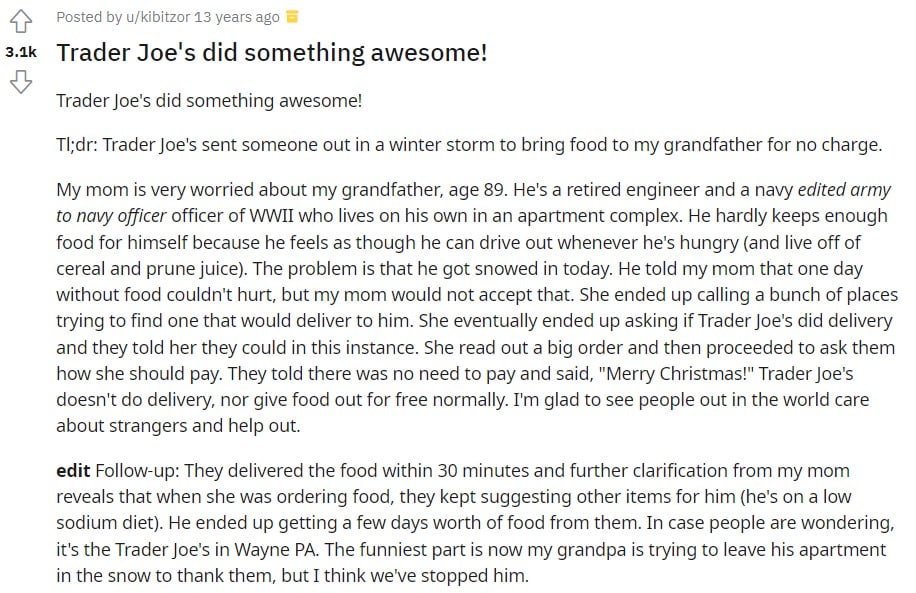 Even though they don't offer delivery, they don't have policies in place to give away food, nor is this typical or expected, Trader Joe's went above and beyond for this customer when she called looking for delivery for her elderly father. This kind of service is the stuff that your customers will remember for years to come. They might even brag about it on Reddit!
5. Zappos
Humanity should be a core element behind any brand. Keep it human in your responses to your customers. For example, there should be no such thing as an unmonitored email address—even if it goes directly to your CEO.
Here's a great example from Zappos of a customer getting a human response from an email that they expected to be unmonitored:
It's a pretty small thing, but it can be a truly surprising and delightful moment—especially if the customer is reaching out with a complaint.
6. A&J Fencing
The worst thing that you can possibly do for customer retention is ignore your customers' feedback. That's especially true if you underdeliver on something that you promised them. In this interaction, A&J Fencing does a great job of acknowledging that they've made a mistake.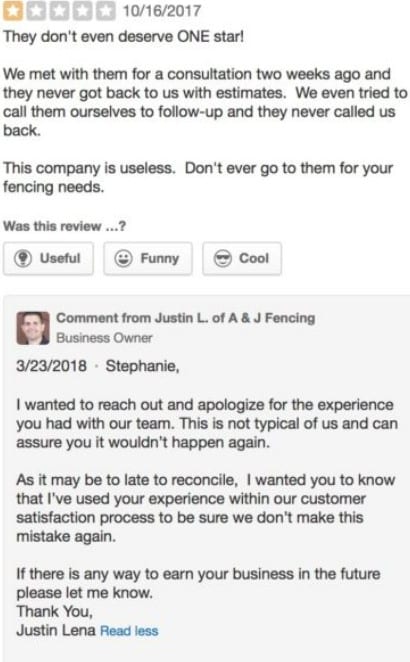 Beyond acknowledging that they've messed up, this company also assures the customer that they will learn from this, and continue to improve their customer experience moving forward.
7. Morton's Steakhouse
This isn't really a customer complaint, but it is a great example of the importance of social listening. Jokingly, a customer tweeted at the steakhouse chain asking them to meet him at the airport with a porterhouse steak:
Hours later, when he arrived home in New Jersey, there was a server there—with his steak! Totally unexpected, but a truly delightful moment that Peter has shared multiple times since it happened.
With the use of an excellent CRM, the restaurant was able to find out who Peter was, find out where his airplane was coming into and at what time. They never even needed to reach out to him once. Imagine how helpful that would be in a situation with a frustrated customer? The extra context lets your team go the extra mile.
8. Gaylord Opryland
Hotels run the gamut of customer experience: some knock it out of the park, while others can't even seem to get clean sheets on the bed. Luckily for blogger Christina McMenemy, the Gaylord Opryland is on the excellent end of the spectrum.
After having an amazing night's sleep, Christina reached out to the hotel on Twitter to find out some more information about the clock radios that they had in the rooms:
The hotel never responded, and Christina assumed that she'd been ignored. Instead, though, when she returned to her room that evening, she found a brand new clock radio and a letter addressed to her–the hotel wanted to give her a complimentary one of her very own.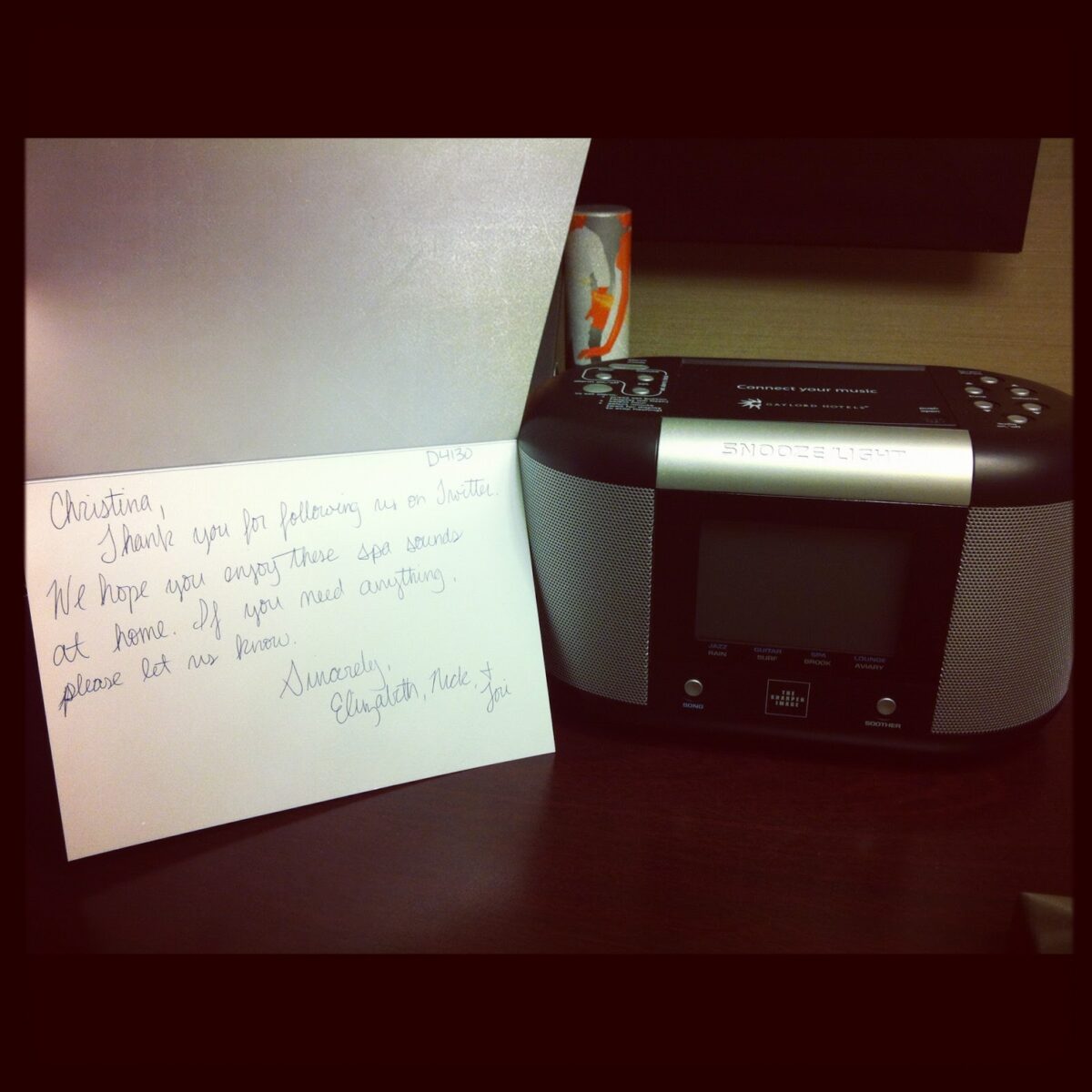 This is another example where listening and keeping a special budget that you empower your employees to use to surprise and delight customers can be hugely impactful.
9. JetBlue
It feels as if there's always one airline or another running into trouble on social media. JetBlue, however, is usually pretty good at responding to and supporting its customers. Take, for example, this person that reached out because their TV on the flight didn't work.
Not only did JetBlue try to troubleshoot the issue for the person, but they also ended up issuing a credit for the person to use on flights in the future.
Refunds and credits, although sometimes seeming like a pretty easy way out of a situation, are a great way to help your customers see that you care about them and value their time and effort.
10. Delta Hotels
When you make a mistake, it doesn't have to be a time to apologize and feel guilty. Instead, you can take it as an opportunity to be awesome. That's what Delta Hotels did after Mike McCready reached out about the horrible view from his room.
Within just a few minutes, the Delta Hotels Twitter handle had reached out:
Mr. McCready was leaving the hotel that day, but the hotel went out of its way to find out where he was going to next and leave him a lovely surprise in his room for when he arrived. Delta Hotels could have just called it a wash: they didn't need to find out where he was going and go out of their way to do something nice for him. They went the extra mile, and now Mike is a fan for life.
11. Xbox
Video game companies aren't always synonymous with excellent customer experience. But Xbox has a fully-staffed team on Twitter that regularly monitors and looks for customer issues. Their response times are always quick, and their replies are thorough and detailed.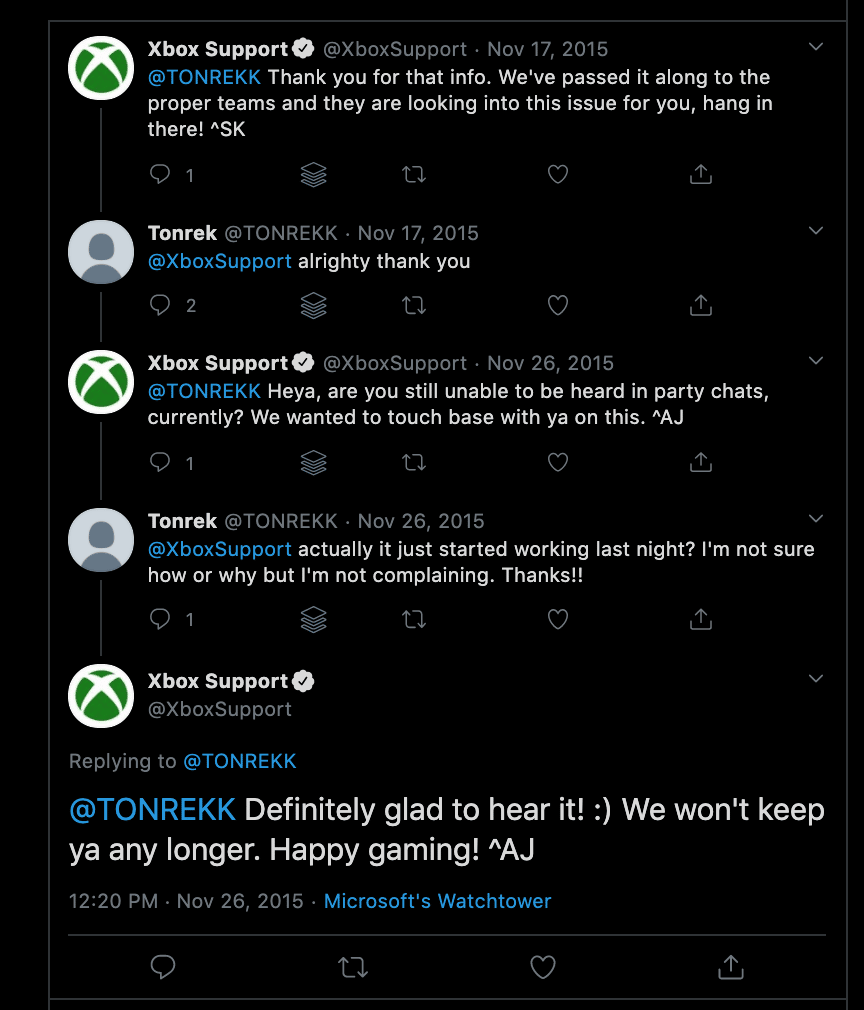 For some issues, the speed with which you reply and get the issue resolved is the best thing you can do. Even if you can't resolve the issue immediately, getting a quick response to your customers can help put them in a good place to be patient.
12. Sanofi
Customers care more now than ever before about the belief systems that companies stand by. This is why it was so important for many that Sanofi, the company that makes Ambien, took a stand after Roseanne Barr blamed making racist comments on her medicines.
The responses to this tweet are overwhelmingly positive. Being open and outspoken about your brand's beliefs and opinions can be one of the best ways to overcome a potentially bad PR mishap.
Respond to Customer Complaints in a Positive Way
The best way to respond to customers reaching out with complaints is just to listen. Pay attention to what they are saying, even if it's not immediately directed at you. Beyond listening, make sure that you respond to them as needed—there's nothing more frustrating than yelling into an empty void.
Try to set up customer service tools that your team can use to automate some of the listening, and let them do what they do best: being human. Keeping a human touch with all of your responses lets your customers know that you're there, that you care, and that they are more to you than just a number. It can also bring a smile to their face, while they otherwise might be frowning.
See more angry customer email examples.