Customer service memes help us laugh about one of the hardest, most thankless jobs out there: customer service. But there is a lot to be thankful for between all the angry customers, frustrating bugs, and incoming tickets. Helping customers achieve their goals, learning something new every day, and working with a great team of people — these are just some of the reasons why we show up every day to help customers (who sometimes don't make it that easy). 
People who choose to make a career out of serving people are some of the kindest, most patient folks around. To celebrate this crazy job at this crazy time of the year, we've gathered 13 customer service memes that will keep you thankful for your job.
See how TextExpander works
Select a snippet you would like to try
Type this shortcut below dad.joke1
Type this shortcut below dad.joke2
Type this shortcut below dad.joke3
Q: What do you call a bear who types efficiently? 
A: A TextExPANDA
Q: How do you make the number one disappear?
A: Add "g" and it's GONE.
Q: Was shopping the other day and some bloke threw a block of cheese at me. 
A: I thought "How dairy?!"
13 customer support memes to keep a smile on your face
What did customers say about me today, hmm?
Is there anything better than seeing your name mentioned in positive customer feedback? It makes it feel worth it to keep going above and beyond, knowing that you've made a difference in someone's day.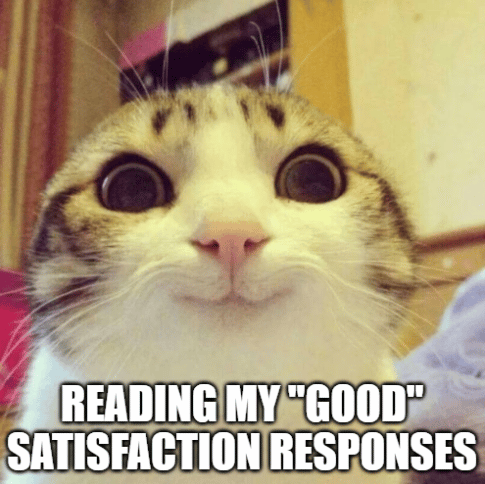 It almost feels like Friday…
…when the engineering team patches that annoying bug that took *forever* to find and solve. You can just imagine how happy customers are going to be when they get that email to tell them it's been fixed. Wooooooo!!!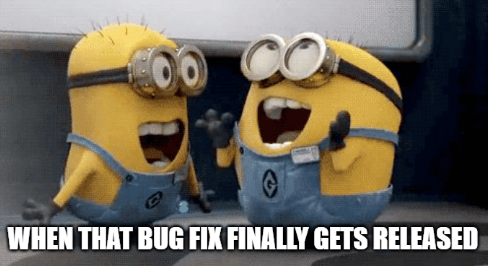 Our customers are the best. Period.
Some days, when you're working through a problem with your favorite customer and another customer fills out a survey with really nice comments and yet another customer is doing a great job using your product, you have to take a moment to appreciate it: our customers are the best!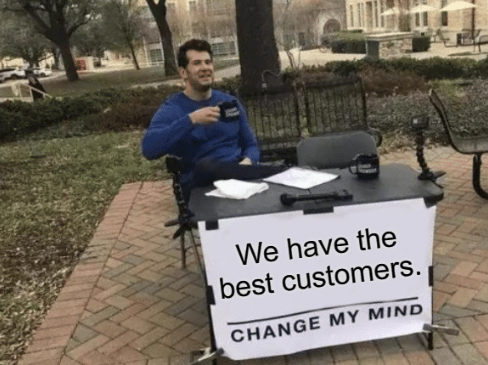 You'll never believe what they said…
Whether it's from an over-eager sales representative, or a brand new customer service agent, customers get told all sorts of things. Best just to have a laugh about it, educate the employee, and apologize to the customer as soon as possible.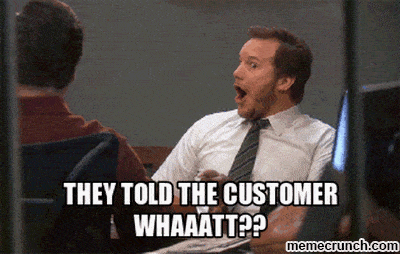 Customer meme for when that "last-minute release" goes wrong
It's a law of nature that Friday afternoon releases are bound to be buggy. Who's going to be online this weekend?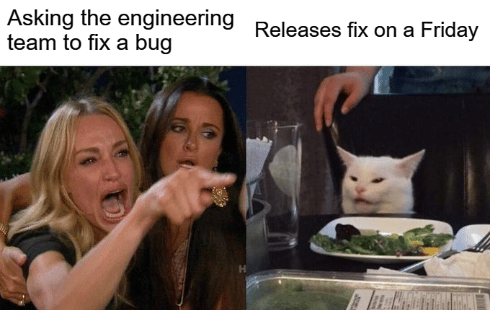 Yes, this is dog customer service meme
Cute dogs and customer support go together like peanut butter and jelly. We couldn't do a list of customer service memes without including at least one dog wearing a headset. And if you haven't told a customer to turn it off and turn it back on again…. then do you really work in tech support?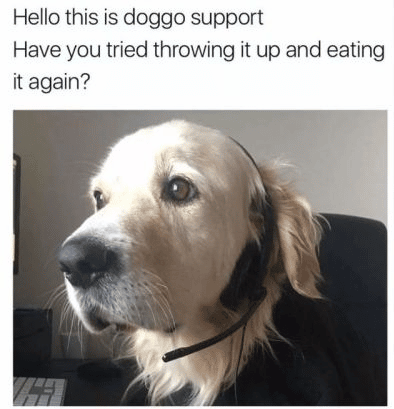 When you're feeling particularly helpful
Those days when your coffee is perfect, the sun is shining, and your customer service motivation is at an all-time high. Everyone is getting extra helpful, super friendly emails today. Free trial extension? Why not!?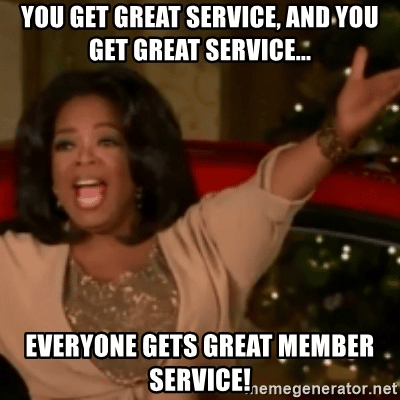 Do you want the truth?
When customers ask us how we're doing, do they really want to know? Well, when you're overloaded by requests, it's normal to feel a little weary. Just… don't vent to the customer too much.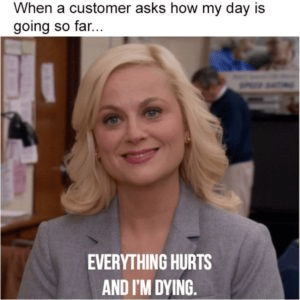 I heard you found a weird bug?
We love solving puzzles, so when someone finds something strange we're excited to help. Let me grab my troubleshooting tools, and I'll be right there!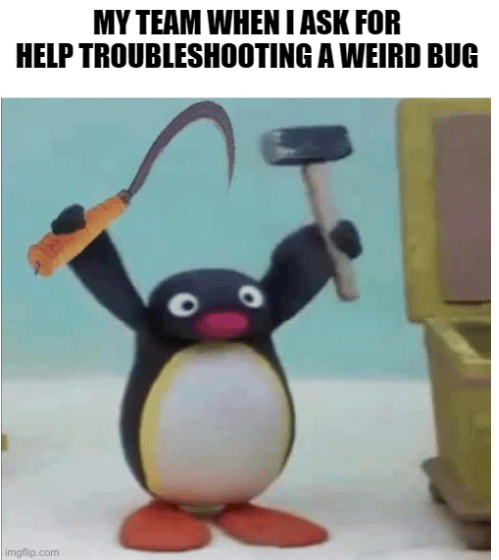 When your boss has your back
If you're following your customer service policy and the customer wants to speak to the supervisor, you know that your manager will say exactly the same thing. It's a good feeling to work on a team where you feel supported.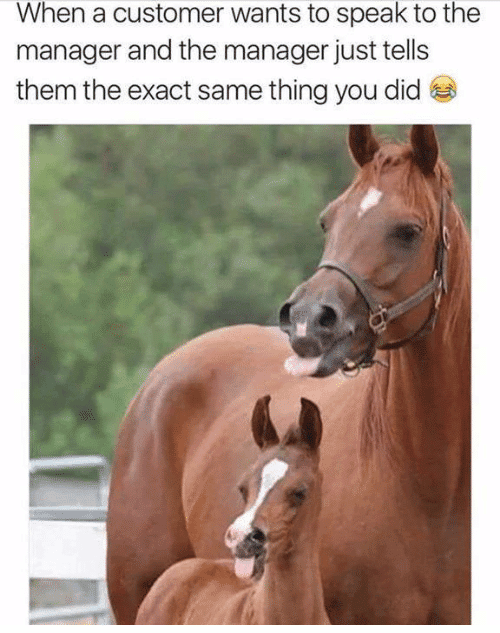 Help me, help you
If you haven't seen this adorable video, do yourself a favor and watch it right now. Then channel this little boy's energy every time you need to beg a customer to just follow the steps.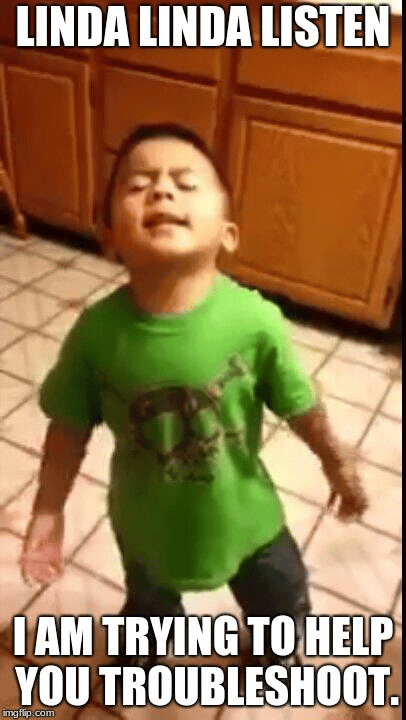 Support for customer support people
Customer support reps might be the best customers. When we need to get help from other teams, we always take the time to fill out those customer satisfaction surveys.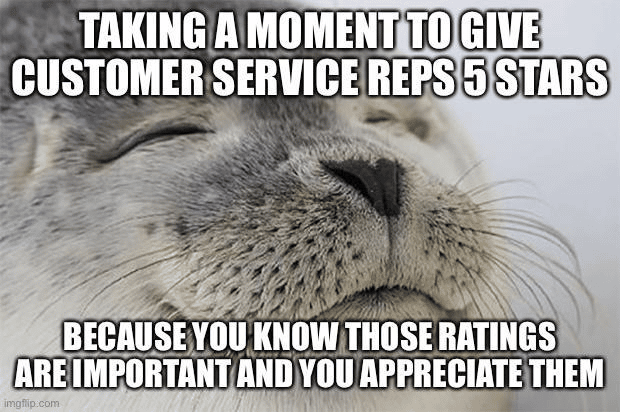 We ride at dawn!
Together, we can slay an entire queue of incoming emails. Together, we can achieve our SLAs and beat our customer satisfaction goals. Together, we are unstoppable.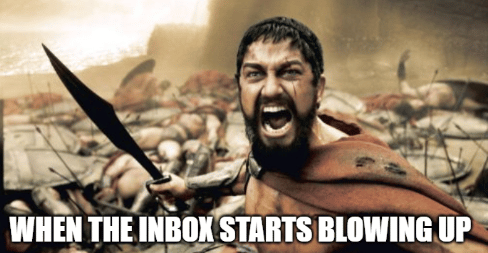 A team that laughs together slays together
Need to share a little joy with the rest of your customer support team? Share this post and let us know which meme hits home for you in the comments below.
Looking to share that happiness with your customers? Check out our post on delighting customers and boosting customer satisfaction.