Expand Your Reach to Find New Customers and Increase Sales
Time is money, especially in sales. One of the biggest challenges in sales is sending out hundreds of cold emails to prospects each day, while still making sure they are personalized to each potential client. It's a lot of time, a lot of effort, and a lot of boring, repetitive typing – but it doesn't have to be this way.

In this guide, we'll show you how highly effective sales teams use tools to automate their time-wasting activities, increase their email outreach volume, and become more productive so they can get back to revenue-generating tasks.
Where should we send your guide?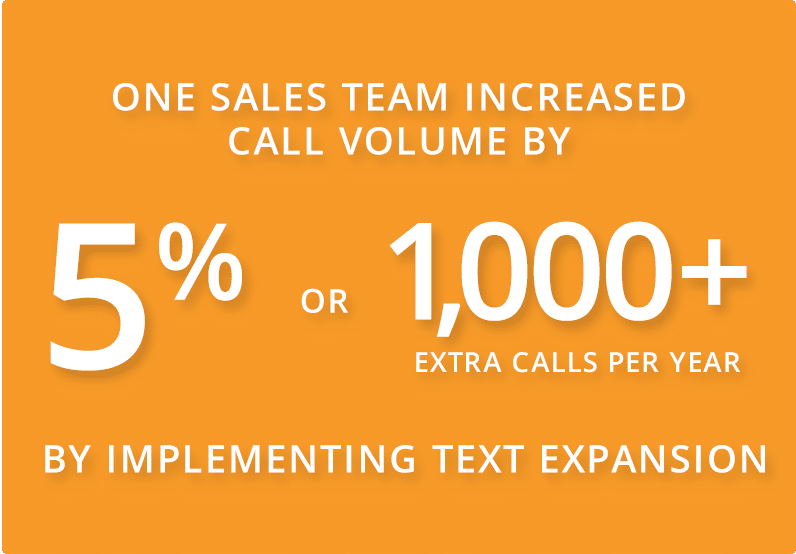 More, Higher Quality Touches
Repetitive, manual activities such as drafting email replies or entering customer information into a CRM waste critical time in sales. When these tasks are managed well – using a tool like text expansion – sales teams can refocus more of their time on reaching more people without sacrificing quality.
In this guide, we'll answer:
What is text expansion?
Discover this simple productivity secret of high-performing sales teams and how it works.
What are the benefits?
Learn about the value text expansion can add to your sales team's communications, operations, and performance.
How is it used in sales?
Walk through common use cases for text expansion in sales to get a realistic feel of its purpose and value.
You're in Good Company
A tool like TextExpander that can make you more efficient in a role where you get paid based on how much you sell is immensely valuable.
Brian Deighton, Senior Inside Sales, CompanyCam
Get the Guide to Text Expansion in Sales
Learn how text expansion can free up more of your time for revenue-producing activities.