If you'll be in San Diego in late April, come to ElevateCX and say hi to the TextExpander team! Swing by our booth for free swag and a chance to win a Nintendo Switch. Book your tickets now!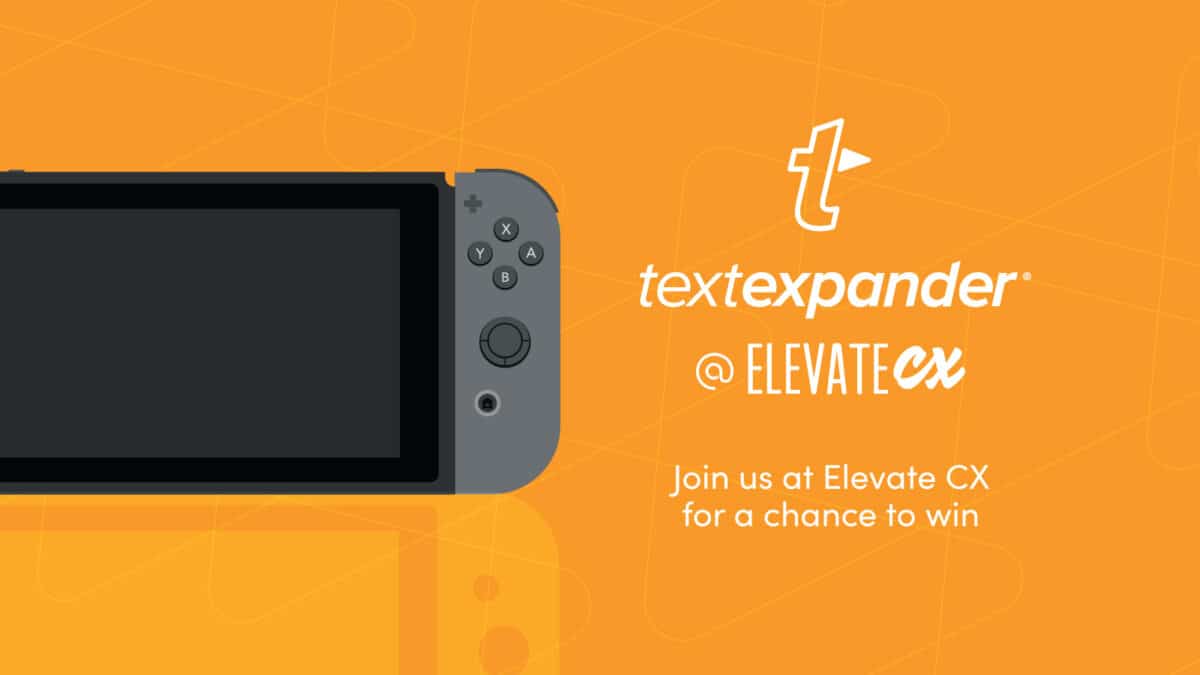 ElevateCX is the premiere event for customer experience leaders and will be held from April 27 through April 29th at the waterfront Hyatt Regency Mission Bay in San Diego.
You'll also want to stay and listen to a talk from our very own Vince Crighton, our Senior Technical Support Lead here at TextExpander.
Vince will discuss the importance of a central source of truth for your customer support team. What does that mean?
A single source of truth
Calling customer service can often feel like a game of roulette. Maybe you talk to one agent who's super helpful and solves your problem, but the next time you call the rep isn't as helpful.
"A big pain point I've had working support at other companies is not having a single source of truth," Vince says.
Some of us even find ourselves repeatedly calling the customer service number with our fingers crossed hoping that we luck out and reach a more-helpful rep.
"When I worked at other companies, one person might be trained by Steve, and Karen might train another. And because they received different training, the customer experience isn't consistent. There isn't a standard of support," Vince says.
If you're a customer service leader, you know that inconsistent customer service damages your organization's reputation and costs your team time and money. That's why consistency in customer service is key.
Another advantage of having that single source of truth is ensuring that your customer support agents don't accidentally send out outdated information. By keeping your information in readily accessible Snippets, your admins have only one repository to update, so everyone is always on the same page.
TextExpander helps our own customer service team stay consistent, and Vince will be sharing some of their strategies with conference attendees at ElevateCX. One example he will dive into is the support team's enormous library of Snippets that can quickly resolve common customer issues, which they expand in a few keystrokes or readily find with Inline Search.
Select a snippet you would like to try
Type this shortcut below sup.thanks
Type this shortcut below sup.bill
Type this shortcut below sup.tier2
Type this shortcut below sup.social
Type this shortcut below sup.faq
Thank you for your email! I'm happy to look into this for you.
I'm happy to walk you through our active-user-based billing system. TextExpander works on pre-purchased credits, where 1 user needs 1 credit a month, or 12 credits per year. We only deduct credits for users that expand a Snippet within a billing period.
There are two payment plans available:
Annual Payment: You purchase 12 months' worth of credits per user on your billing date at a 20% discount.
Monthly Payment: You pay for one credit per user at the beginning of each month
Once you use up your credits, you are charged again at the start of the next billing period, either for another year on the annual plan or for the next month on the monthly plan. There are also additional billing resources at this link.
Does this clarify?
Thanks for reaching out to TextExpander. I've escalated your request to our tier 2 support team, who should get back to you shortly with a solution.
Thanks so much for reaching out and I'm sorry to hear that you're having trouble. I've included a link here that should explain the proper way to troubleshoot this issue. Can you please follow the steps and let us know if the problem has been resolved?
TextExpander keeps your customer support team sane
Customer service burnout is a major issue in part because if a customer service agent is having a bad day, their level of care can decline. But TextExpander helps alleviate that.
"If I'm not having the greatest day, my response won't change. I'll still be able to have these great responses I created in a better mental space and offer customers equal support across the board," Vince says.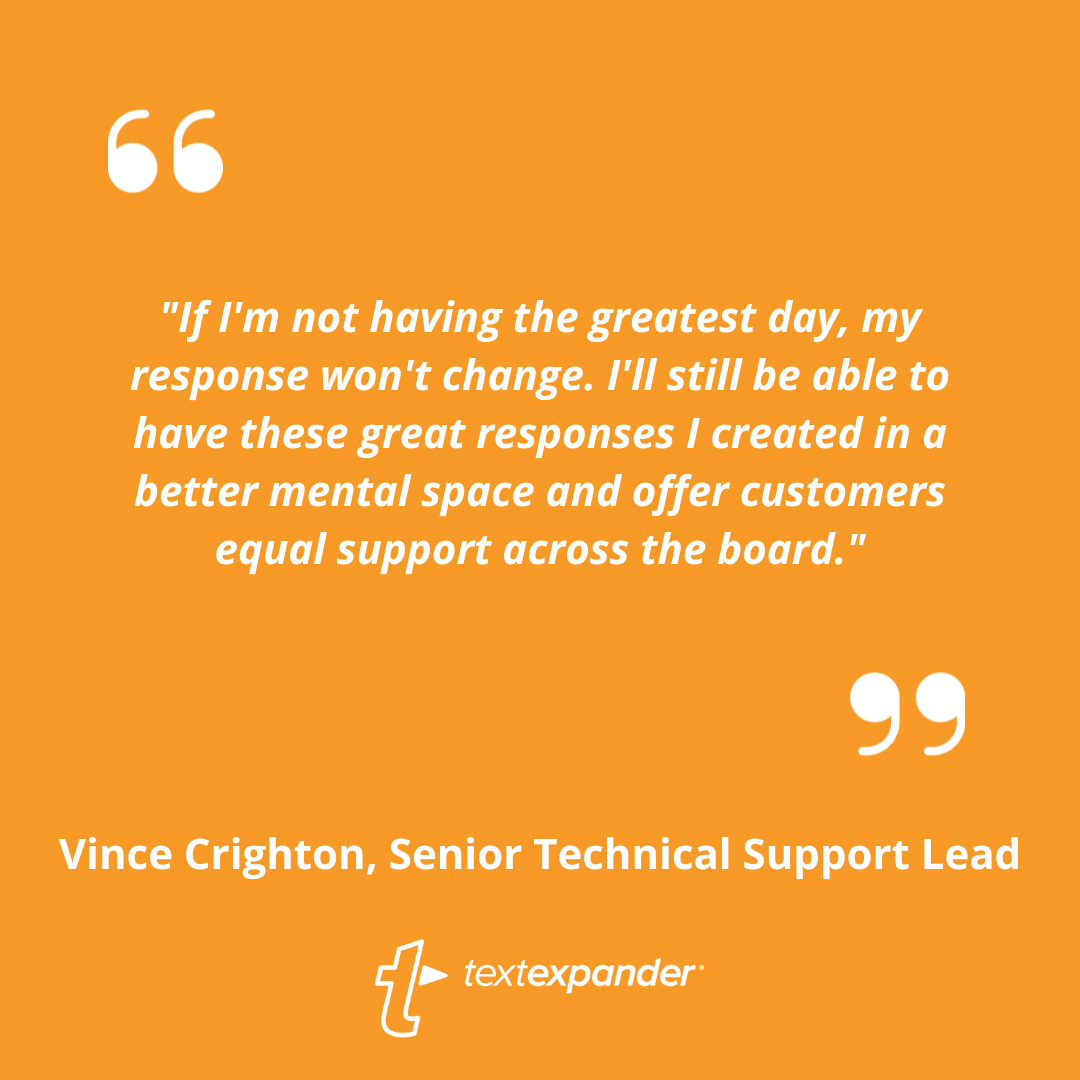 Preventing burnout is all about employee retention, and one of the best ways organizations can retain their top customer service agents is to give them opportunities for career growth inside your organization. TextExpander frees up our reps' time so they can learn more skills to advance their careers.
A single source of truth to build your team
Using TextExpander as a single source of truth also makes it possible for us to mandate customer service training for everyone we hire, even if they've never used TextExpander before. They simply have to search to find the answer to the customer's problem.
Customer service is a common bond here at TextExpander, and using Snippets to answer customer questions lets us iterate on them collaboratively over time.
"It doesn't feel like this one voice being heard. It's this mix of our support team's three voices that really shines through. When one person gets a good CSAT it's actually a reflection of our entire team," Vince says.
Vince and the team are excited to share our product and experiences at Elevate CX — If you plan to attend, be sure to stop by to say hi and learn how TextExpander can revolutionize your customer experience.