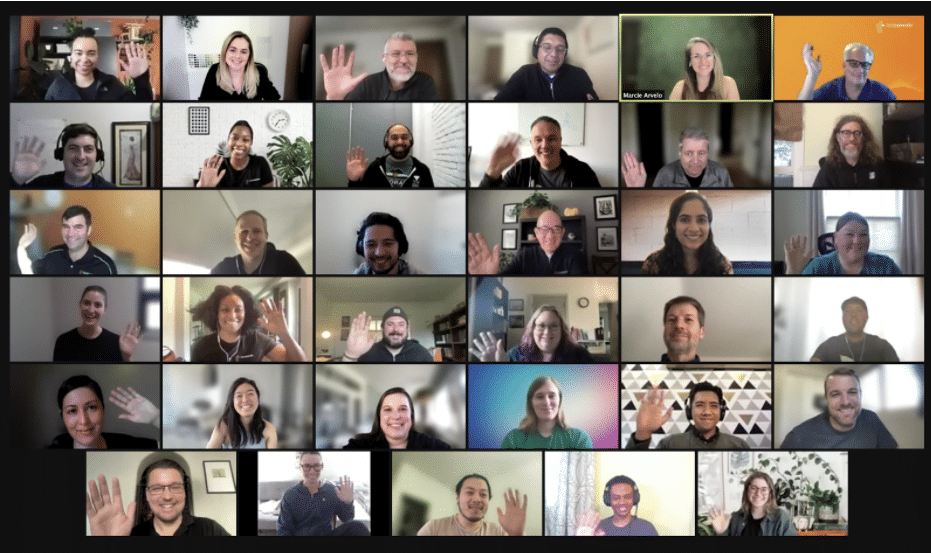 Each year, the TextExpander team gathers to discuss the year we've had, the progress we've made, and how we can ensure success in the coming year. TextExpander Forward 2021 was our annual summit that took place over remote Zoom and gave the team a chance to reflect, collaborate and get to know each other, no matter where in the world they were.
It can be tricky to organize a remote conference that engages everyone without actually getting together. There are a few things we did to make sure it was a success that you can do too when planning your remote conference.
How We Made Our Remote Summit Work – And How You Can To
Switching up the format. In order to make it a productive and engaging summit, TextExpander Forward had a variety of internal and external speakers, presentations, and breakout sessions. By keeping the format varied, it was easier for everyone to stay engaged.
Making it social. Any in-person conference usually includes ample time for socializing. We wanted to keep those social aspects by including social lunches, post-session cocktail hours, and fun games between sessions. Not only did it provide some light entertainment, but it was also a great way for people to get to know one another on a more personal level.
Shorter days. We made our conference snappy. By shortening days and encouraging them to sign off outside of TextExpander Forward hours we found people were better rested and ready to go for the different sessions.
Here's what happened at TextExpander Forward 2021.
Day 1
After a welcome introduction, we had a presentation from Philip Goward, TextExpander CEO, on Company Direction and Product Direction. During this session, we looked at our successes over the year, some key milestones, and our goals for 2022.
Following Phillip's slides, the Engineering team talked us through how their workflows currently work and how they'd like to adapt them for the future. Then we had an overview from each engineering team member on what they're working on right now – it was great to glean insight into what other teams are up to day-to-day.
Then – lunch! All 37 Smile employees gathered on Remo to chat, eat and catch up after the morning's sessions. Our team members live across 10 different time zones, so it was breakfast for some and supper for others,
In the afternoon we looked at Customer Experience, with a presentation first from the Support team, followed by Customer Success, and then Sales. We got to understand how everyone contributes to making sure TextExpander customers are identified, educated, and supported through their customer journey.
Day 2
Day 2 kicked off with a quick check-in, where we rated how we were feeling from 1-10 in the Zoom chat. Justine, our Customer Success Manager, was a 10 because "life is good, so why not be a 10?". What a great way to start the day!
The first session of the day was from Miika, Business Strategist at TextExpander, who walked us through how the Strategy team explores ways to increase TextExpander revenue.
Next up, Maia, our Head of Growth Marketing, walked us through the successes and goals for the Growth department. We celebrated the launch of our new Learning Centre, along with the revamp of Public Groups, and the introduction of Snippet Templates.
Then our Marketing Director, presented an overview of his team. He shared the work they do and how they're on a mission to get more people to hear about and use TextExpander using various channels, including:
Ads
Affiliates
Content
PR
Social media
….and more
At lunch, we played Get in Line, where each team had to determine the tallest-shortest in their group without using measurements. Some of the best questions used included:
Are you shorter than the social distancing gap
Are you taller or shorter than Lil Wayne
When you sit on a dining chair, do your legs touch the floor?
The second half of the day started with Miika's presentation on OKRs (Objectives and Key Results), talking through what they mean for us and why they matter.
Never heard of OKRs before? They're a collaborative goal-setting methodology used by teams and individuals to set challenging, ambitious goals with measurable results.
We split off into groups to workshop some key ideas relating to TextExpander's goals and related OKRs for 2022.
Day 3
The folks at TheYesWorks joined us for a workshop on Adeptability – a blend of being adept and adaptable. We had a series of prompts to discuss in breakout rooms, which gave everyone a chance to see these adeptability concepts in action. We also played a memory game to demonstrate some of the principles of curating a Got Your Back culture – "Yay for failing" and "Be obvious".
Day 4
We started with a series of example exercises that helped us understand how OKRs work in practice.
After another social lunch, we came back to OKRs – this time to write our own! In small teams we came up with the objectives and key results for the next year to keep us on track. We then shared them with the rest of the company to see how all of our goals align to push the company forward.
Day 5
On Friday, we wrapped up the week with the final day of TextExpander Forward 2021!
The morning session was dedicated to looking at what's next for TextExpander. We all participated in an ideas sharing exercise where everyone brainstormed innovative, original, and forward-thinking ideas on even more ways to delight TextExpander users.
Since it was the final day, we skipped the afternoon session so everyone could relax and recover from a busy week of presentations, socials, and productive meetings.
Overall, TextExpander Forward was a fantastic, collaborative experience. This time together further showed that we are a closely knit, geographically diverse company. While our team may be all across the globe, our annual summit proved remote teams can learn, ​​socialize, and progress together.
Here's to next year!