Smart home automation is on the rise! According to Statista, in 2019, 191.25 million homes used smart technology. By 2025, though, that number should more than double, as so many of us realize the ease and convenience smart home tech offers. If you're looking to become an early adopter, how can you leverage smart home automation to brighten your workspace?
Anybody who has had to work at home for an extended period will tell you it can get monotonous! One way we love to break it up is to customize our space, and today we're looking at how smart home technology can do this even better.
The idea for this post came from the webinar we co-hosted with Shift, "Organize Your Space with TextExpander and Shift". In case you've not spotted them yet, we host regular webinars over on our webinars page on all things productivity and TextExpander. There you'll find plenty of on-demand sessions, as well as the info on what's coming next.
Add Smart Lights To Your Workspace
We're starting with the basics: smart lights. Ask any interiors pro and they'll tell you that lighting can transform your space, and wifi- and Bluetooth-enabled bulbs are now commonplace. Don't worry if you have older lamps without these bulbs, though. The good news is you can transform almost any appliance into a smart appliance with a smart outlet, so you can make the most of what you already have.
As well as smart outlets, regular bulbs, and even switches, you can now get bulbs that change color. Why not try experimenting with which colors enhance your focus, using this article to get you started. You might find some icy blue vibes are what you need to nudge you out of an afternoon slump!
Use Motion Detection To Turn On Your Lights And Computer When You Walk Into Your Office
There's information on how to do this in this guide, but we love the simplicity of this idea. By setting up an appropriate camera alongside your smart-enabled devices, you can trigger your office to "wake up" as you come in each morning. We can see this one feeling like a real gift on dark, winter mornings when you feel like you have no energy to get the day started!
Use An NFC Tag To Tap In And Tap Out Of Work
This genius idea comes from this handy video, which has more smart office setup ideas. An NFC tag is a smart tag that usually looks like a small and discreet sticker, easy to hide on or underneath your desk. We recommend watching the video for more depth, but we love the idea of cleverly using them to tap in and out of work if you're someone who uses an app like Toggl Track.
Use a Smart Servo To Open Those Tricky Blinds
This one comes directly from Rex in the webinar, who tells us about how he struggles to access the window behind his desk. He found some smart servos that replace the wand on your blind so that you can ask your smart assistant to open the blinds for you.
It gets even more clever, though, when you start to make more specific requests! We don't always want our blinds fully open or fully shut, but smart home devices can accommodate. Rex shares that he can ask Siri to open the blinds to 30%, great for when it would be too bright to have them fully open.
This was an idea we hadn't even heard about until Rex started sharing his passion for home automation with the team; many thanks, Rex!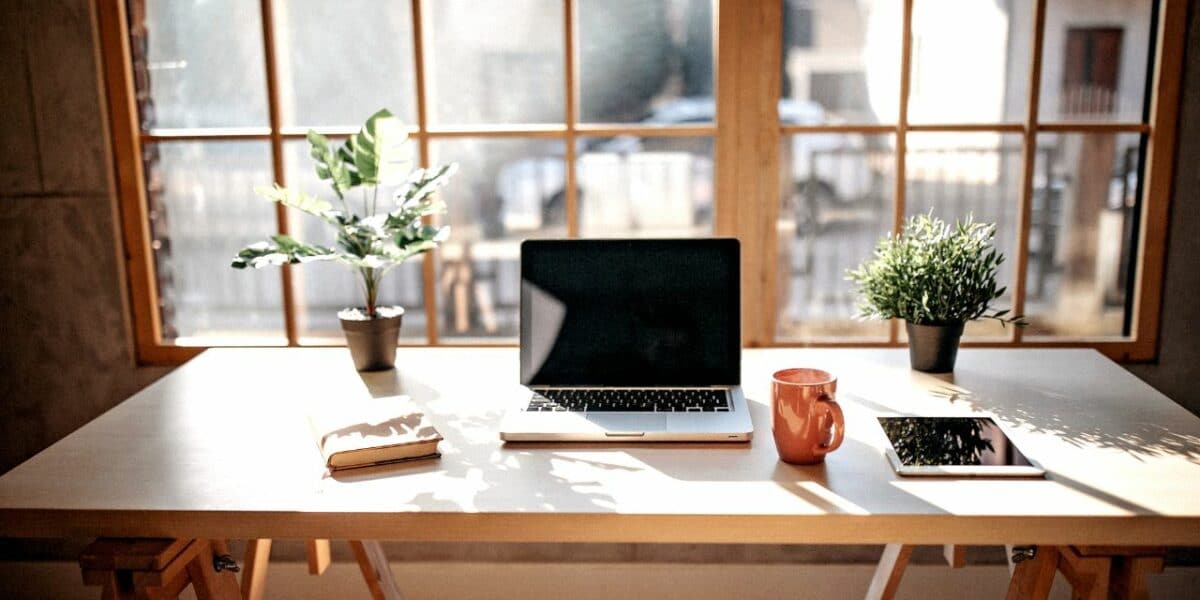 Climate Control Your Workspace With Smart Home Automations
Our bodies are sensitive to temperature, which means temperature affects our productivity too. While we're cold, our bodies waste vital energy warming us up – and vice versa. Thankfully, there's actually a smart home automation solution to this! If you have central heating, you can install a smart thermostat to kick in whenever the room temperature creeps too low. Equally, if you have AC at home, you can also set up a smart home automation to trigger the air conditioner at a temperature that feels too hot for you. This ensures that you can stay focused at your desks, not getting distracted when you need to focus most.
Use Routines To Create Transitions For The Start And End Of Your Day
This is one of our favorite things about smart home automation! Many smart home devices will let you create "routines", sequences of actions that trigger when you need them. Why not set up some routines for the start or end of your workday? You could follow Rex's lead and have your coffee machine on a smart outlet so that you can have your coffee ready at a specific time each day. You could have a routine that starts your focus playlist when you usually log on first thing in the morning. Equally, how about dimming the lights when you're meant to finish your workday? These can really layer up depending on which smart devices you have available.
Don't Miss The Organize Your Space with TextExpander and Shift Webinar
In case you haven't yet watched the webinar, we have even more home office optimization tips in our Organize Your Space session with Shift. It's got plenty of suggestions on how to improve your Zoom calls and enhance your focus, so do give it a watch if you haven't yet. Be sure to bookmark our webinars page to find out about upcoming sessions, and watch previous webinars on-demand.
Takeaways
Smart home automation is on the rise, with nearly 500 million households set to become users by 2025.
Use smart lights to set a specific mood or signal when it's time to work in your home office.
Set up a motion detection automation to turn on your computer when you come into your office in the morning.
Use an NFC tag to trigger a new session in Toggl Track, or your tracking app of choice.
Access tricky blinds and customize how open they are with smart servos.
Set up routines to start your focus playlist and turn on your coffee machine when you want to start work, or dim the lights at the end of the day.
Don't miss more home office tips in our Organize Your Space webinar.
If you enjoyed this post, you might also like reading: