We've all been there – sitting in front of a computer screen, wondering why on earth you ever agreed to give a talk in the first place. You knew the topic at some point but now it is time to write the thing? No chance!
In this article we explain why writing your talk in a text editor will take some of the strain off you and let your ideas flow.
Software for writing talks is often very visual, this can be off putting if you aren't a visual person.
Content for talks is often a re-imagining of content you've already got elsewhere.
Keeping your slides in text is an excellent way of moving content stored in articles or notes into a presentable format.
Writing Presentations with MARP
There are plenty of tools on the market that let you write talks as text, let's look at using MARP.
MARP takes Markdown files and styles them in an attractive way for presentations.
Markdown is a lightweight markup language that lets you do basic formatting to text. You can read more about it on Wikipedia.
MARP will let you write some markdown formatted notes and it will convert them into slides.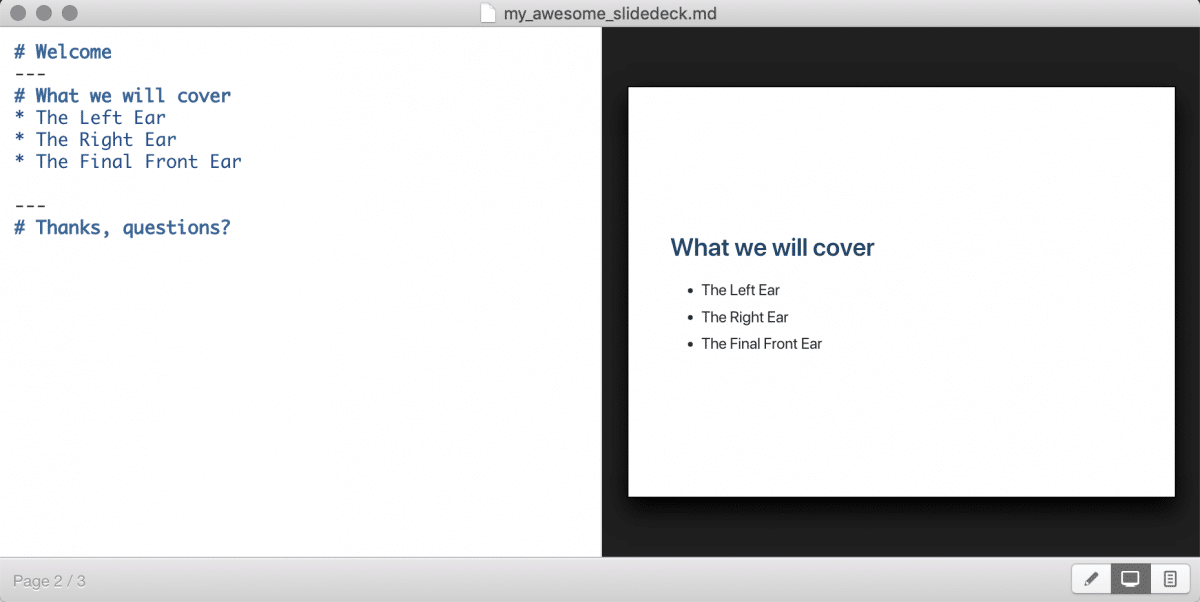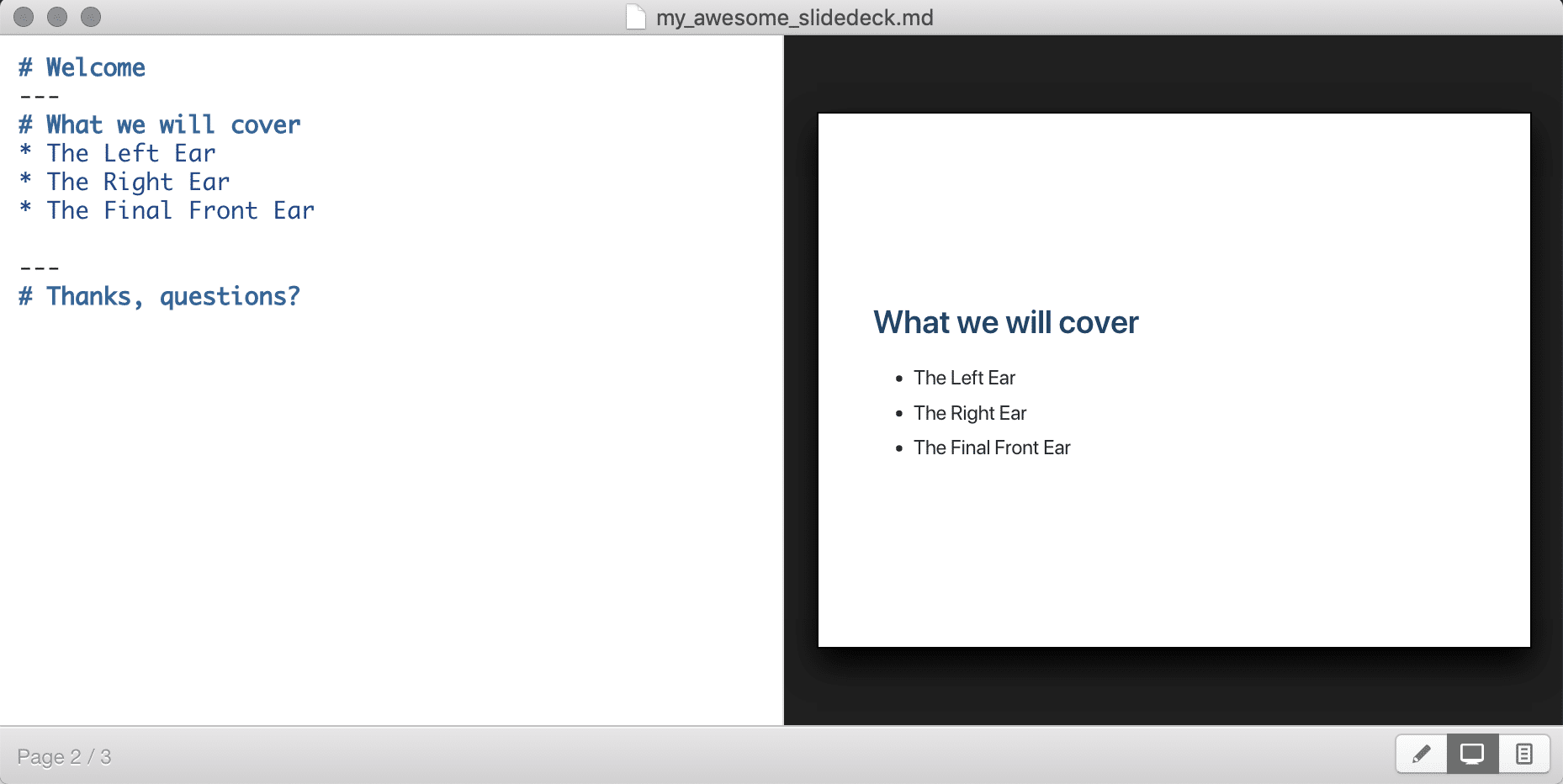 In the image above, note on the left hand side how we are just dealing with simple text, what appears on the right is the slide that will be produced.
With some templating we can start to make the slides look more presentable.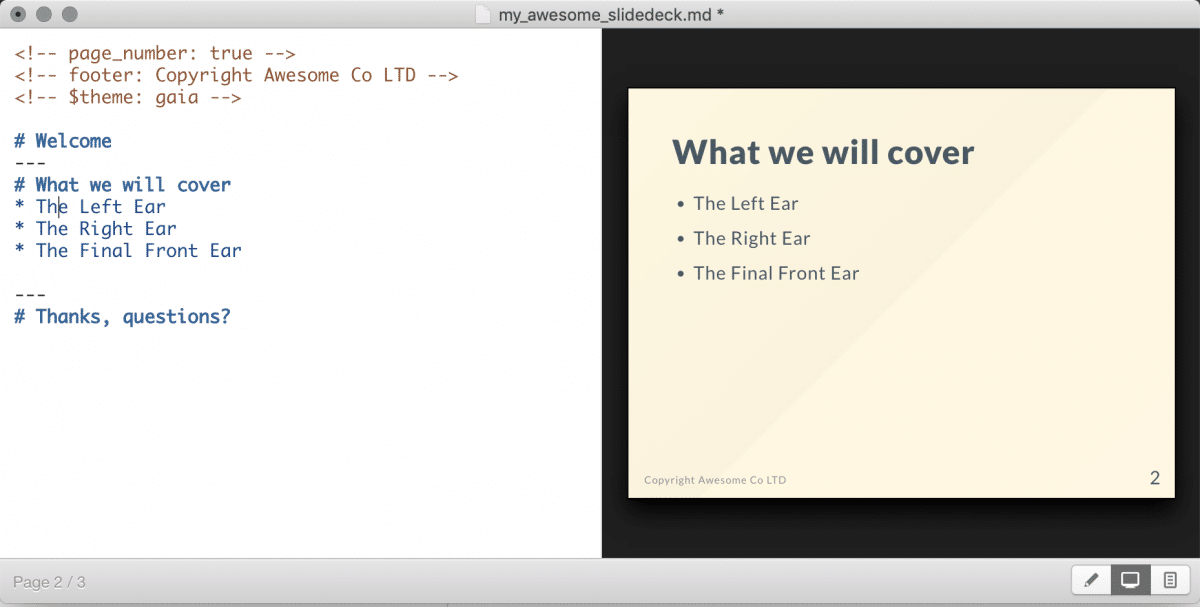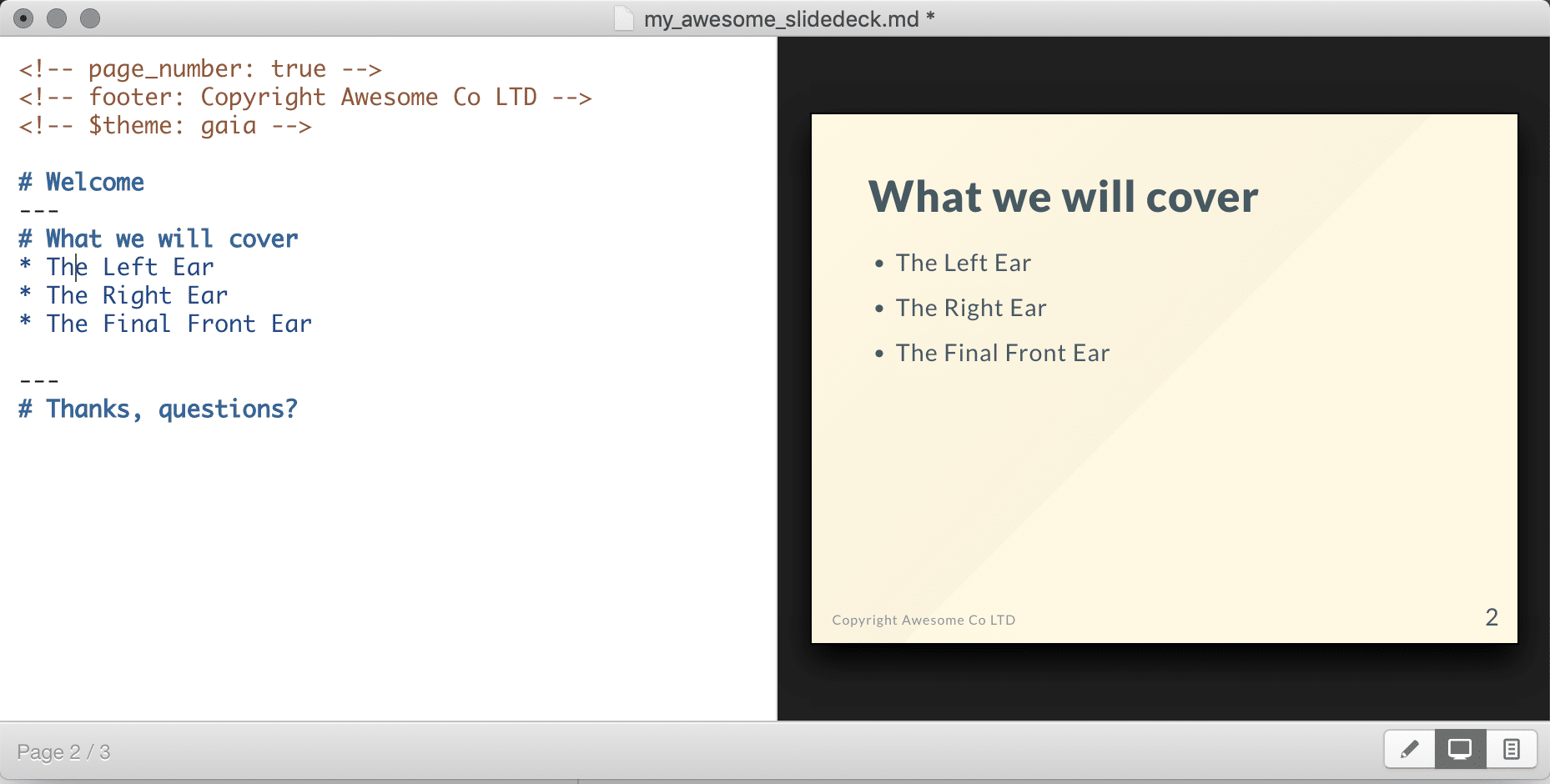 MARP isn't the only tool that can do this, there are plenty of markdown to presentation tools out there:
Sharing slides afterwards
One of the many reasons we love writing in open formats like Markdown is it makes things easier to share around.
You don't need to have Keynote or Powerpoint installed on your machine to see the presentation
You can share with folks who don't speak your language and have any text translation service work
Accessibility aids like screen readers have a much easier time with markdown than they do some slide formats
You can share the markdown file, or you can easily export the file as a PDF.
Writing talks in a text editor
Writing your talk in a text editor puts the content front and centre of your mind. You can focus on sharing the key points of your talk and refining the message without worrying about how it will appear.
It is easier to edit an article or essay you're turning into a presentation, or going the other way and turning a presentation into an article at a later date.
Finally, you fit many more words on a screen when it is text, which makes your content easier to skim and spot when you're over or under mentioning something.
Fitting more words on a screen is excellent for the creation process, but we want our slides to have clear goals and often that means removing text and using well thought out images. Tools like unsplash, google image search, and pixabay can all help.
Pairing up text based slides and TextExpander
TextExpander lets you instantly insert "snippets" of text as you type – using a quick search or abbreviation.
You can use TextExpander when writing talks for quickly creating:
Reusable footers – If you need any form of copyright or confidential notice, perhaps you need to credit someone.
Contact details for the final slide – It is good to remember that some contact details might change over time and not everyone has a Twitter account, a range of ways people can contact is always best.
Common quotes you find yourself referencing a lot.
Giving your talk
Hopefully this has helped with some tooling you could use in order to write an amazing talk. Now you need to actually present it. We have a post all about coding in front of people.
How do you write talks?
What way do you approach writing talks? We'd love to continue the conversation @TextExpander and on Facebook.